Hi everybody, Daddy here, aka Hubby.
It's Mummy's birthday today, and because I've been off with the Monkey and Mummy over Easter, and have a couple of extra days off as well, I thought it was time I put my creative juices to the test, and make Mummy a birthday card, with Monkey's help of course.
Now, my day job is very much office-based.  There's more management in my day than there used to be, but essentially I am a keyboard warrior, and pretty much always have been.
I do love doing crafty things, and love gardening and making things, and cooking, but I really have never been that creative, so the Creative Challenge really is for me!
I always have an idea in my head of what I want things to look like, but it's normally quite vague at the same time, and translating it into something actually in front of me is where I really struggle.
I can look at something and say whether its good or bad, the problem is that I rarely look at anything I have made and think it looks good!
So, onto the card making.  Mummy and Monkey have been doing a lot of card making recently, and I decided to go with the "Monkey Random Painting Generator" technique.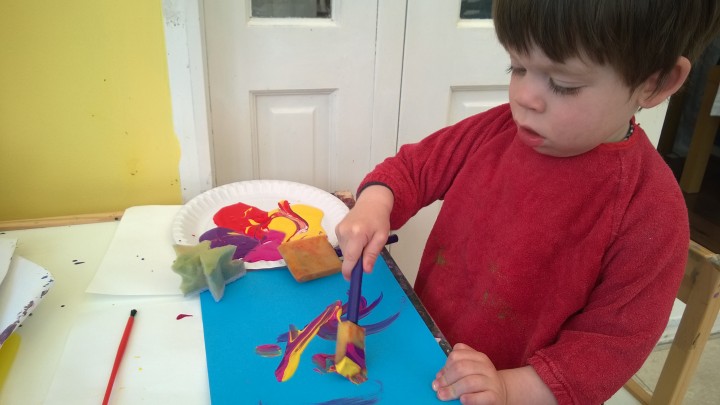 As you bloggers and blog-readers have probably already seen, Monkey loves to paint, and he loves to mix the colours – a LOT.
He just can't let those paints sit all nice and neat together.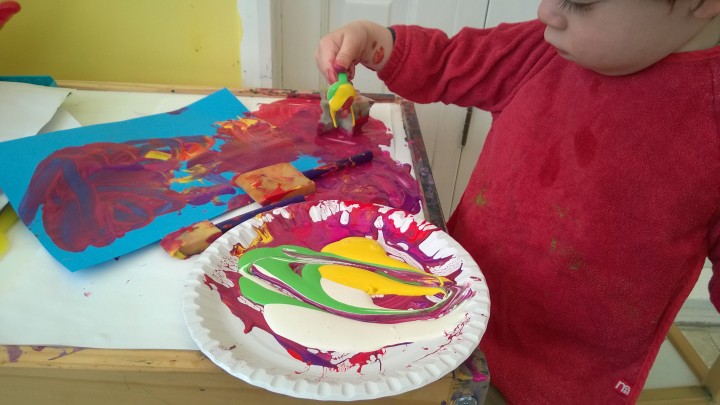 It starts like above, and then very quickly gets to this (check out the Monkey-Eye-View below).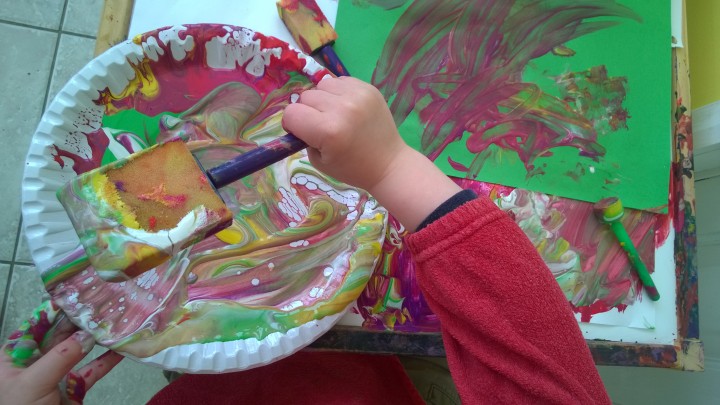 But it does make for some really interesting patterns which can be great for card making.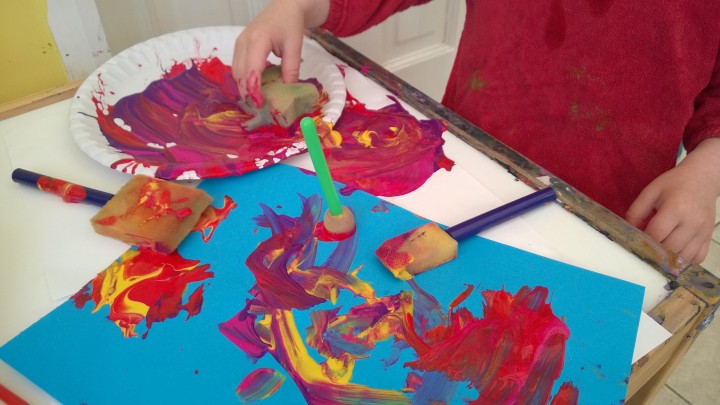 Check out those colour combos!
So Monkey has made all the ingredients for the card, it's now up to me to make it.  I've decided to make this a card from Monkey to Mummy, and the only thing I have had in my head is to try and make something with a birthday cake on it.
Throughout the day, as I have been waiting for the paintings to dry, I wondered if I could make a shape that looked enough like a cake, and tried to think about how to do some candles for it.
Note that at this point I have no idea what else is going to go on the card – I think I'll wing it!  For such a serious planner, there are times where I just "do it on the night".  Looks like this is one of those times.
Ok here's what I have to work with.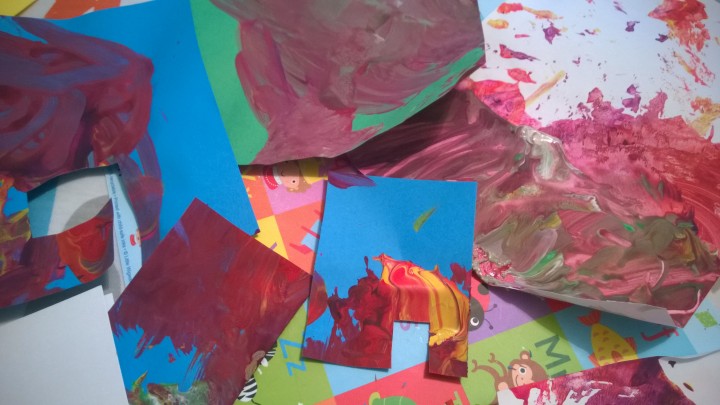 Lots to choose from so as you can see I have cut out the shape for the cake, and also had what I hope will be a great idea for the candles, by taking that fiery looking bit to use the yellow for the the flames.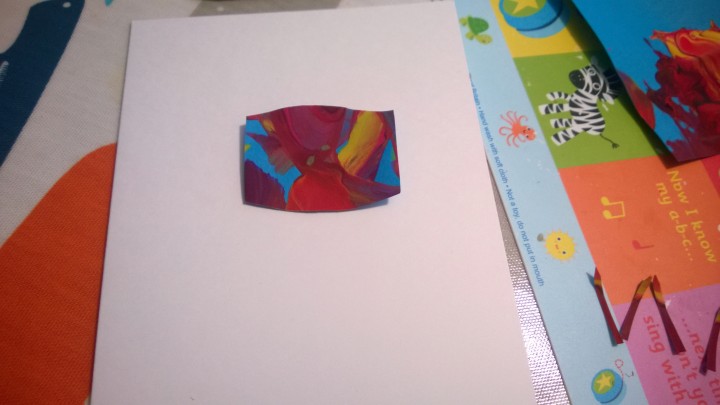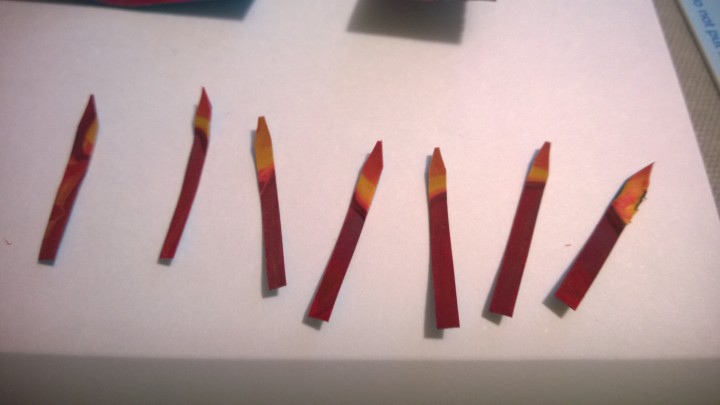 They don't look bad!
Here's the cake all stuck down.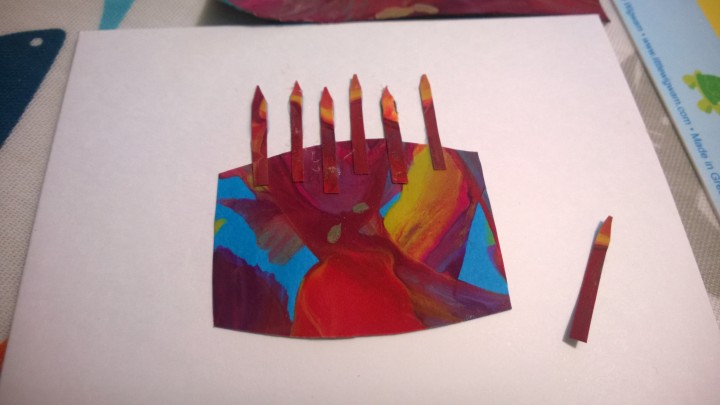 One candle left, oh well.
Here's where the wheels fall off the wagon.
Mummy likes hearts and stars, so I try to cut some out, and, well, they are rubbish.
After several attempts at hearts, I finally get something that does look half decent, and decide to cut out an "I heart U" style motif.  Stupidly though, I write the message on the front of the card without thinking about where everything is going to go, so I have a choice of where to put the other bits.
So I haven't cut out the star yet, and still aren't sure which of the above designs to go with, but I'm pretty happy with both really.  It will all come down to the star I cut out.
I thought the heart was difficult…
I started by reminding myself of the classic freehand, single-stroke star.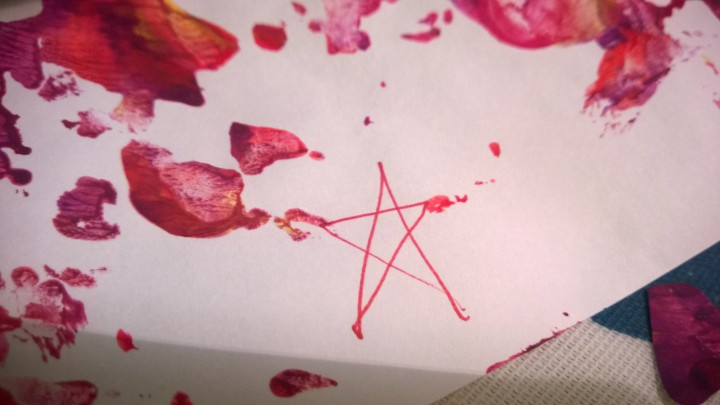 I then started cutting with scissors, and kept looking back at this star for guidance, thinking I should surely be able to do something that looks a bit like it (not that my drawing is very good).
But then, I have no idea how, but as soon as I have finished cutting it out, I realise that despite spending ages cutting carefully and looking back at the star above, I have randomly cut out a Star of David instead! WTF?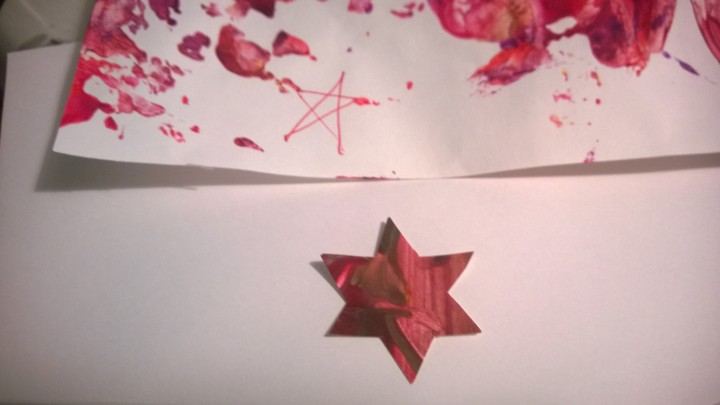 I mean how on earth do you accidentally cut out a 6 point star instead of a 5 point star? Hello?
Anyway, after several other tries later and a few swear words, I have something I'm happy enough with to go on the card.
So here it is.  The finished card.  Now, I know it's not good, but I am just hoping Mummy can see that it was made with love, and see that it really took some effort (despite how random and slapdash it actually looks!).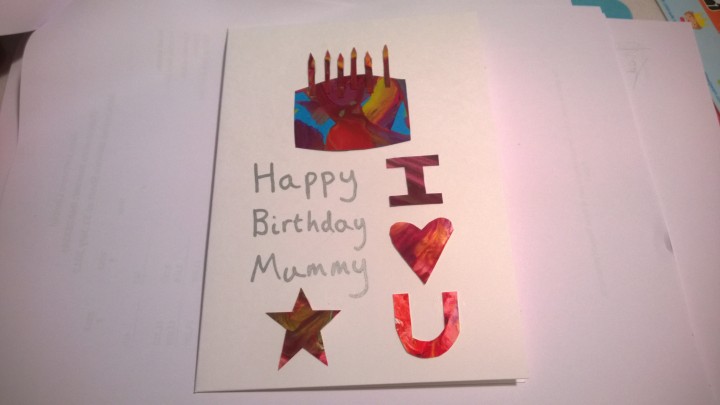 I hope you enjoyed the first Daddy Post.  I promise not to come back too often – Mummy clearly has more skills on the blogging and Creative Challenge front than me – but this has been great fun to write and to share my little attempt at creativity!
I had my first midwife appointment today and she asked how I felt about this question, and I can't say I haven't thought about it a lot, but I am nowhere near reaching a decision!
VBAC (Vaginal Birth After Caesarean) or an Elective C-Section?
During my previous pregnancy I had high hopes of a natural delivery, hopefully including a water birth. Because of my SPD I felt this would be the best route as the water should help support my pelvis and limit at least some of the pain! I was quite open regarding pain relief and figured that as I had no idea how labour felt, or how I would react to that pain that the best approach was to see how it went and make decisions at the time.
Then, Monkey was Breech. After lots of attempts to turn him, ranging from being advised to 'visualise the baby turning' which hubby helped with by turning himself around in bed (lol, which was hilarious, and ridiculous, but sadly DIDN'T help!) to having a consultant attempt to forcibly turn him in the womb via an ECV. That was seriously painful and not an experience I'd care to repeat! It obviously comes with some risks too.
So as he refused point blank to turn around it was recommended that we have a C Section. I hate the word elective as it feels like somehow you are choosing that option, for no other reason than you want one. What they mean is 'planned' rather than 'emergency' so I wish they'd just use the word planned! Anyway, digressing, I know it is possible to deliver a breech baby naturally however I did do a lot of research and found evidence to suggest that since C-Sections have become the more popular option in breech cases, that the skill level required to deliver a breech baby naturally isn't found as commonly in hospitals anymore. While you may be lucky and have a midwife who has delivered breech babies, and knows exactly how best to do it, you may also have a midwife who has never delivered a breech baby before, as they are more commonly born via C-section. This means that the risks of a natural breech birth are now actually higher than the risks of having a C Section. (That is how I interpreted the research and advice I received at the time – I am not a midwife, doctor or scientist and it may not be correct, all I can do is say how we made our decision.)
So we opted for a C-section. Now, it turns out that I have a Bicornuate Uterus (sort of heart shaped rather than round) and Monkey had no chance in turning round, because he was stuck in one side and could not turn. The consultant advised that there is basically a 50/50 chance that any future pregnancy would also be breech, which would mean there isn't much of a decision to make and we would go for a C-Section again without question.
But the question is, what would I do if the baby is not breech. Would I go down the road I know and have a C-Section regardless? Plan it in and eliminate all doubt? Or do I think back to my original hopes for my previous pregnancy and aim for a natural water birth?
Now, don't get me wrong, I don't relish the thought of going under the knife again. I would much rather not have the post surgery recovery time, the agony of life that is post C-Section, when you realise more than ever before how important your stomach muscles are and how debilitating it is when moving them causes you agony! I don't want to be in hospital for days post birth again, being kept awake by all of the other babies on the ward, in addition to my own, struggling to care for baby in those hours overnight when hubby has to go home and I can barely move. That I am NOT looking forward to should I choose that route.
BUT, and it is a big but, the birth itself was calm and relatively stress free.We knew the day, I went to a wedding the day before, knowing the next day I would have my baby. We checked in and were second on the list so Monkey was born by 10am. there was no pain pre-birth, it all ran very smoothly and was just lovely and calm.
I am a planner so for me the unknown elements of giving birth have always terrified me somewhat. When will it happen? Will I go to hospital too early and be sent home? Will I leave it too late and not get there in time? How bad will the pain be? How will I cope? (I've watched one born and I know some women cope better with the pain than others – not criticising, we are all built differently and can't compare, it's just hard not knowing how it will be for me.) Will I need an epidural? What if something goes wrong? What if I need an assisted delivery? What if I need an emergency C-Section anyway and still have all the negatives of a C-Section, without the benefits of the calm build up?
Add to this the SPD, I know women with SPD give birth naturally all the time but there are added complications and there are fewer recommended positions, for example being on your knees is recommended far and away above lying on a bed with your legs in stirrups.
Am I just nervous? Is that why I am hesitating? Am I a coward for wanting to go down the 'known' route of a planned C-Section? Am I less of a woman if I never go through the experience of a natural birth? Am I missing out? But then should I take the option of a natural birth (which comes with it's own risks as well after a C-Section, including tearing the uterus scar) purely to avoid these opinions? Should I be swayed by such negative thoughts?
I am not going to rush the decision as I am well and truly divided over which I would prefer. I may end up having very little choice anyway if this baby is breech too, so in some ways I don't want to get my hopes up for a natural birth. I am being referred to the VBaC Clinic, where they will hopefully be able to give me some further advice and help me to make an informed decision.
have you had any experience of this decision? Which way did you go?