I can't believe I am 25 weeks pregnant already! It definitely seems to be going a LOT faster second time around! So how's it going? Well, ok really. Here is the latest bump shot!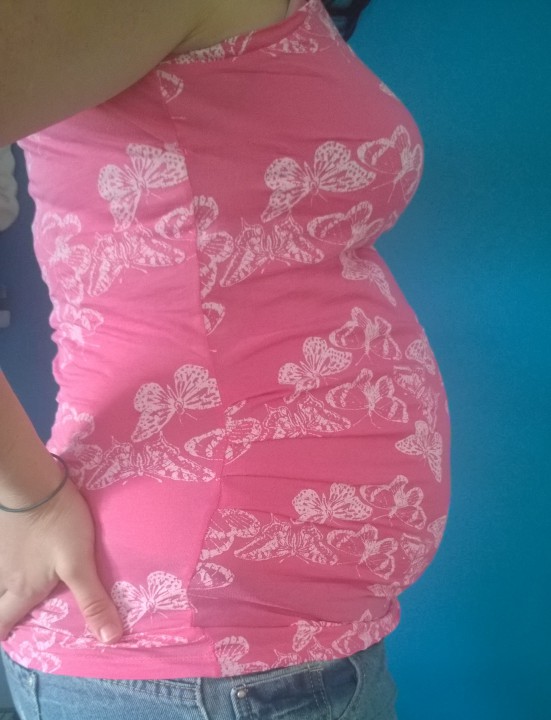 Quite a lot of people have told me lately that I have quite a small bump! It doesn't feel small to me so am trying not to worry about it. We saw the midwife today and though she didn't measure it she felt that it was about where it should be which is good. It was funny as for a few minutes she was confused and saying how it felt like baby was only on my left side – she had forgotten about the Bicornuate Uterus coming in to play! Nice to have it confirmed that as I thought, baba is very much on one side only, and I am not imagining things or feeling what I want to feel!
We took Monkey with us to the Midwife today and it was actually really lovely. He was so fascinated by the blood pressure machine and stethoscope (we have a little doctors set at home he plays with so he kinds knew what that does) and he insisted on standing on the scales and being weighed too.
Our lovely midwife was great and when I was on the bed to listen to baby's heartbeat she let him push the button to turn the doppler on. He was so excited, and though he was a little confused to start with, once we explained it was the baby's heart, he was dead excited! I mean, dead excited, running round the room clapping his hands and shouting "yeeeeeaaah" excited. And no I am not exaggerating! Bless him 🙂
He also got some stickers saying what a great helper he had been, so that's lovely! He definitely seems happier about the prospect of baby now, and a lot less anxious than he was a few weeks ago. Phew!
In other news, my pelvis is still playing up a lot which is meaning there is a lot of things I can't do, so that is very frustrating but it is manageable. I just need to come to terms with not being able to do everything I want to do, which is very annoying but better than being in pain, which is what happens when I over-do it. I am still loving my aquanatal yoga though which I think is helping, and seeing my physio every couple of weeks and doing my exercises.
It is seriously hot and being hot and pregnant isn't great, especially at night! I have indulged in a few maternity wear sales mainly because I need summery tops and vests that fit this growing bump!
Baba is kicking loads now and when I am lying down there are times when I properly see my bump move, which is always such a weird but lovely thing! Hubby even saw it the other day without his glasses on, and bless him he is a bit blind without his glasses! She is a real little kicker but I kinda love it.
She still feels very much breech to us and I know it is early days but it feels very reminiscent of Monkey who was always breech. If she stays that way and we have to have a C-section again she could be with is in about 13 weeks! Eep! I'm not really sure how I feel about the VBaC vs C-section at the mo – I think because I don't actually have much choice that there isn't too much point worrying about it. She will be in the position she is in and I will go with whatever is recommended and what will be will be I guess!
Hubby can't wait and just wants to get to that day, and I can kind of understand why. Every day now I am getting a bit bigger and seemingly less mobile and often less comfortable (and therefore, lets be honest, more moany!). It won't be easy when baby gets here, especially if I have a C-section, but as he says, at least from that point on things should get better or easier  by the day rather than worse, which is how it feels at the moment. I am a bit torn, I am a bit fed up this week, but don;t want to wish away the next few months as I know newborn babies aren't easy so I am a bit apprehensive as well as excited about meeting her!!