I am 32 weeks pregnant and it is all starting to feel pretty real now. Bump is getting bigger by the day, and I am getting slower!
Slightly random bump shot but this is a shot of my wonky bump when I am lying down. Because baba is very much stuck in the left side of my Bicornuate Uterus, she is now pretty visible from certain angles and no mistaking her position. She is breech. She tries to turn and I get mental kicks sometimes but the best she manages is to lie transverse (across my lower tummy). She seems completely unable to get her head into my pelvis.
There is still time but with her getting bigger by the day it will only get harder and I guess therefore, probably less likely. We have an appointment with the consultant at 35 weeks to check and a decision (and probably C-Section booking) will be made then. I would have liked to try for a VBaC but there is also positives to having a C-Section so what will be will be. If we do have to go down that route then she could be here in a little over 6 weeks…. which really isn't long!
We had a busy weekend sorting things out in her room. We built Monkey a new big boy chest of drawers which looks lovely in his room, so that the tall boy matching the cot and changing table could go into the baby room for baba to use. We have also built the cot and the nursing chair so it is really looking like a baby room now!
We also bought a lampshade and curtian rail, and the curtains our sister in law gave us are now up. They are gorgeous curtains and it looks lovely in there, I don't think we would have gone for pink curtains if we were buying them, but they are gorgeous and we are not about to look a gift horse in the mouth! I guess I am just worry in case she turns out to be a he, the ultrasound tech was pretty definite but I won't fully believe it until she is here I don't think!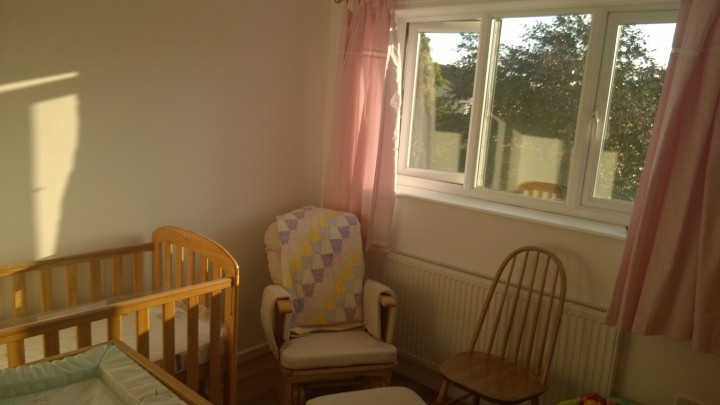 We still need to get the wall stickers up on the wall and there is a lot of things to sort out yet, but we are starting to get somewhere and it really is a bit nerve wracking now it is getting closer. I have started to pack the hospital bag too and that is making it feel really real.
I know people have more than one child all the time and I am sure we will find our way and manage, but I am nervous about how we will get on with a toddler and a baby at the same time. There is C-section recovery to think about, wondering how I will manage with breastfeeding this time round, how I will deal with feeding a baby while also looking after a very active toddler and keeping him entertained! I won't know the answers to any of these questions until she is here and so I know there is little point worrying… but I guess packing breast pads and teeny nappies things makes me think about the reality of having a newborn again! Eek!!