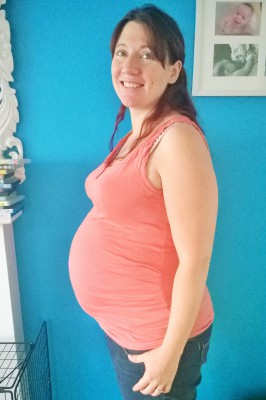 I am 35 weeks pregnant and today we had our appointment with the consultant to confirm baby's position and book a C Section. Although I had hopes earlier in the pregnancy of a VBaC if baby turned, it has been quite obvious for a while that this was very unlikely. At our initial appointment with the consultant, he was very nice and said we could try for a VBaC if baby turned, but made it quite clear that there was only ever a very small chance of this happening for me.
Because of my bicornuate uterus, there just isn't as much room for baby to move around, especially as the pregnancy goes along and baby grows ever bigger. There was a chance that she may have turned early on and then stayed head down, but as most babies do not get into the head down position until the last trimester, our consultant did advise that there was only ever a very small chance of this happening. I had hopes, but as the weeks and months have gone on, and as it has become more and more obvious that her head is very much up, I have accepted the inevitable C Section.
There has been times where it has really felt like she was trying to turn but she clearly just can't do it. Because my uterus is divided into two halves at the top, for a while we have been quite clearly able to feel her position. Her head is in the left side of my Uterus, and her bottom is somewhere around my middle then she curves up (around the divide in my uterus) and her legs are in my right side, giving me lots of good kicks on that side! It is strange as Monkey was always much more on the left and I only ever felt his feet kicking low down on my right side, so I think there is more room in there than there was (having already been stretched once before I guess) but still not enough to turn.
So today we saw our consultant who has been really great. We were totally prepared for the C Section but he was so kind about it, knowing that it wasn't what I had hoped for. We had a scan to confirm her position, (it was so lovely to see her, she is a big baby now!) and then had a chat. We knew the score but he was so kind about how it was time to accept it and come up with a plan. He said there is still a chance for her to turn but that it is extremely remote now so it is best to book a C Section. So we have. We now know our baba's birthday! Which is an odd feeling, especially as it is around 4 weeks away!!
Because we knew that she was still breech, Hubs and I had chatted about what dates we thought it might be, as we knew what days they usually do planned C Sections on, and Hubs really hoped it would be on his birthday. I wasn't convinced about that idea but as it turned out we didn't get a choice anyway and it is booked for the day after his birthday. I will be  just over 39 weeks pregnant.
So now I am preparing myself. Having been through a planned C Section before I am not too concerned about the surgery itself. I know what to expect and it was all very calm and serene really. I'm not looking forward to the recovery period although again it wasn't terrible last time, I got through it once and I can do it again …. though there is the addition of Monkey to think about this time! But I think I would be nervous about those first weeks with a baby and a toddler regardless of how I deliver.
In other news I am not doing too badly, which is a pleasant surprise! By this point in my last pregnancy I was very much on crutches because of my SPD/PGP and was barely able to move around, with or without them. I am hugely relieved that is not the case this time. I am pretty slow moving and it can be uncomfortable but it is so much more manageable. Hubs is doing a great job with his elbow digging massages into the muscles around my pelvis, which are massively painful but they are really helping to keep the muscle spasms under control and mean it is not too hard to get around during the day, yay!
I am tired, but then show me any 35 weeks pregnant woman who doesn't get a bit tired! I have good days and bad days and now I know that the countdown is very much on until her arrival. I have been sorting things out and getting the hospital bag C Section ready. We got the last few baby bits out of the loft so I have been sorting those. We still need to get the wall stickers on the wall but other than that everything is looking pretty good! Here's hoping the next few weeks fly by without too much pain or worry! 🙂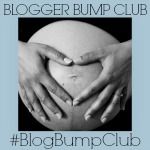 My word of the week this week is "Booked"