A big project for us this year has been our garden. Regular readers will know all about Operation Garden Renovation and the time and effort we have put into turning our garden from this: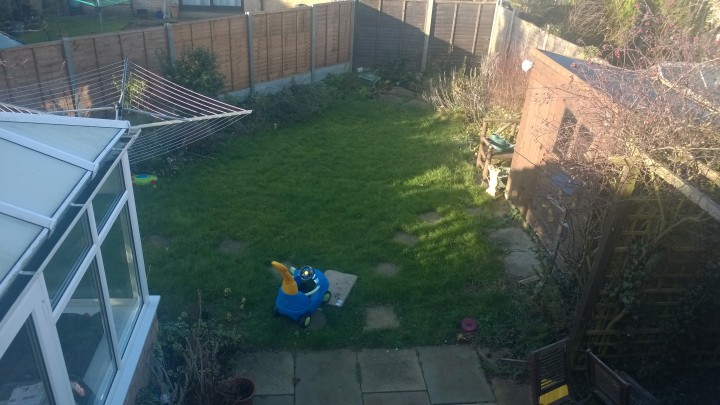 (although at this point we had already removed the approx. 15 conifer trees that covered the perimeter of the garden) to this: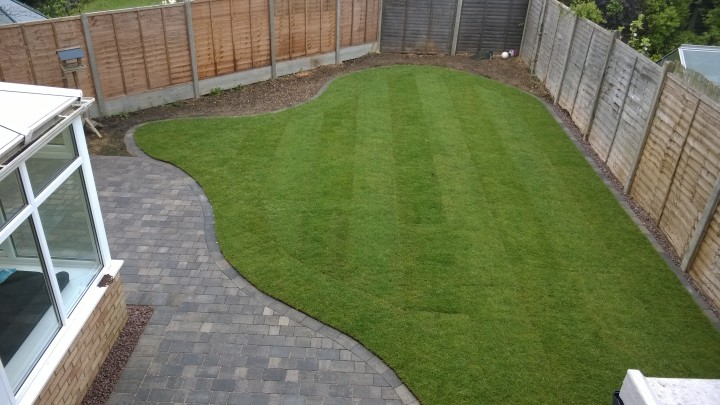 The work is still ongoing though and we have started planting the garden… and we have been looking at some other ways of adding some colour to the garden! There is a trend at the moment for using some non-traditional colours to paint fences and woodwork, and, well, both hubby and I love it! So we decided we would go for it and add some colour to the garden.
The colours we chose were from the Cuprinol Shades range and we bought their Power Sprayer to use with it. We chose Sage for one fence, and Seagrass for the other side. It started off well and the Sage paint sprayed on really easily! (Though it is worth noting that you need a sheet under at the bottom of the fence unless you want to spray your stones/patio/lawn/plants, and even then you will probably get a bit of overspray!)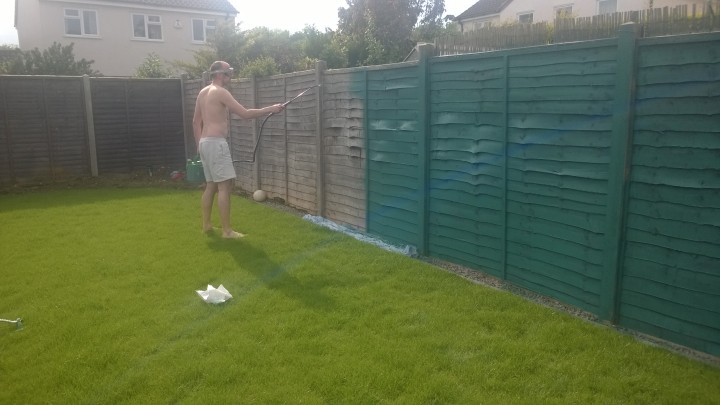 Then came the Seagrass paint, and the start of our problems. The paint just didn't spray on well at all. We thought at first that maybe the sprayer needed new batteries. But, even with new batteries it was sputtering and just not covering the fence well at all. We contacted Cuprinol to express our disappointment and were informed that unfortunately you cannot use the Cuprinol Power Sprayer with the Cuprinol Garden Shades range. Apparently only their pump action Fence Sprayer is compatible.
We were really disappointed with this and honestly I do not believe that the packaging is clear enough about this, which is why I am mentioning it. The paint tin says that it is for use with a sprayer (and does not mention that it cannot be used with the Power Sprayer), and the Power Sprayer says on the front that it can be used with Cuprinol sprayable paint. We thought this meant they were compatible.
BUT, there is a tiny line of small print on the back of the sprayer box, which informs you that it cannot be used with Cuprinol Shades. The paint tin does not say that the paint is not compatible with the Power Sprayer.
The difference between the packaging of the Power Sprayer and the Fence Sprayer is minute. They have added the word ALL.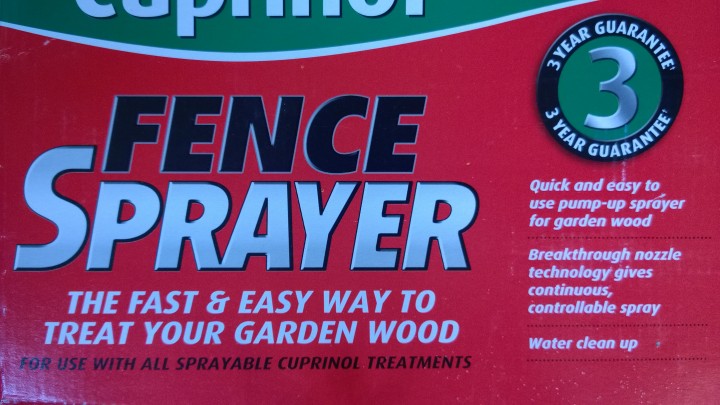 To be fair to Cuprinol, as a gesture of goodwill they gave us a voucher for a replacement tin of paint, and for the correct sprayer. Which was very generous of them, but also if they hadn't offered us something I would have fought harder because I do not believe that the labelling on the packaging is sufficiently clear to avoid this mistake. I can't believe we can be the only people to have missed one line of small print.
We painted the rest of the fence with the new sprayer and the difference was marked and all went well. The moral of the story – check the small print, and YOU CANNOT USE THE CUPRINOL POWER SPRAYER WITH CUPRINOL GARDEN SHADES PAINT.
The end result is positive as we love our coloured fences 🙂 We also haven't stopped there. We liked the idea of adding some other colours to the garden, so we have painted some trellises, one in Barleywood blue and one in Sweet Sundae pink.
We love them! And they now each have a lovely Clematis growing up them, to add some more lovely colours to the garden! (I know the right one is slightly wonky but there are huge conifer tree stumps below ground level that we have to work around)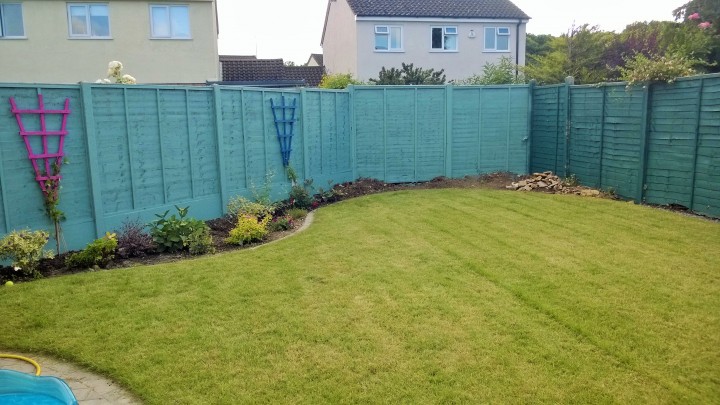 Of course, I couldn't write a garden post without also showing you some of the gorgeous flowers and shrubs! The plants are obviously where most of the colour comes from in the garden.
I love this gorgeous fuschia, which we got today. I love the way the colour contrasts with the fence behind it!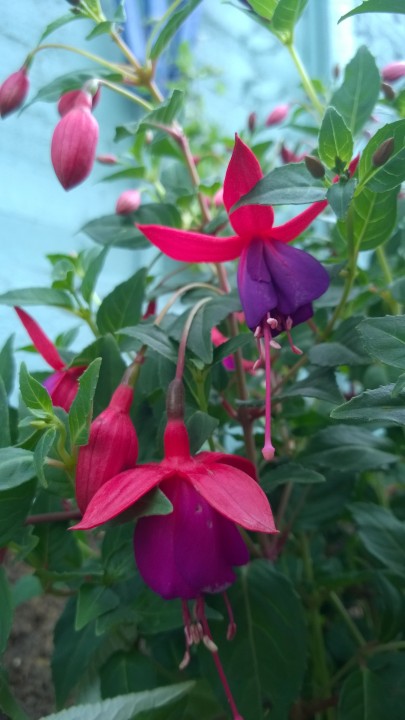 I am in love with Hydrangeas at the moment too (though at the start of the year I couldn't even have told you what one looked like) and am really proud of this one which, though not flowering yet, is really thriving!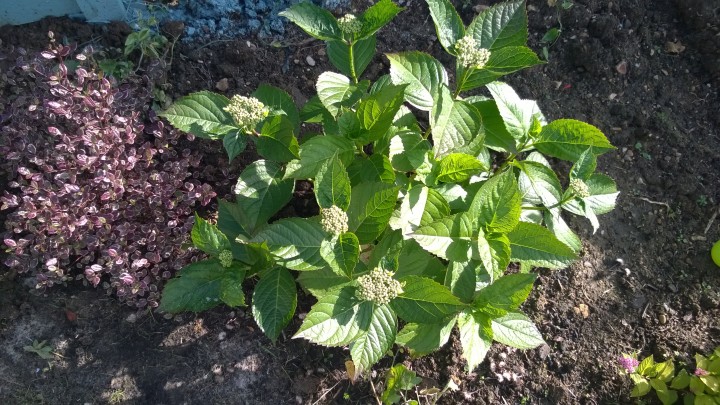 We have some gorgeous flowers in our front garden too, including our beautiful rose bush, which has been a very late bloomer, and we are thrilled to see this little yellow beauty this week 🙂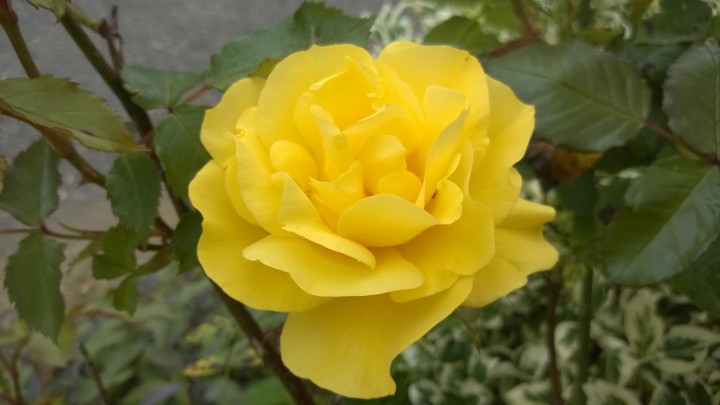 And one of my favourites, this gorgeous snapdragon! We've lived here for just over 2 years, we didn't plant this and we haven't seen one in the garden before, but it's here and we love it, so yay!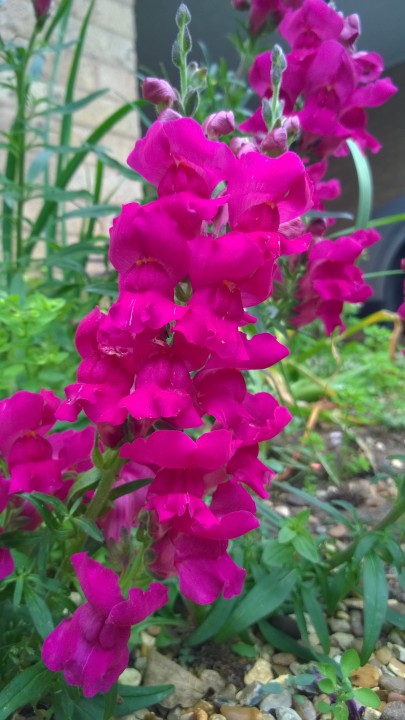 I  was very much a non gardener before we started this project and only knew the names of a few basic shrubs (such as hebes and heathers) but I have been really enjoying learning about the different plants (not that I really know very many yet) and I am just enjoying making the garden look pretty!
We have more to do as there is more soil to dig over and more plants to buy and plant.We also hope to carry on adding colour to the garden, with a few more quirky touches. We plan on buying some wooden planters, and painting them some lovely colours too. I also love the idea of having a few little cute creatures around. We have this gorgeous little bumble bee, and hope to give him some friends too!