Friday morning, to give me a bit of a break, Daddy took Little Miss to the office with him for a couple of hours in between feeds. At that time of day she is happiest snoozing in the baby carrier so Daddy has become quite the baby wearer! It felt a little weird for her to be away from me for so long but what was really lovely was that I got to have some good quality time one on one with Monkey. Daddy has spent most of his paternity leave focussing on Monkey and they have got even closer lately and while Monkey has seemed ok with me being with the baby most of the time, I have wanted to get back to doing some nice things with him.

So we went for a short walk (just over 2 weeks post c-section I am doing pretty well but really can't go too far, so we just walked around the block) dressed in waterproofs looking for some puddles to jump in. Monkey loves "jumping in muddy puddles" and I wish I could capture him on video saying that phrase as he says it in such a singsong voice with only some of the syllables, sort of "ju i mu-ee puwuhs." We also decided we would go on a hunt for some nice leaves and Monkey was hoping for Conkers, but sadly there aren't any horse chestnuts that close to our house (not sure there would be any left now either!).
It was nice to get some fresh air and to see Monkey enjoying himself jumping in puddles. He is so cute and he can't quite jump yet but he tries so hard bless him!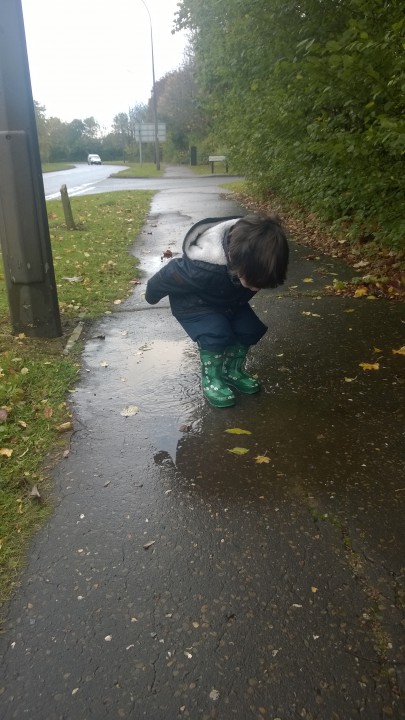 and collecting leaves, and one or two sticks that apparently resemble "stick man." Unfortunately my phone messed up and I don;t have any pictures of collecting leaves and sticks 🙁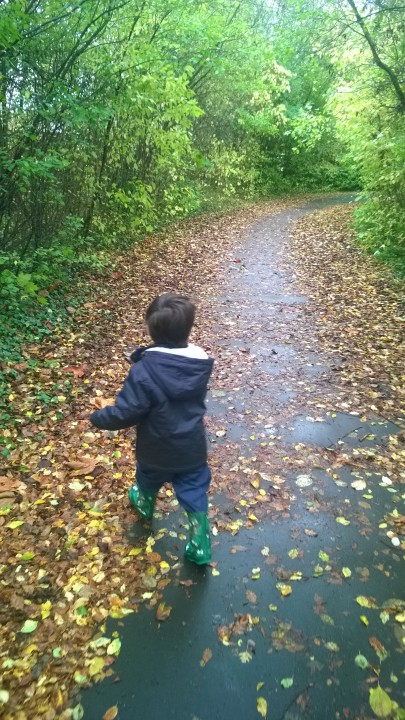 He would have carried on longer but I didn't want to overdo it (I can't wait till I am fully recovered but know I need to take it a day at a time!) so I tempted him home with the promise of painting – one of his favourite activites.
We did a bit of leaf kicking on the walk back too 🙂
At home we got the paints out and although initially he didn't want to paint his leaves, when I started to paint on one, of course it was "my turn, my turn, my turn!" and he soon got involved.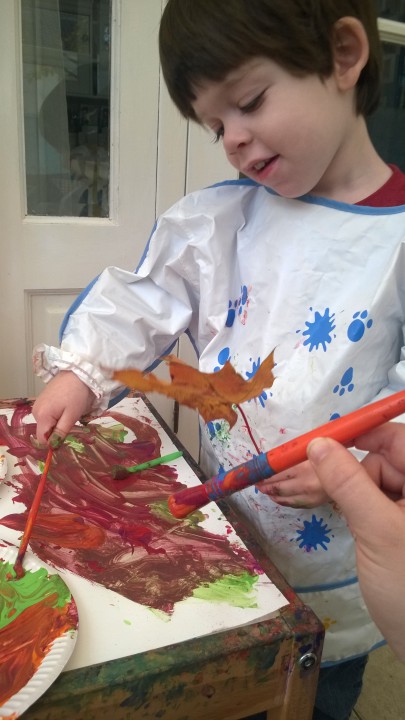 I then randomly painted a smily face on a leaf and that was it, a new game was born. Painting two eyes and a smily face on each leaf and we suddenly had lots of Mummy & Daddy  leaves :).
Lots of Autumn fun for Mummy and Monkey and Little Miss was good as gold for Daddy at the office!