Well now we are in September I guess it is officially autumn. The mornings are definitely cooler though I have been enjoying the sunny days. With my pregnancy progressing (and the joys of SPD) it is getting harder for me to get out and about with Monkey. We manage but there isn't quite the amount of walks and time outside that there used to be. Meaning I have to find ways to entertain him at home.
On the whole he is a lot more easier these days but it is nice to try a new activity sometimes so I thought we would try some autumnal painting this week. My attempts to guide Monkey down a crafting route rarely succeed so I usually let him have completely free reign to create what he likes. But he is growing up all of the time and you don;t know how they will get on with something if you don't try, and as he has been loving colouring in some of my amazing drawings when we draw a road, I thought he may like to do something similar with painting.
So when I was setting up the painting stuff I quickly drew a couple of trees, in the hope that he would like to either fingerprint or paint some leaves onto the trees.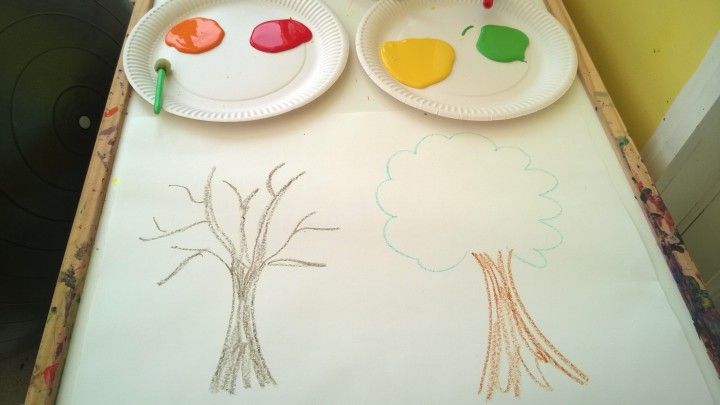 He was dead excited when he saw the trees and I painted a few dots on to give him an idea of what he could do….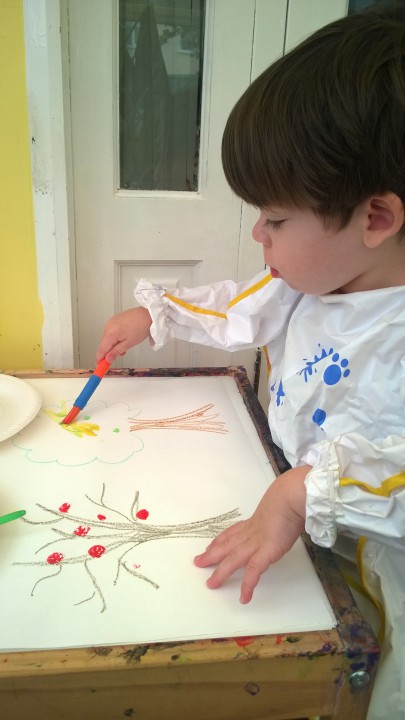 Then he dove straight in and painted all over the paper. Lol, was worth a try but after that I very much sat back and let him create as he wished. Clearly not bothered yet about making a picture that resembles anything and he had fun so that was all that mattered. They are nice autumnal colours too hehe.
He was very proud of his pictures too as he insisted on showing them to his Aunt & Uncle when they popped round later that day.