Boredom isn't quite the right word for it, and Monkey and I keep ourselves very busy, but with the constant routine of mealtimes, playtimes, baby groups, naps, housework, sometimes I feel as if my brain is stagnating with the mundaneness. Sounds all a bit harsh and I am loving being at home with my little man, but I do need pursuits for myself to keep my brain going. Hence the baking!
We are watching Great British Bake-Off so maybe that has something to do with my sudden re-interest in baking, but I had a craving for a nice chocolate cake before that although I'm not sure why. Thanks to my husband's tutelage I have now mastered the basic baking skills required for making a nice sponge cake, I also make cookies and flapjacks and things, but one thing I had never tried before was a good chocolate cake.
There are many many recipes out there and I was looking for a nice simple one that would give the tastiest chocolate cake possible. We have a few cookbooks in the house but I settled on a Mary Berry one. After a few failed attempts at some of her other recipes in the past (the pinwheel biscuits tasted really dull and we definitely prefer our flapjack recipe to hers) hubby was definitely a bit wary of this recipe book but her Chocolate Fudge Cake sounded too delicious not to try so off I went.
The cake recipe is as follows:
50g cocoa powder (I used Green & Blacks)
6 tbsp boiling water
3 large eggs
50 ml milk
175g self-raising flour
1 heaped tsp baking powder
100g soft butter
275g caster sugar
For Icing and Filling:
150g Plain Chocolate (Approx. 39% cocoa solids DO NOT USE A 70% COCOA SOLIDS CHOCOLATE, see below)
150ml double cream
Method:
 1.Pre-heat the oven to 180°C/gas mark 4. Grease two eight inch sandwich tins and line the bases with baking parchment.
2. Measure the cocoa into a bowl, add the boiling water and mix until smooth. Add the remaining ingredients and mix until smooth.
3. Divide the cake mixture between the prepared tins and level the surface
4. Bake in the pre-heated oven for about 25-30 mins until well risen and the tops of the cakes spring back when lightly pressed.
For the Icing and Filling:
1.Measure the chocolate and cream together in a bowl. Stand the bowl in a pan of simmering water and stir until just melted – do not get too hot.
2. Remove the bowl from the heat ad allow to cool until it has nearly set.
3. Spread onto cake as a filling and then the remaining for the icing.
I have to say right off that miraculously the cake baked perfectly first time round! I couldn't quite believe it! The icing/filling however… not quite so.
Now it does say in the recipe that the chocolate should be 39% cocoa solids. I read this, but in my local shop they had 2 types of plain chocolate, one which didn't say anything, and one which was 74% cocoa solids. I thought this was probably fine so bought that one. When I got home however I had another look at Mary Berry's book and in the early pages (which I never normally read) she does explain why it is important not to use a chocolate with too high a percentage of cocoa solids. Something about the fat separating. This concerned for all of ooh, 2 seconds and then I thought, ahh it'lll be fine so went on with my baking.
What I was mindful of though was how bitter it would be using a plain chocolate that dark, so was prepared to add some sugar. when I had melted the chocolate and cream together I tasted it and sure enough it was a little bitter, so I added some sugar and extra cream to sweeten it. It tasted lovely, so all good I thought. Until I left it to cool. Then it started to go a bit gloopy and sure enouuh it separated. Soon there was a deep layer of oil on the surface of the bowl. Boooo! I tried to dab some off with kitchen roll (fail) then drained some of it down the sink. It did still taste nice which, according to hubby, was the most important thing.
I slapped it on the cake and actually it wasn't too bad, tasted really good actually, I just knew that it wasn't right.
So a few days later, armed with some chocolate which was 43% cocoa solids (the lowest I could find) I tried again and it was definitely nicer. It was less greasy and it definitely set better as it cooled. Hubby says he liked both but my mum did admit she thought it tasted nicer the second time round.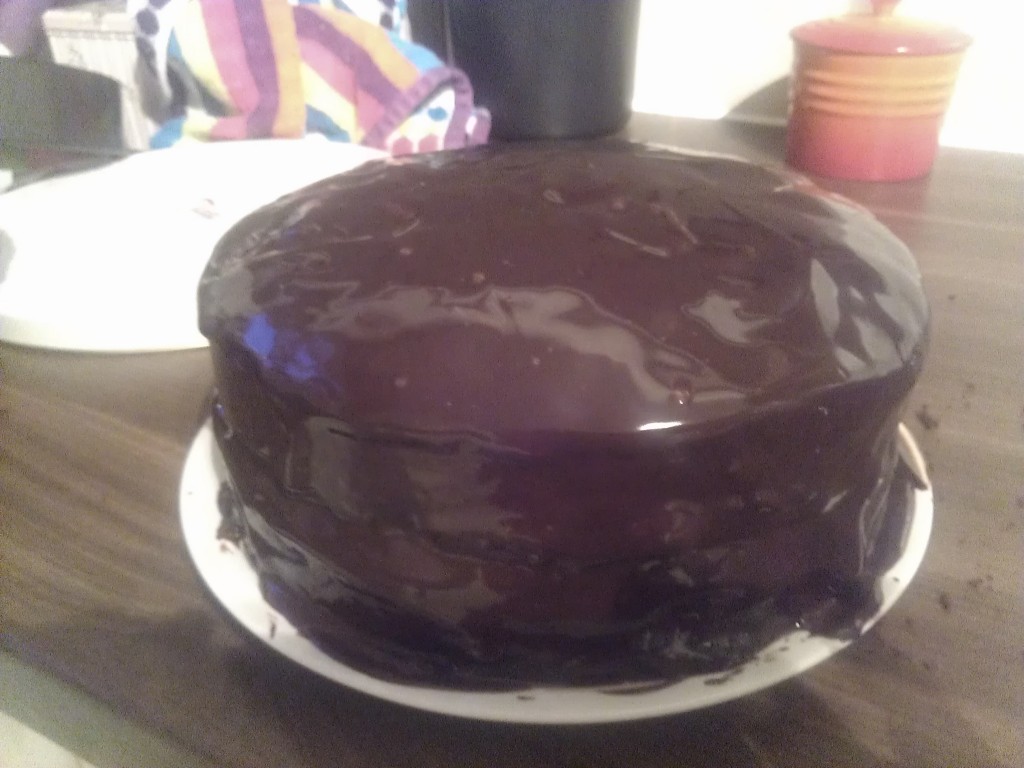 So the moral of the story is – use the right type of chocolate! It is a seriously lovely cake though and such an easy recipe, so way to go Mary Berry! 🙂
Oh, one more note, the full recipe also mentions spreading apricot jam onto the cake before putting the icing/filling on, but I know Hubby would not like the apricot jam so I left it out, and it doesn't feel like we are missing anything! 🙂