My word for this week is Birthdays.
In actual fact this could have been the word for the last couple of months as April & May are full of Birthdays! Up until recently we have celebrated 12 birthdays across those two months. This week however saw the birth of the second daughter of a very good friend of mine. So happy birthday and welcome to the world little baby Eloise! Ooh it's made me so broody. Good job we already have another little one on the way!
So that makes 13 birthdays across April & May – it is expensive and full of celebrations, but lots of fun! This week I have felt it in particular, largely because of course it has been my lovely little Monkey's 2nd Birthday! We started the celebrations last Friday with a mini party at the park with two of his friends who also have birthdays this month. One a week before Monkey, and one a week after, although they both turn 3 this month. They are 2 of my very good mummy friends' kiddies so we decided to have one joint celebration rather than 3 little ones. Sadly due to a very poorly little tot the other mummy in our quartet wasn't able to make it at the last minute. We really did miss them but we also had a lot of fun at the same time! We had party hats and bubbles and choccy biscuits and a lot of fun in the sun!
Then on Sunday it was Monkey's Grandpops' birthday! Nanny and Grandpops have been away on holiday for the last couple of weeks and we've really missed them so it was nice to see them for his big 60th!
Monkey very much enjoyed helping Grandpops unwrap his presents!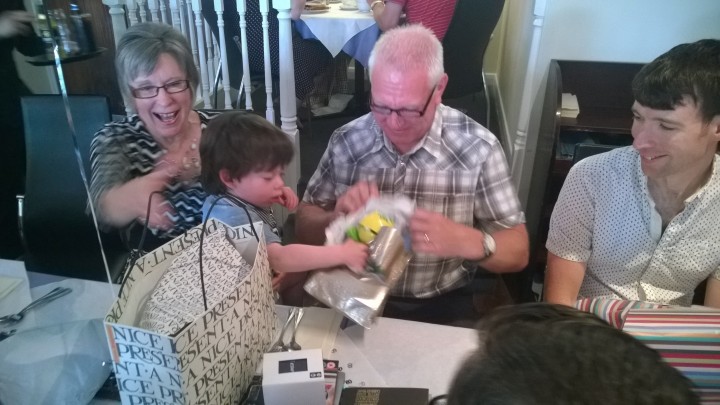 It was also Monkey's first ever chinese and he did quite well – mainly prawn toasts and prawn crackers but he did try a few bits so we can't complain.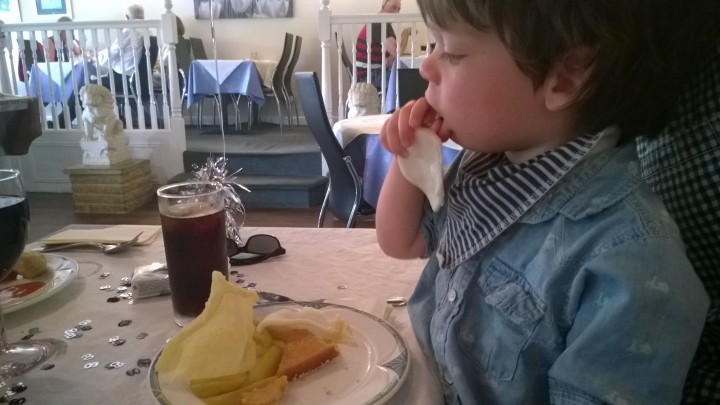 He was also just a very good boy as we were in the restaurant a long time, though his uncles and aunties were definitely happy to help keep him entertained. Thank goodness!
My step-sister had made Grandpops a fantastic racing car themed cake – complete with racing cars! Monkey was very lucky, and thrilled, to be allowed to keep the yellow one!
He did do really well but it was quite stressful keeping him busy and he was very much enjoying decorating the restaurant with his stickers, though I think we found them all in the end! (Hope so anyway!) It was a lovely family lunch and a very nice Sunday.
Wednesday was Monkey's actual birthday so we had pressies first thing in the morning, then he and I spent most of the day at the park with friends, it was a really gorgeous and relaxing day actually and he very much enjoyed himself 🙂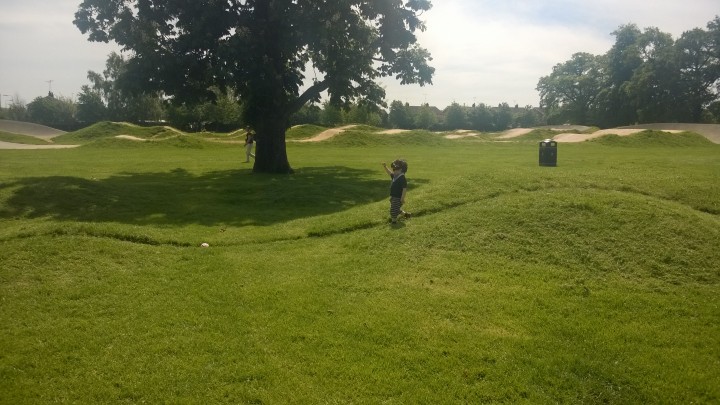 The celebrations are set to continue this weekend with the family all coming round Sunday afternoon for a bit of a buffet and a present-fest! 🙂 So this week has been very much focussed on birthdays 🙂
What word sums up your week?