There is a little outdoor water park in Peterborough (Bretton Water Park) that I have heard about a few times, but not been to before. It doesn't really have much information online about where it is or how to get there but in photos I had seen on Facebook etc. it looked great, so I decided to give it a go.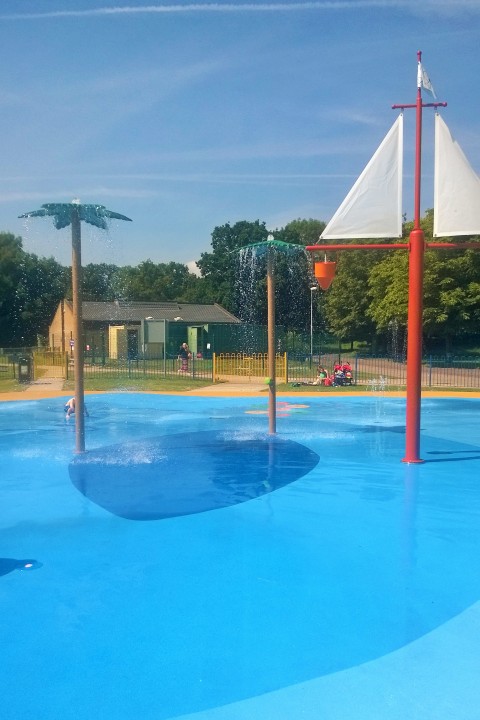 I had a vague idea of where it was and how to get there from talking to people about it, but I wasn't 100% sure and my neighbour was following me there so I hoped I was right! (I will put directions below to hopefully help others wanting to go there). Thankfully I was right and we arrived with no problems.
Though I kicked myself when I arrived because I had been concentrating so hard on where it was that I had managed to leave a bag at home. A bag with Monkey's swimsuit, towel, a blanket for us to sit on and suncream, all packed and ready… by our front door at home :(. Gutted! It isn't far from where we live but I didn't really want to go home again. Thankfully our everyday backpack had the food in, and after some digging I also managed to find a spare t-shirt, swimming nappy and some suncream with a little bit left in! My neighbour thankfully also had a spare towel with her so we had enough between us to cobble things together! That is why Monkey is only in a t-shirt and nappy though, just in case you are wondering!
Anyway, the water park is basically a big, completely outdoor soft tarmaced area (not sure if that is the right term, but you know the spongy tarmac some play areas have) with lots of different water fountains for the kids to run around in. As you can imagine, kids love it!
Monkey, being Monkey, was a bit wary to start with. He just isn't a child to jump straight into new things. He is quite cautious and can take his time warming up to new situations. It can be frustrating that he isn't one of those children who will just run off and go immediately, but it is a part of his personality which I also kinda love :). So, initially, inevitably, he stood and watched while my friend's little boy ran right in.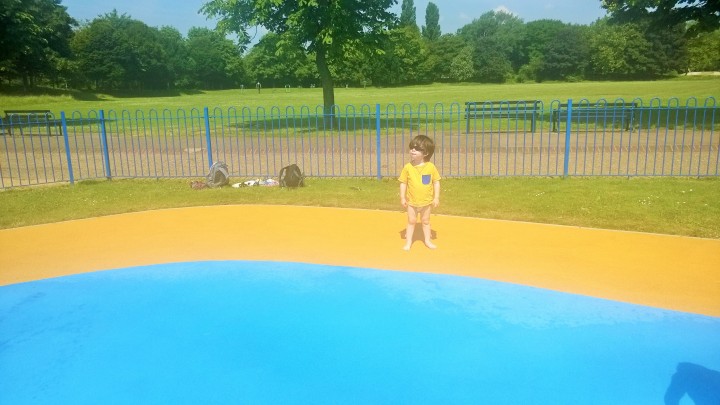 I managed to tempt him over to a couple of the smaller fountains by playing in them a little myself. Eventually he gingerly reached for the water.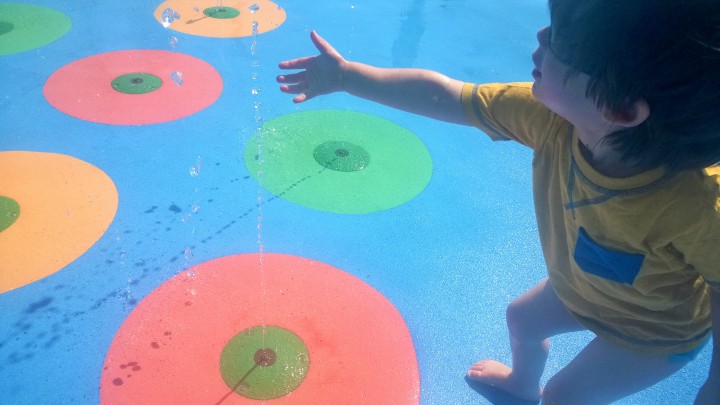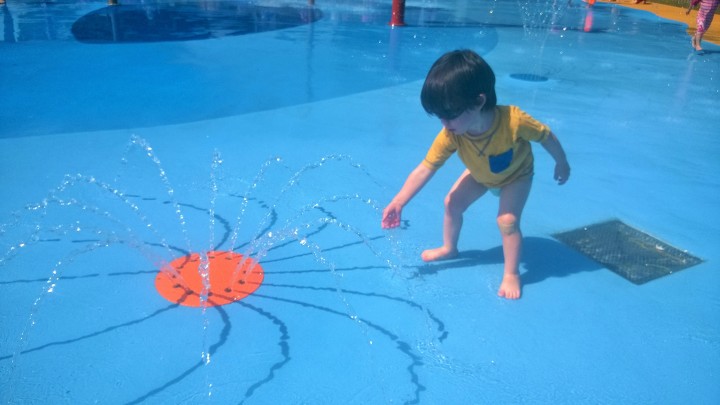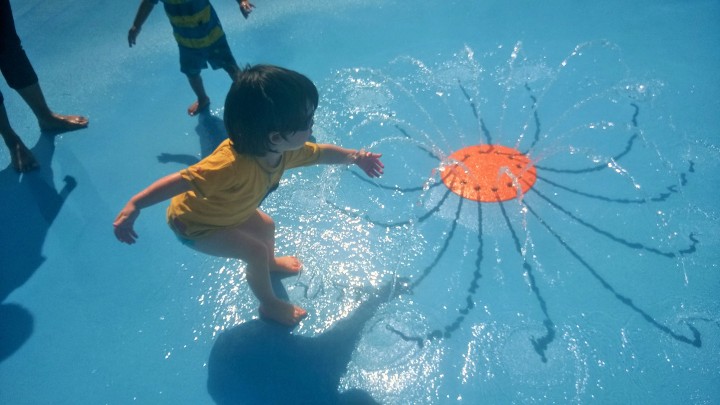 Then at another little fountain he found another child's bucket and with a purpose (filling the bucket and tipping it out, very important purpose) he was soon right in there. (I found the mummy of the owner of the bucket and they were find for him to play with it and we gave it back later, just in case you are wondering!).
He finally had his legs and arms in there and then eventually he was soaked, and loving every minute.
We then went back to some of the other fountains that sprayed intermittently and he was loving putting his foot over the sprayer to get a surprise when it came back on again. At this point he was squealing with delight. None of the photos are that brilliant, as even when he was loving it, he very much wanted me right next to him the whole time and was often clinging onto my skirt (eye rolls) if I wouldn't let him hold my hand!
I knew he would like it when he got going, but you cannot force him to do something he is not ready to do. He is a stubborn little Monkey and knows his own mind. I can only say that that will probably stand him in good stead in the future, but for now, we just have to go about things the right way when it comes to introducing him to knew things. Slowly, slowly, catchy Monkey. Is that the right phrase? It works for him anyway!
Now that we have been once I am sure he will get more and more confident every time we go. It is just what happens with him. Who knows, by the end of the summer I may actually be able to get shots of him from further than 2cm away! ;).
It wasn't hugely busy when we were there but I am sure once the summer holidays comes around it will be quite a popular place so I hope we get to go once or twice more before then, so he is more confident before there are lots of bigger kids to make him nervous! I was really proud of him though as though it took him a while, he did get stuck in and enjoy himself!
Bretton Water Park Opening Times & Information
There is no entry charge! Free fun, woohoo!
The park is open from 10.30am – 6.30pm but the fountains are turned off every day between 1.30pm – 2.00pm for cleaning.
The park is open every day throughout the summer, until Friday 29th August.
There is a toilet block there with a drinking water fountain, but this wasn't working when we went so take plenty of drinking water, It is not safe to drink the water in the park or the toilets.
For babies and tots in nappies, they have to be in swimming nappies at all times, not regular ones. There is an attendant there who has swimming nappies available to buy if you need to, I'm not sure how much they are though. He also came round with rubbish bags at one point which seemed very helpful and I saw him testing the water which is good to know!
There is no shade in the actual water park though there is some trees just outside it that may offer a bit of shade if you are there for a while.
There are baby changing facilities.
Other than the above water fountain I didn't see any food or drink vendors there when we went.
Getting to Bretton Water Park
From the A47, follow signs  for Bretton Centre (Sainsbury's). It is the same junction as Peterborough City Hospital, but on the opposite side of the dual carriageway.
Turn right at the roundabout.
At the Traffic lights, instead of turning right into the shopping centre car park, stay in the left lane and continue straight ahead.
At the roundabout turn right onto Flax Land.
Continue past Aldi and round the corner there is a small sign for "Bretton Water Park" on your left.
Take that left turn and then follow signs for parking. These leads down a single track road under a barrier and through some woods but it is the right place.
This will open out and you should see the water park ahead. Parking is down the left side of the road.
We had a lovely time there and will definitely be going back a lot over the summer!It's another great DOOOD (Day Out on Our Doorstep) :).