I am so British and I talk about the weather far too often but hasn't the weather been glorious this week? So nice to finally feel the warmth of the sun and we have spent a lot of time outdoors enjoying it.
Last weekend we spent a lot of time outdoors doing some gardening. We were due to have some friends to visit but their little girls came down with a nasty stomach bug poor things so that had to cancel at the last minute. We thought we would take the opportunity to do a few bits on our front garden as we have finally had the driveway finished and it was time to lay some turf and do a bit of reorganising out there.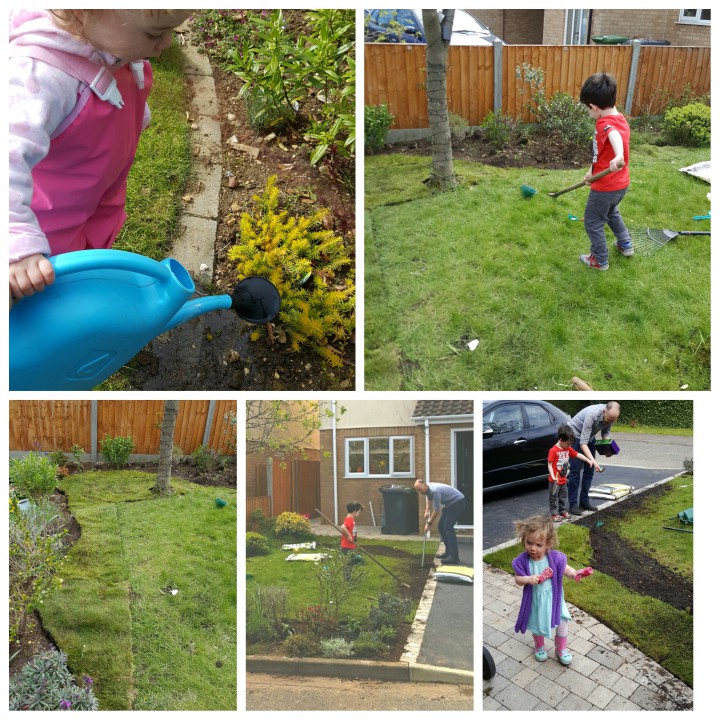 Bank holiday Monday we went to meet some friends at NT Stowe for the day, I will share more about that in a separate post but we had a lovely day and were lucky to get a bit of sunshine!
Tuesday Monkey and I were both feeling full of cold so actually spent most of the day indoors, but we did go for a walk and a scoot and I am so proud of Monkey as he is amazing on his scooter all of a sudden. He's not been keen on this new one and really hasn't wanted to learn how to do it, but he has finally got it and looks so grown up scooting down the path.
I was also proud of myself as even though I wasn't feeling great I got out for a run. It's my latest thing in a bid to get healthy and so far I really am enjoying it even though I'm not very good at the moment!
Wednesday my mum and I took the kiddoes to our favourite local farm Park and the weather was amazing! So warm and sunny and just lovely so we had such a wonderful day!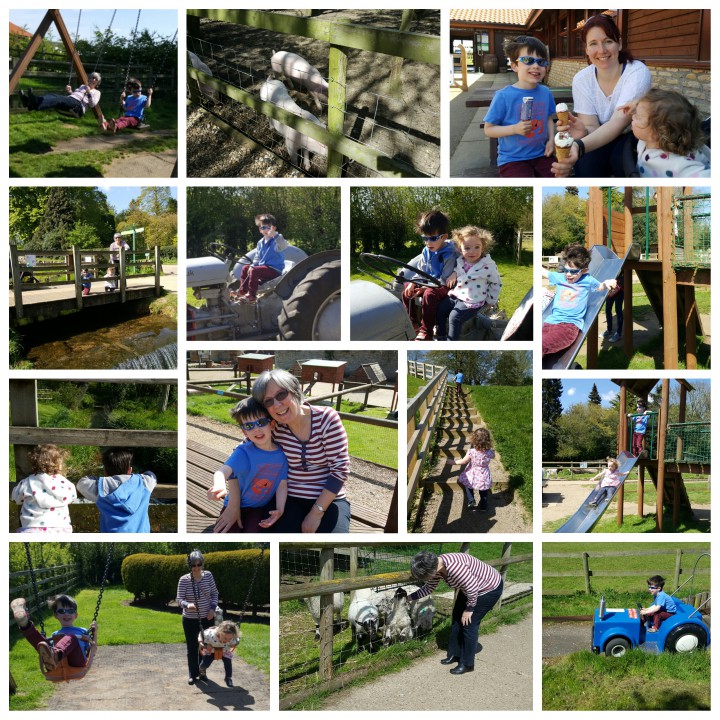 We spent more time outdoors at home that afternoon too watering the turf we have just laid and our little lady discovered she loves running through the spray of water from the hose. Shouldn't be surprised really given how much she loves water!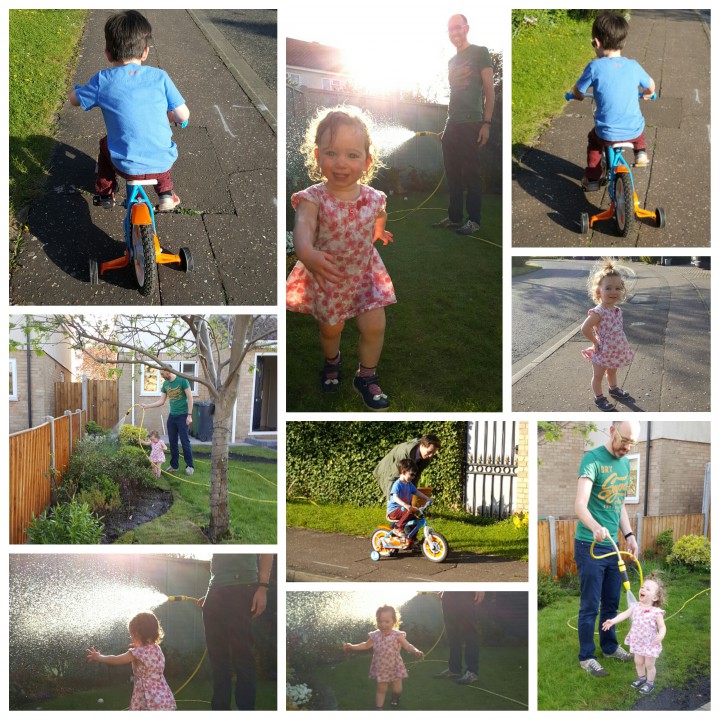 I was also really proud of our Monkey who wanted to get on his bicycle. He's had it nearly a year but we always struggle to motivate him to have a go. But one of his friends has recently got a bike and is already riding without stabilisers so his has definitely been a motivating factor for him! He has still a way to go but is definitely improving and his Uncle Marky popped over to borrow a ladder so he helped him out a bit too.
Thursday Monkey went off on a coach trip with playgroup, eek! Made me nervous but he had a wonderful time. Meanwhile LM had a little play with her friend (and I chatted with my friend) then we had another good friend pop over with her gorgeous little man, we went for a walk then enjoyed sitting out in the sunshine.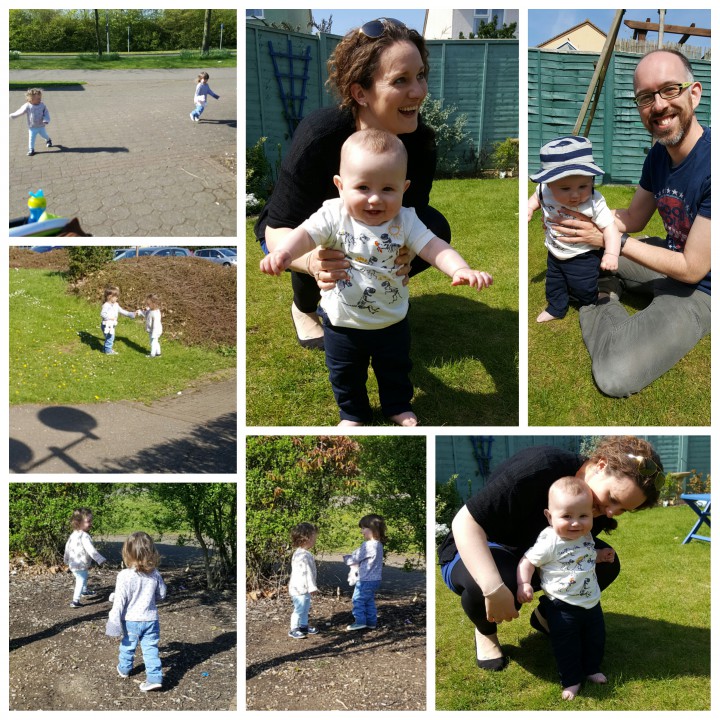 Finally this afternoon when Monkey returned from his trip we got some water in the tuff spot and had a play outside. Monkey wanted to take a picture of his baby sister and I and I was quite impressed with he got! Budding photographer. LM of course adored jumping and splashing in the water haha. Love this weather!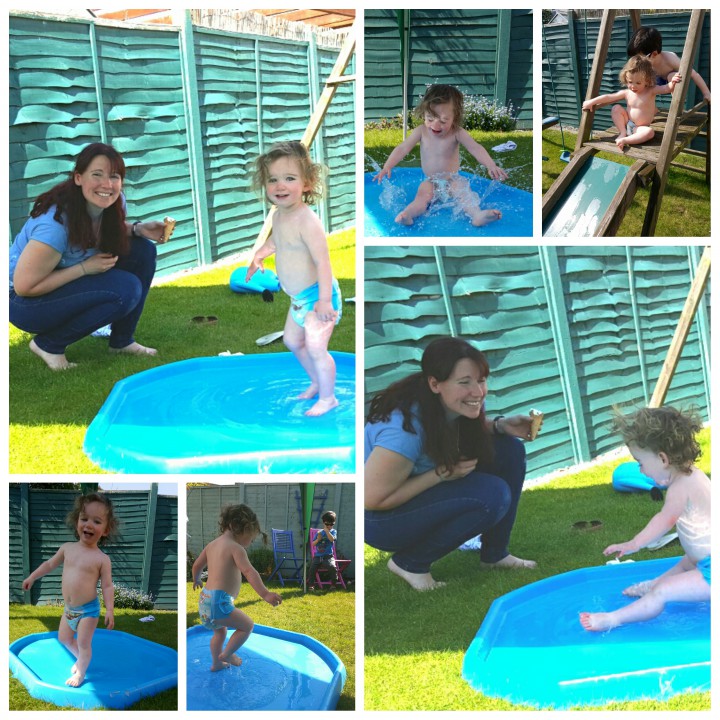 My word of the week is outdoors.