I do love trying to keep a record of the funny things the kids say, and the way their speech and use of language develops. Every stage seems to be so fleeting in this respect and sometimes they move on without you realising it. It's hard to remember a Monkey who didn't chatter away constantly but I know there was a time when he barely said any words, and a time when he mispronounced words (like serbatry instead of conservatory and nockynurs instead of binoculars). It's hard to imagine those times though, so I love being able to record them on my blog, mainly for me to look back on, but I hope they also entertain anyone who reads them! (I actually just indulged in looking back at when Monkey was a little older than LM is now and ooh did I chuckle at the things he said!)
I haven't done one of these for a while but here is what my kiddies have been saying over the last month or so. Monkey first.
Monkey Says
Monkey is learning more and more about the world and just growing up so much in front of our eyes since he started school in September. He is 4yrs 7mths old.
First up, a real cracker and definitely a case of the things I say being parroted back to me. I was having one of those days where I was irritable and snappy. I kept snapping at him but I did apologise and tell him I was tired. The next time I snapped at him he said, quite calmly
"You are so tired today… But please don't be grumpy with me"
I had to concede that he was right as it is something I have said to him many many times haha. Wise little man! He is such a sweety and loves to tell us how much he loves us.
"I love you all the way to Saturn and back."
"I love you all the way up to the aliens"
"I love you down to the ground"
"I love you more than I love LM" (to daddy)
Daddy's latest toy is an Amazon Echo Dot in the kitchen. "Alexa" does things like play the radio set timers and generally answer's questions. Monkey loves her.
"Alexa's so kind"
He comes out with some fab little pearls of wisdom.
"It's a really exciting life"
"Felix and I will be best friends, even when we die"
About LM's tantrums
"She thinks it's the end of the world. It really isn't." Think I may have said something along the lines of that once or twice myself…
Again with the kindness, when Daddy told him that if he didn't finish his dinner soon then he would eat his chocolate treat for pudding instead.
"I know daddy, we can share it!" ha, still have to eat your dinner Monkey!
Finally here are a few pure 4yr old comments.
"I was dreaming about reading a newspaper all about big fat tummies." I should explain here that Monkey has a thing about shoving teddies up his jumper and having a "big fat tummy" I think it started when I was pregnant with LM, lately he seems to associate it with Father Christmas…
"This milk is making me have a cold tummy"
"my tummy is full up" (usually when he would prefer to be eating pudding) "my tummy is tired" (when be doesn't want to eat any more dinner… Usually after mouthful 1).
I loved it when he chose his outfit the other day and wore all yellow. Proclaiming "it's a bit foggy outside so I can be the sun." 🙂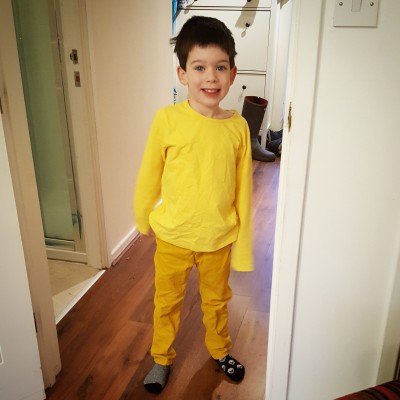 "When I get bigger I can be the Daddy and LM can be the mummy"
We explained that that wasn't the way of it as they are brother and sister and explained about falling in love with someone…
"When mark and fran get married I'm going to be so happy and I'll fall in love with LM"
Yep. Safe to say he didn't get it. But there is hope yet that we can avoid incest.
"Get off goat" Don't call your sister a goat!
Little Miss Says
I have to admit LM's speech hasn't developed as much as I thought it might have since the last update I wrote. Much of what she says is still just the first syllable of words, although then she will come out with basically a full sentence, and take me completely by surprise. It is coming, just very much in her own time. She is 2yrs 2mths old.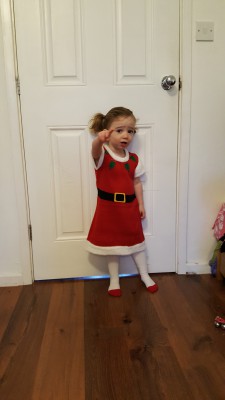 Some of the more recent words, are "yeah" which we love as at least get an afirmative response sometimes, rather than just all the "no"s. "Me" is another new one and she says that quite a bit at the moment when she is feeling demanding. One of her favourite games is running across the living room and she likes her brother to stand at the door with her so they can go together. He doesn't always want to though which results in a lot of her shouting "me,  cujjer (brother), me!" over and over while pointing frantically between him and the patch of floor next to her.
Another favourite game is hide and seek and she loves running around shouting "care-dju-go? " (where'd you go) and then "Dowdoo!" (found you).
She is a little herald and if someone comes to the door she will run round the house shouting at everyone to let them know "mama, daddy, gab a day de la do door a mama" or something to that effect that haha 🙂
She loves a good "Ni Ni"  picnic especially with her favourite person "Daddy." From the moment she wakes up in the morning and calls her first word, all I hear all day is "Daddy?" even when he's out or at work. If she can't find him, it's "Daddy? Care-dju-go?" and if he is there but not doing as she pleases, it is "Daddy, Now!" with the pointing again! Yep, "Now"  is another recent word. She is so demanding and can be frequently heard shouting "mo moi" (more milk, obviously) or "oer" (egg, no idea why) at breakfast especially.
It's a funny time as she is saying a lot and so wants to be understand. We obviously understand a lot of it, even if we don't understand why she calls some things by random words. My friend Susie, is "cha," no idea why. Paw patrol is "dah dah de la" possibly because of the music? It is obviously harder for other relatives and friends to get what she is saying sometimes and we really don't always understand either.
There are things that are easier to understand though "Go ho"  for go home. "Wana ge dow"  for I want to get down. "Teddy"  is one of my faves and she loves to shout "bear" in a bit of a northern accent randomly when she wants to watch "going on a bear hunt." She also randomly correctly named a "giraffe" the other day and sometimes when you think she is jabbering a random load of syllables  you suddenly realise that actually you understood she said she wanted you to kick the ball to her!
I've done a little video of some of the things she says as it is seriously cute and I know it won't stay this way for long. With Monkey I worried about his slow speech then he suddenly took off and there was no stopping him, so I really am not worried about LM and just want to enjoy this stage.