Wow, well that's it, Christmas is over for another year eh? And what a wonderful Christmas it was in our house. Really magical. Mainly for the sake of posterity here is a quick round up. (And it is quite picture heavy – be warned! :))
Christmas eve and Monkey was so excited to put out the food for Father Christmas and his Reindeer.
Christmas morning and our Little Minx unfortunately woke up around 530. Yawn! We managed to all stay in bed till 615 when she started getting unhappy and woke her brother. Being Christmas we then all piled into our bed with stocking for the excitement of opening our stockings. This is a tradition I remember from when I was a kid and love carrying it on with ours. Wonderful to see Monkey's excitement at all the little bits and bobs Father Christmas bought him, and though she didn't have as much LM was very happy with her pressies too. A couple of very attractive family selfies were taken on the bed then it was time to head downstairs.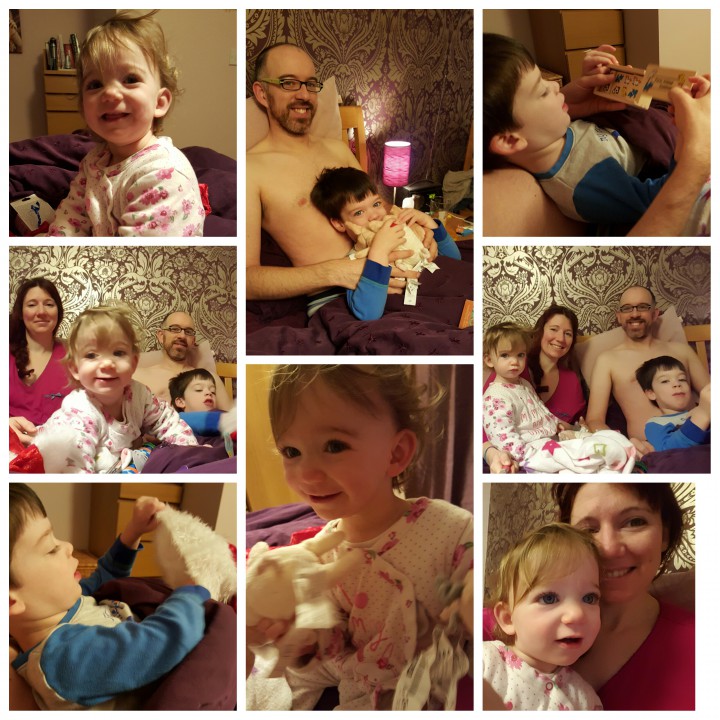 We've started the tradition that in addition to stockings, FC leaves a wrapped present for each child under the tree and a joint one. Monkey was thrilled to see the food had been eaten and drink drunk and was so excited by his presents. Then we all gave each other some presents. Monkey was massively excited with his Woody toy and LM loved her happyland bits though I think she was wondering what was going on, as well as enjoying it all.
Then it was time for our yummy traditional fry up breaks something else I remember from growing up. A real treat for Christmas morning and Monkey even ate some of Daddy's black pudding… and he loved it! Good boy!
We were hosting Christmas at ours, which is about the 4th year in a row. We love doing it, are luck to have the space and it does make it so much easier to have the kids at home where they are comfy for naps etc. This year was the turn of having my family all round. So far the Christmas Dinners have been a joint effort or very much down to Hubs, but this year was the first year I have cooked it all on my own and thankfully it went really well! We did our favourite cider braised ham with honey and mustard glaze instead of Turkey (controversial I know) and of course all the trimmings. Because we are planners we have all the timings written down and for Christmas they are even laminated and honestly it takes so much stress out of it as I knew exactly what I needed to do and when. I was really proud of myself and dinner went down a storm!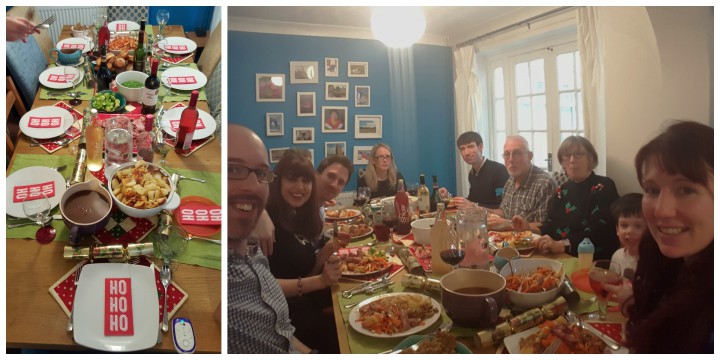 We all got some truly wonderful presents. I got a beautiful necklace from hubs engraved with his and the kids names, my parents got us annual membership to an awesome farm centre nearby and one of my brother's gave us vouchers for a meal out including the offer of babysitting – the perfect gift for any parents and so thoughtful! I can't list everything here but we really were all spoilt with such thoughtful presents. Hubs' best present was a drone I got him. He has been saying he wanted one since we went to the gadget show and though I have very much vetoed the £2000 ones I found a very cheap one on amazon and it has been so much fun over Christmas. A couple of pictures taken with it haha he needs some practice but they aren't bad! Not the best quality when it is dark though.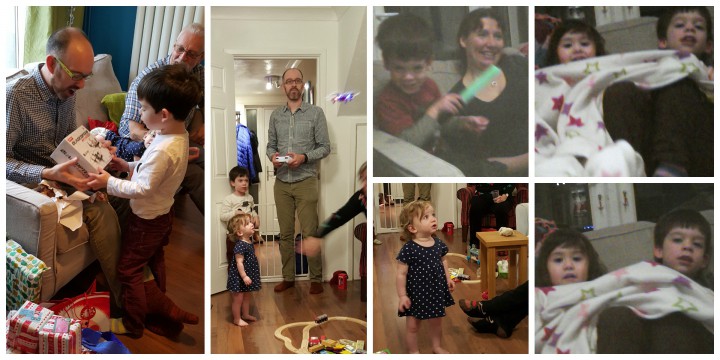 We went for a little walk in the wet in the afternoon to clear our heads a bit and get some fresh air and it did the kids good to get out of he house. Plus they loved having fun with their uncles.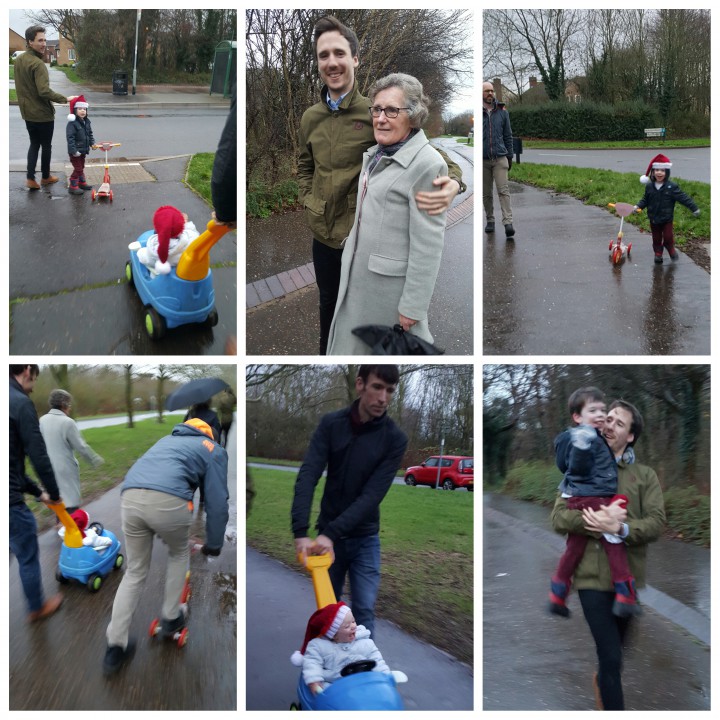 A few other piccies of all the fun throughout the rest of the day 🙂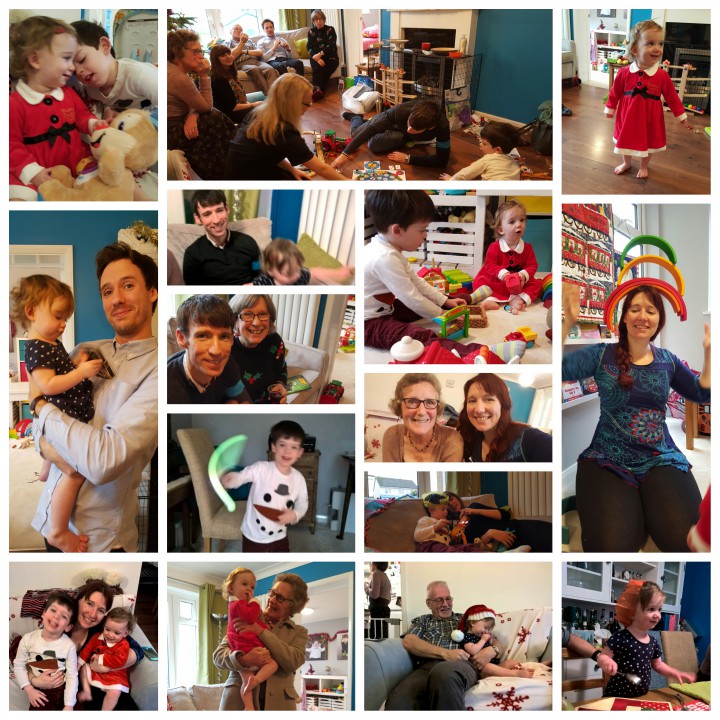 That night when the kids were in bed it was time to rouse our sleepy selves and play some games. Always so much fun and much laughter ensues. Got to be one of my favourite parts of Christmas laughing and having fun with my wonderful family.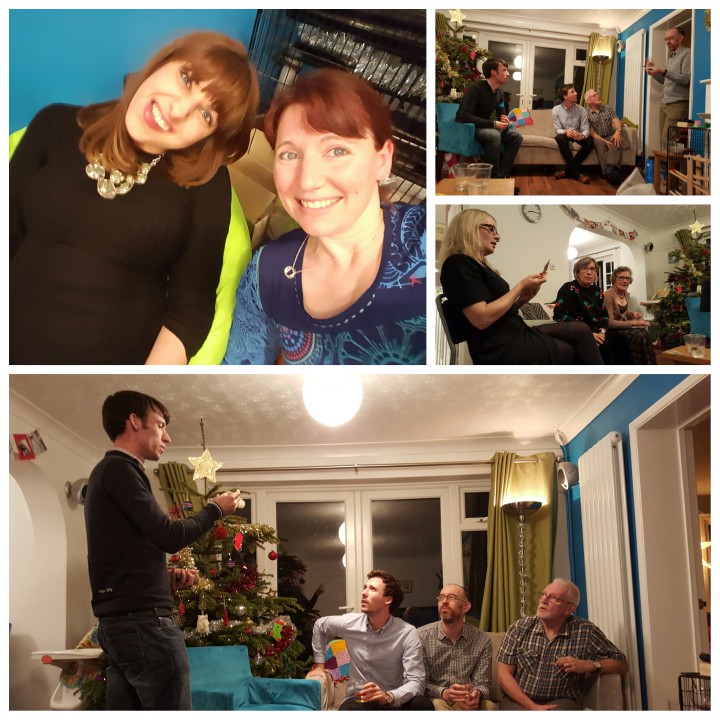 The next day was the turn of hubs' side of the family and they all came round for yet more presents and a lovely buffet. More yummy food for us all. Again we were all so spoiled with wonderful presents and had so much fun. The kids adore all of their aunts and uncles and grandparents and we are so so lucky to have all of the family so close both literally and figuratively.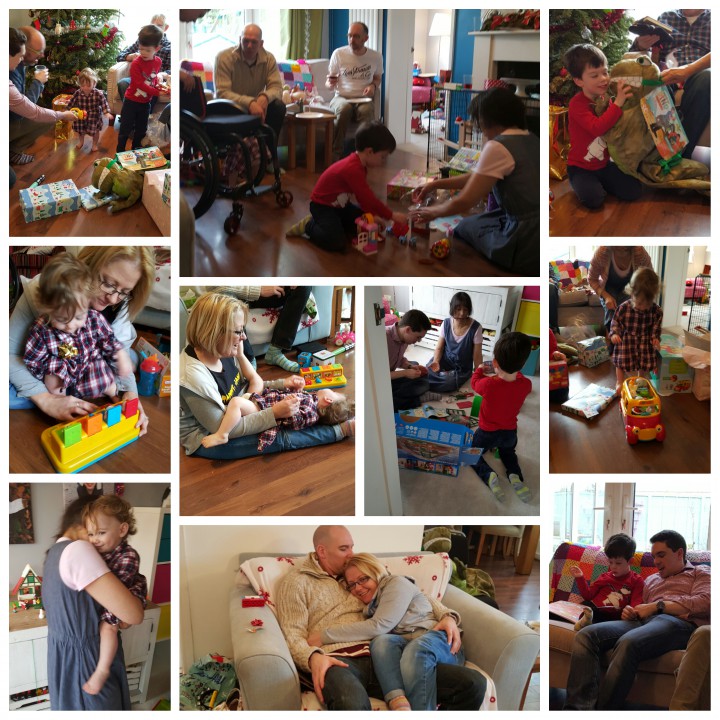 So there we have it, we've eaten, drunk and certainly been very merry. What a wonderful happy magical Christmas
How was yours? Ihope it was everything you could have wished for.