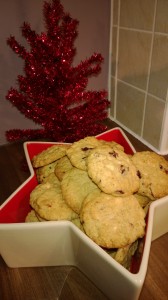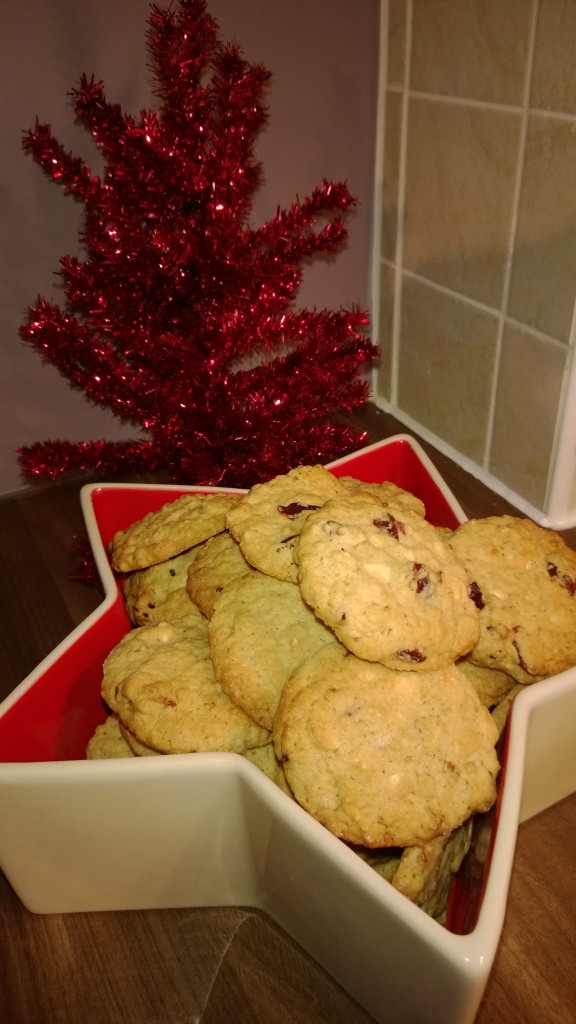 Baking is a big part of Christmas don't you think? It's a good opportunity to indulge in some of your favourite sweet treats, and a good excuse to make them for others. That's one of the things I love most about baking, watching others enjoy something I made. Not sure what that says about me! I know some people have whole baking days and I would love to, but with Monkey around there's no way to do that at the moment, and he's not quite at an age to help me bake, so this year baking is confined to his nap times.
We are baking a couple of our faves this Christmas, the Red Velvet, and the Chocolate Roulade, some chocolate brownie (recipe to follow), and we are also trying a new recipe! I know there is a lot about Nigella in the media at the moment and I am not going to weigh in on that minefield! Whatever went on in her home and marriage, there is no denying she is one heck of a cook and has some great recipes. This is no exception.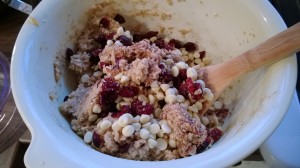 Ingredients
150g Plain Flour
1/2 teaspoon Baking Powder
1/2 teaspoon Salt
75g Rolled Oats
125g Soft Butter
75g Dark Brown Sugar
100g Caster Sugar
1 Egg
1 teaspoon Vanilla Extract
75g Dried Cranberries
50g Pecans (The recipe says roughly chopped but we whizzed in a processor to get them as small as possible! :))
150g White Chocolate Chips
Method
Preheat oven to 180C and line two big baking sheets with baking parchment (makes approx. 30 cookies)
Measure the Flour, Baking Powder, Salt and Oats into a bowl
In another bowl, beat together the Butter and both types of Sugar until creamy, then beat in the Egg and Vanilla Extract
Beat in the Flour, Baking Powder, Salt and Oats mixture, then fold in the Cranberries, Pecans and Chocolate Chips.
Roll tablespoons of dough into balls with your hands and place them on the prepared trays. Squish the dough balls down with a fork.
Cook for 13-15 minutes. When ready the cookies will be tinged a pale gold. They will still be soft so leave to cool on the sheet for about 5 minutes. Then move to a wire rack to cool fully.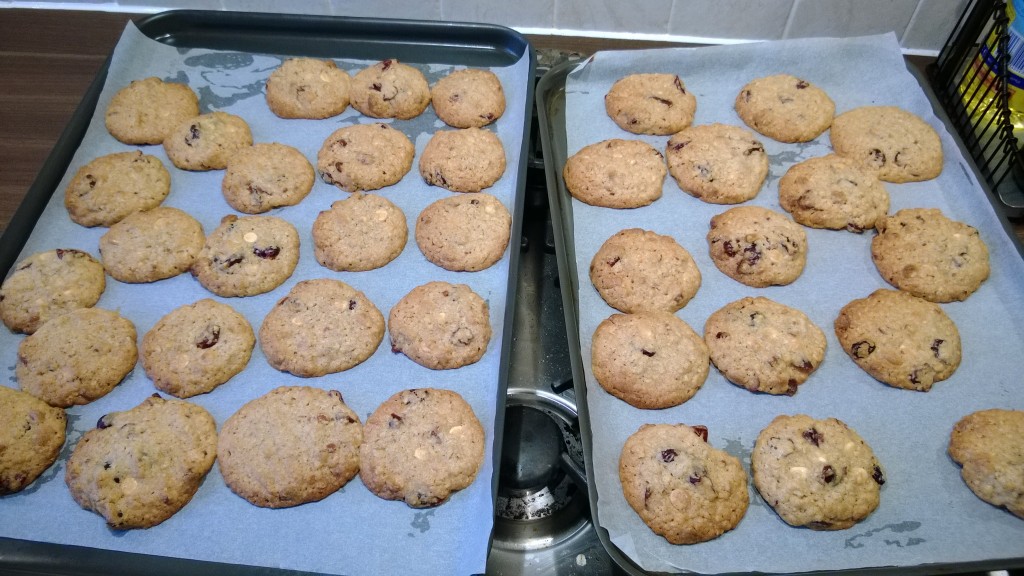 Note We had a debate over how big a table spoon sized ball should be and hubby went for a very literal size, and they came out a little smaller than we imagined, and didn't quite look how they looked in the piccy in Nigella's book. We only cooked them for 13 minutes, rather than the suggested 15 minutes and they turned out lovely. I was initially worried they were a little overdone, but they taste absolutely fine! We ended up with 36 I think, so could have made them slightly bigger!
The other good thing with Nigella's recipes is that she gives tips about freezing them! She says these can be frozen for about 3 months, which is very handy as we are planning to take these to my brother in law's house on boxing day. So they have been baked and are now in the freezer ready to get out the night before… fingers crossed we remember!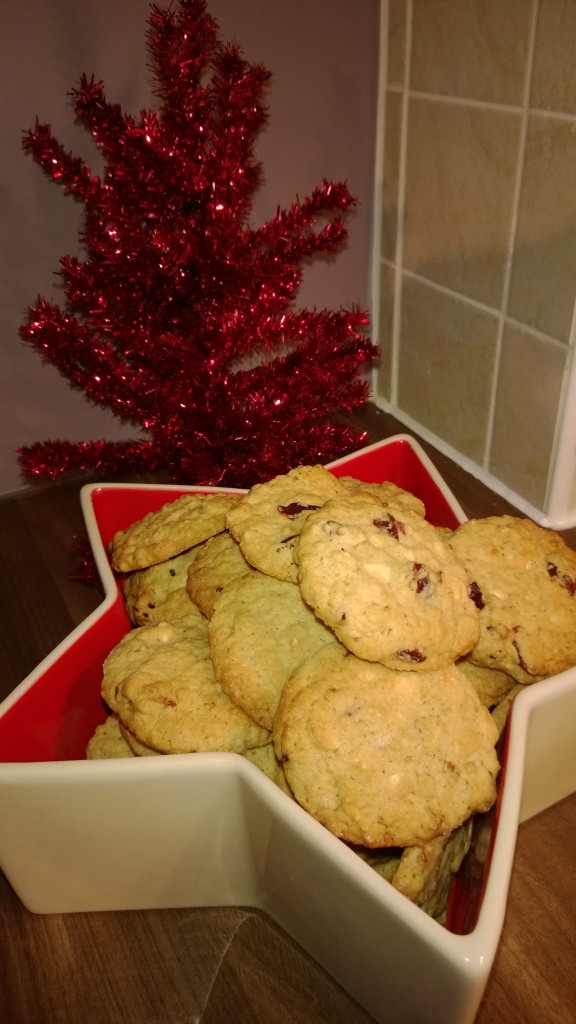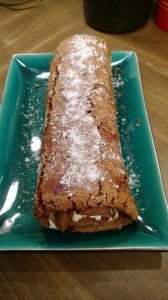 I just made the yummy roulade too, and tomorrow will be making the Red Velvet, amongst  a whole load of other Christmas Preparations! I am finally getting into the spirit of it all, can't believe it is Christmas Eve Eve already! How are your Christmas preparations coming along?