After our lovely walk a couple of weeks ago I said I would let you know what we had got up to with our massive conker haul, and well here it is! We have been conker crazy in our house lately! Some activities have been more successful than others but we've had fun trying lots of things.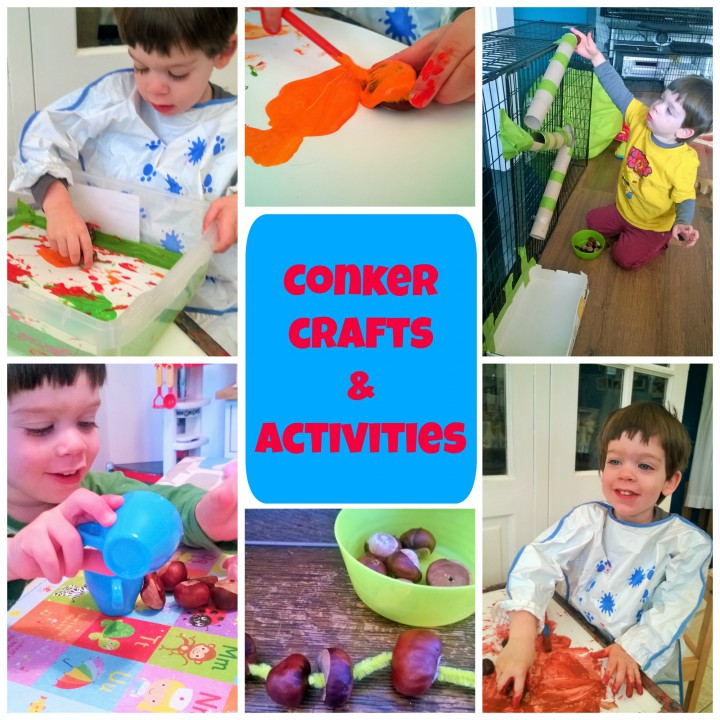 Starting with some messy activities first.
Conker Marble Painting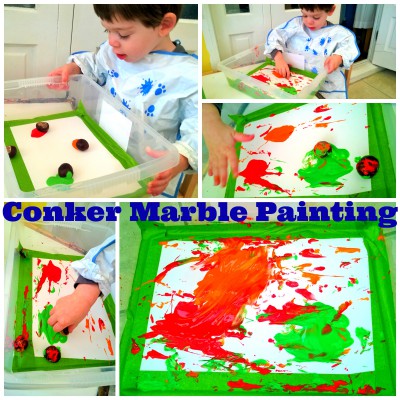 I saw this somewhere and thought it was a very clever idea. First of all tape a piece of paper into a box. We used a plastic tub but a cardboard box would work just as well. I used frog tape because I couldn't find any masking tape and it peels off nice and easily.
Splodge some paint onto the paper, put in your conkers and then give the box a good shake about!
I think this is fab, and it worked really well when I shook the box but to be honest Monkey just likes to get stuck in and be a bit more hands on, so he wasn't as interested in shaking the box and just wanted to get on with painting!
Painting Conkers
So we did and I then started painting some actual conkers , only to be told "my turn, my turn, my turn" and Monkey took over.
He quite enjoyed it and they turned out pretty well actually. we made some nice orange ones which I thought may be used as some little pumpkin decorations or something.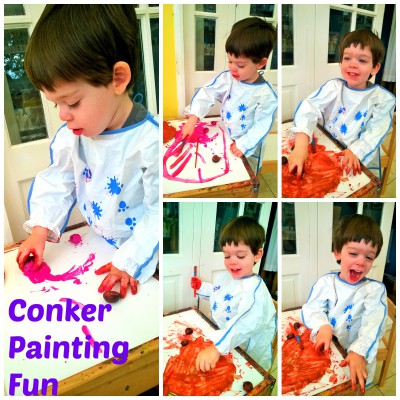 More Fun Painting with Conkers
Monkey then decided he wanted some pink paint so we experimented with rolling the conkers through the paint and using them to make a pattern… but the brush soon came out again. Then Monkey discovered that it was a lot of fun picking the ccnkers up and dropping them on the table as they made a good banging sound! So we did that for a while!
It's not just messy play fun to be had with conkers though, oh no, here are some of the other activities we got up to.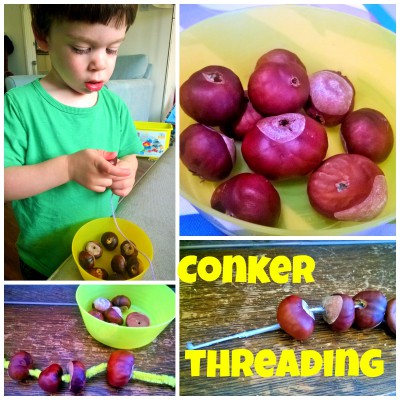 Conker Threading
I have seen lots of things you can do with threading conkers and different ways of doing it but to be honest I struggled to keep Monkey interested in it. It may be because we have been doing a lot of pasta threading lately though who knows.
We tried threading using pipe cleaners or also with wool. To do it with wool simply wrap some selotape round one end of the wool. You have to do this quite neatly and keep the tape tucked in to the wool as closely as possible. I made holes in conkers using a screwdriver, which was pretty easy though I have read of other mummies using a drill. They are quite soft though and easy to push through with a screwdriver. It may turn out a bit neater with a drill though I haven't tried it. Either way, make sure your hole is big enough to push through your taped wool/pipe cleaner!
Once threaded there are some fab ideas for what to do with them, make Conker necklaces, cute animals, such as caterpillars, snakes or I even saw someone had combined some tissue paper craft and made a lovely butterfly with them! I also saw this fab idea for threading on certain numbers of conkers – great to help with learning to count!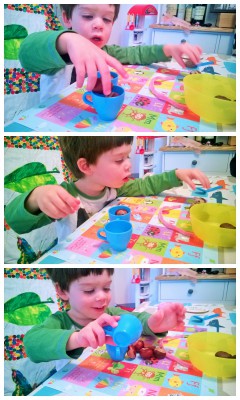 Conker sorting
Although Monkey wasn't that interested in threading his Conkers he was still pretty fascinated with other things he could do with them. After an unsuccesful attempt at persuading him to thread them on a pipe cleaner, he instead decided to start sorting them out into his teacups.
So simple but he had so much fun with this for ages, counting them as he sorted them, moving them from one cup to another and then tipping them out. All very independent of me which was lovely :).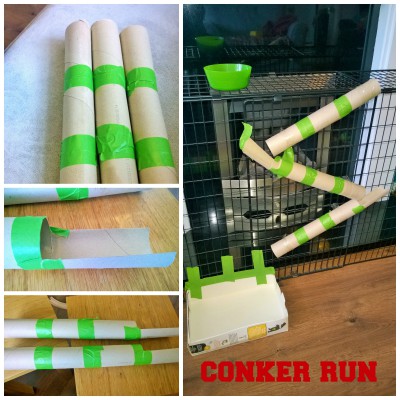 Conker/Marble Run
Possibly my favourite activity so far is this conker run/marble run. We had collected a pile of loo roll tubes as had been thinking about making a simple marble run for ages but it coincided really well with the conker haul and works really well together. Now this is an easy peasy homemade marble run. It is not the most visually attractive and I think another time I will spend some time with Monkey decorating the tubes first but for a quick and simple effort it really does the job.
To make the marble run I simply taped together 3 loo rolls, and made 3 longer tubes. I then cut a 10th tube in half and taped those to the ends of two of the tubes. I taped all of the tubes onto the fire guard. I don't think I did the best job of this but it works pretty well! I then cut up a cereal box to make a tray on the floor to collect the conkers (so we didn't lose them across the room and under the sofa!) As you will see I had to use some extra tape on the ends as some of the bigger heavier conkers flew straight off the ends otherwise!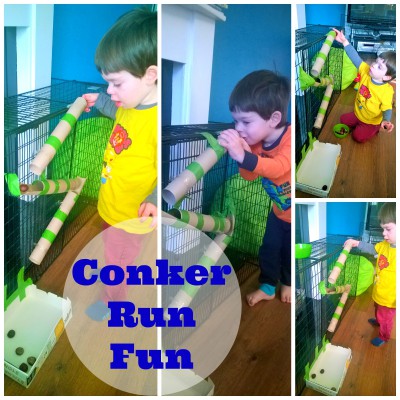 Monkey absolutely loves the conker run and has spent ages putting the conkers down. He has enjoyed counting them as he puts them down (he does love numbers) and has been putting multiple conkers down quickfire, one after another after another. He headed straight over to it this morning in his PJs and was looking down the tubes watching the conkers roll down. Honestly he loves it and it was so simple to make!
There are so many fab ideas for things to do with conkers but this is just what we have been up to so far! If yo still need inspiration I also liked this page of ideas too. We still have a huge amount of conkers so please share any ideas you have for more conker fun!
Oh I should also say that you should be careful playing with toddlers with children under 3 as they may be a choking risk. Monkey hasn't once tried to pop one in his mouth but you never know so keep an eye on them. 🙂
 My word of the week this week is "Conkers" as a lot of our time has centred around them!