Last week we had a very lovely holiday in Corton, near Lowestoft. We were so happy with the self-catering accommodation we booked that I thought I would write a little review to share with you all.
We found the villa through a company called Sykes Cottages, although you can also book direct at Corton Villas.
Corton Villas are a block of 6 privately owned 3 bedroom holiday homes located on the Waterside Park resort, in Corton on the outskirts of Lowestoft. The resort itself has properties owned by a whole variety of different companies and private owners, but I can only really speak about the ones we stayed in, which were of a really high standard.
The Owners
The owners of Corton Villas were really lovely and they went out of their way to ensure we had a lovely holiday. They were very amenable to our request for an earlier check in (so we could get Monkey in and settled in time for his nap on that first day) and met us at the resort to get us set up. They had provided a very lovely welcome pack, with tea, coffee, milk, biscuits and even some wine to get us started when we arrived! There was some yummy chocolates too although Monkey got hold of those before I managed to take a picture!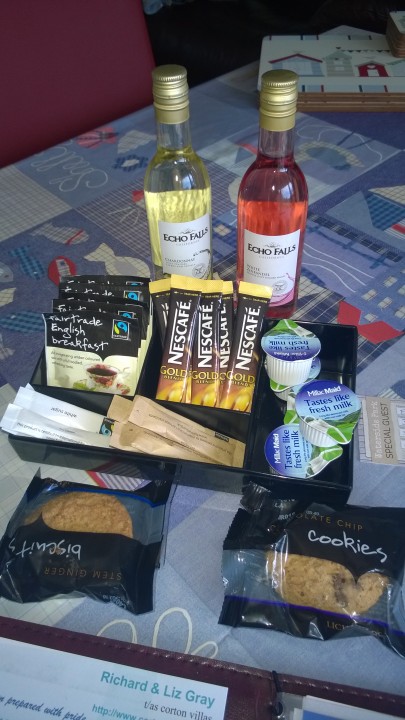 They talked us through all of the amenities at the house and on the resort. They gave us our pass to use the resort pool and gave us the details for the free Wifi to use at the house. They also recommended the best and most accessible beach in the area, which  was really helpful!
When we noticed a small amount of water leaking from the draining board into one of the cupboards below, they were quick to seal it up and ensure it stopped happening and I am sure if there had been any additional problems that they would have resolved them just as quickly.
The Accommodation
The house was a spacious 3 bedroom property, decorated to a really high standard.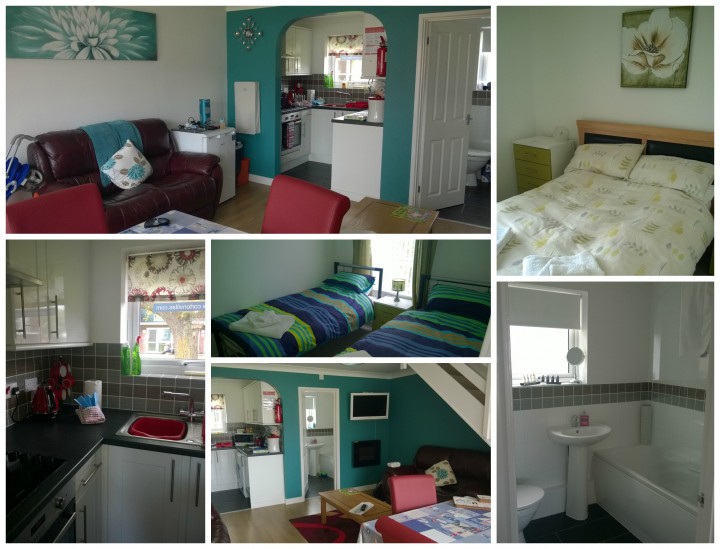 The owners have really kitted the property out well, with just about everything you could need. It has a TV with built in DVD player, Washing machine, microwave, fridge and separate freestanding freezer, a hoover, an airer (handy for hanging up beach towels) and they even have a hairdryer for use in the master bedroom.
There really was everything we needed to get us started. The kitchen had all manners of pots, pans, pyrex dishes, teapots, salt and pepper pots, and utensils so it really felt like a home away from home and we didn't feel like there was anything missing that we would have wanted to use. This may sound daft but it really did make life so simple. The owners had also provided plenty of washing up liquid, dish cloth and sponge, tea towels and kitchen towel. I had taken some with us but was happy to be able to bring them home again and use what they had provided. It felt like they had really thought of everything we would need to get us started. They even provided some lovely toiletries in the bathroom, which I did not expect from a self-catering holiday home.
The bedrooms were lovely and spacious, with very generous cupboards for storing clothes and suitcases. One of the reasons we booked a 3 bedroom property was because many of the 2 bedroom holiday homes I looked at didn't have space in the 2nd bedroom for a travel cot. At the time we booked we weren't sure whether Monkey would have been in a bed or travel cot, and we wanted him to have his own room, rather than having to put a travel cot up in the lounge or master bedroom, as many smaller properties were offering. The 3rd bedroom here would have had space for a travel cot, though it may have been a squeeze. As it was, Monkey was very happy in his bed, and the 3rd bedroom meant we had space for hubby's brother to join us for a couple of days.
In the master bedroom we had a couple of issues, one being the bed-size which isn't at all the owners fault. At 6'2″ Hubby is seriously tall and so sadly he doesn't fit in a standard double bed. His feet stick out the end! And even when he curls up he then takes up a lot of the width of the bed and I get ever so slightly shoved to one size! We are a bit spoilt by the size of our king sized bed at home and like I say, it's not the owner's fault that hubby is so tall, but the bed was a bit of a squeeze.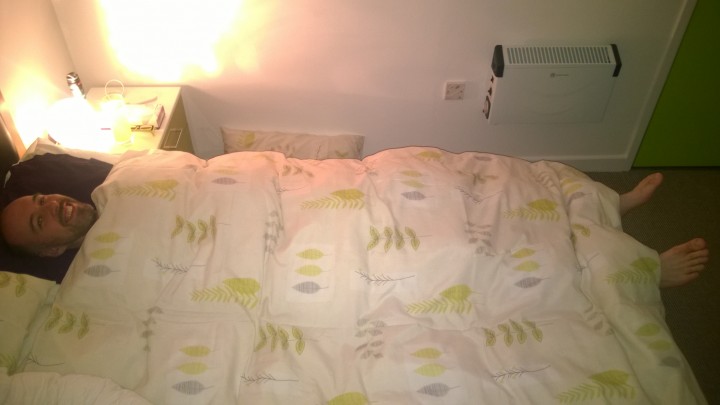 The only other downside we faced was that being at the front of the house meant our bedroom was east facing. This gave us a view out to the sea, but also made it very very bright, very very early in the mornings when the sun came up. Not very conducive to lie ins. We have portable black out blinds to help Monkey sleep, and while he had one in his room, we used the other in our bedroom, and then rigged a towel up over the rest of the window. So we did manage to make it a little darker, but lined curtains would have been nice in there!
That is probably the only complaint we have though in the villa as it really was up to a very high standard. The shower was really powerful and hot, and the whole place was seriously spotless when we arrived.
The Resort
The resort of Waterside Villas in itself was very nice. However, because the properties themselves are owned by a variety of different owners (and some are actually up for sale at the moment) there are properties in various states or repair. Some feel a little neglected, some are having work done on them at the moment (we saw one having a new roof put on, another getting new windows and doors) and others, like the row we stayed in, are in very good condition. This wasn't a problem for us and we didn't spend too much time at the resort itself, but it didn't have the luxury feel throughout the resort, that the house we stayed in did.
On site there is a lovely heated swimming pool, which has just had a cover built over it, meaning it's usable in all weathers. There is also work being carried out to fit cubicles and showers on site too. The pool was lovely and we had a lot of fun in there on one of the greyer, chillier days. It was a lovely temperature and the cover fully enclosed the pool meaning no chilly winds came in. It's great for toddlers and little ones too, as the shallow end is fully sloped so they can walk in and out. Monkey loved doing this over and over again and had so much fun in the shallow waters. It really was a nice pool and they have a lifeguard on duty too.
There is a lovely play area on site too, and a mini golf area which Monkey loved running about and playing on with daddy!
There is also a handy shop and an onsite bar/restaurant, though we didn't actually eat there. There is ample parking on site too and we always managed to get a space near to our villa. It is obviously quite quiet at the moment though and I can't say what it would be like or how busy during the school holidays
The location
Corton is a few minutes drive from Lowestoft in Suffolk, and about 15-20 minutes drive from Great Yarmouth, Norfolk, and all of it's attractions.
There is a big Tesco about 5 minutes away, and also a Harvester, Beefeater and Toby Carvery within 5-10 minutes drive for when you are wanting to eat out. There is also 2 pubs and a chinese takeaway a short walk from the resort.
We found the nicest beach nearby was the one recommended by the owners, at Gorleston. It was a gorgeous beach with free parking, a cute range of shops and everything you could want at the beach really, all within a 15 minute drive from the resort. Gorgeous 🙂 I will write more about our beach fun in another post!
So there we have it, our lovely holiday accommodation. there was one or two tiny niggles but nothing that would stop us going back again, or prevent me from recommending it. We had a really lovely holiday and the villa had everything, and more than we could have asked for in a self-catering holiday accommodation. We also found the price of £349 for a 3 bedroom house for a week to be good value compared with others that we looked at for the same time period. (Prices vary and obviously increase at busy periods)