Welcome to week 2 of the Creative Challenge!
Thank you so much to all the lovely ladies who linked up last week, I was very grateful to you for making my first ever linky a success!
My favourite posts of the week were Mummy's To Do List with her awesome creativity with toilet rolls, and All about a Mummy for taking steps to get over her Play-doh phobia!
It's not all about creativity with kids though, it can be anything remotely creative. Decorating, baking, sewing, even being creative in what you wear. This linky is about challenging ourselves to be a bit more creative – in whatever way best suits you!
Re-designing your blog or your home
Trying out a new recipe
Learning how to take better photographs
My creative challenge was a bit more successful than last week, and Monkey had a whale of a time in the messy play. I had to conquer my heart palpitations ever so slightly but I was very glad I pushed myself to do something I had been holding back from for a while. I have linked up my post about this below 🙂
Right, now it's your turn to link up your posts, and tell me all about your Creative Challenge!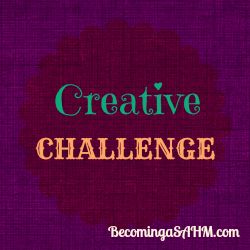 Here's how this works.
Write a new post (or an old one if it fits the theme) all about your Creative Challenge.
Grab the Creative Challenge badge (by copying the code above) and pop it at the bottom of your post (in the 'text' version).
Link your post  by clicking on the 'Add your link' button and filling in the form.
Remember: Linkys only work when we take the time to read each others posts and leave comments so please let's support each other and read and comment on as many posts as you are able to.
The linky opens at 6.30am on Wednesday and will close at 11.00pm on Sunday so there is plenty of time to join in.