Happy Easter!! Hope you have all had a lovely relaxed weekend so far and eaten lots of chocolate? No? Well there's still time!
We've had lots of Easter fun so far this year!
We've made Easter Nests, Easter Cards and been on an Easter Hunt, and Monkey has loved every minute!
Easter Nests
There is obviously different ways of making easter nests but I like to use Shredded Wheat, as then they feel a bit more nest-y.
So we used:
1 pack of Shredded Wheat 16s
400g Belgian Milk Chocolate (we are a little in love with the Waitrose own brand Belgian Milk Chocolate at the mo – seriously, you should try it, yummy!!) We actually used a little less than this as I had scoffed some beforehand, but it would've been better if we had the whole bars!
Mini Eggs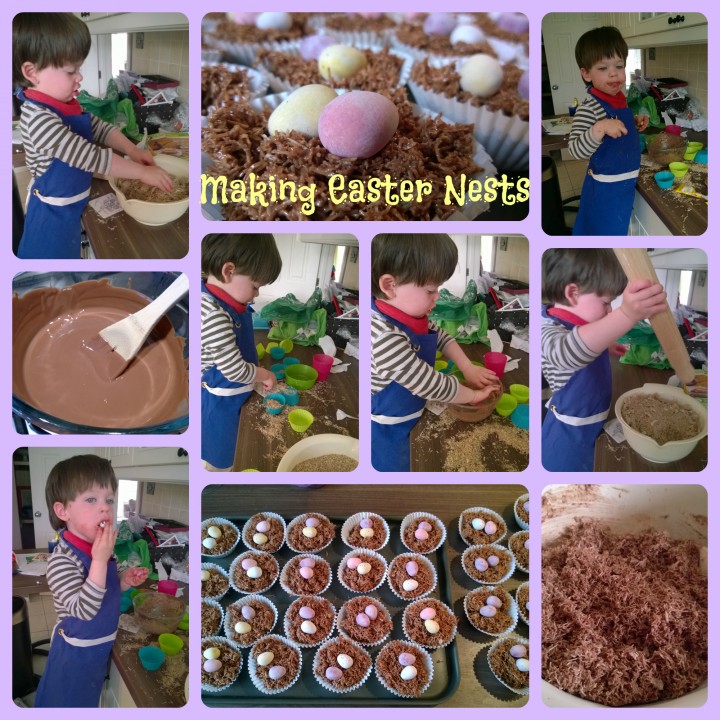 Basically you bash up the Shredded Wheat, Monkey helped with this, until it is really fine. I actually find using the end of a big rolling pin is the best bashing method! Lots of fun!!
Melt chocolate, we do it over the hob in a bowl over simmering water, but I hear microwaving is very easy too!
Mix, then scoop into cake cases, and add eggs.
Very simple, tasty chocolatey fun! 🙂
Easter Cards
After the success of Granny's birthday card a couple of weeks ago, i thought we'd use a similar  method for Easter cards and involve monkey with some finger painting! The first time we tried unfortunately Monkey just mixed up the paint and we ended up with some murky brown splodges, he had fun, but not very attractive or easter themed!
We tried again at the weekend with some different colours and had much more success! Once the masterpieces had dried I cut them into egg shapes and stuck them onto some cards. Monkey finished them off with some lovely colouring! Easy peasy Easter cards!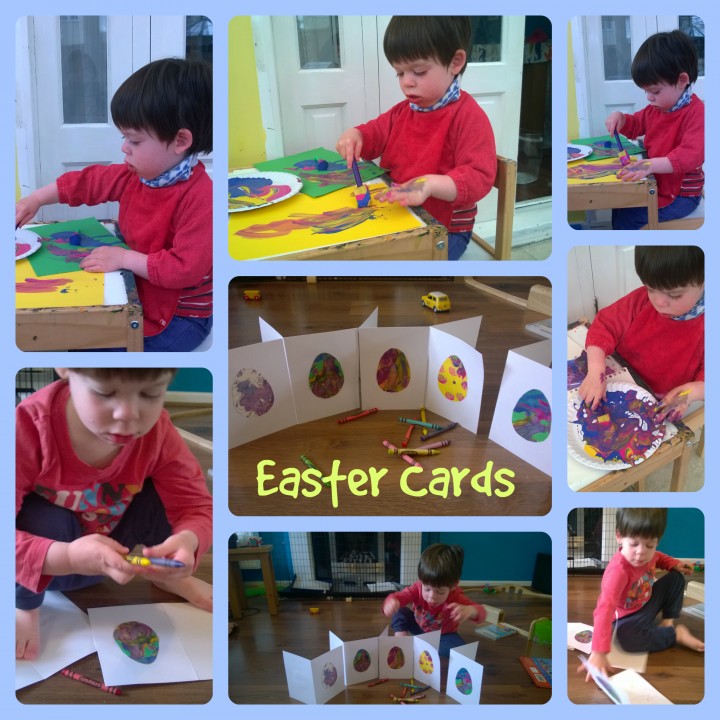 Easter Hunt
Because we would like to avoid too much of a sugar rush, we got some other bits in addition to eggs, to make this an Easter Hunt, rather than an Easter 'Egg' Hunt. I dotted the chicks and bunnies, signs and eggs around the front garden (the back garden still being mainly mud at the moment, with less places to hide them!) for Monkey to find. With the weather forecast for Easter Sunday a bit miserable we did the hunt on Saturday afternoon, in case it got rained off on Sunday!.
Monkey loved it, I mean it lasted about 5 minutes but he had lots of fun with all his bunnies and chicks, and putting them in his little basket. He obv loved eating the choccy eggs too!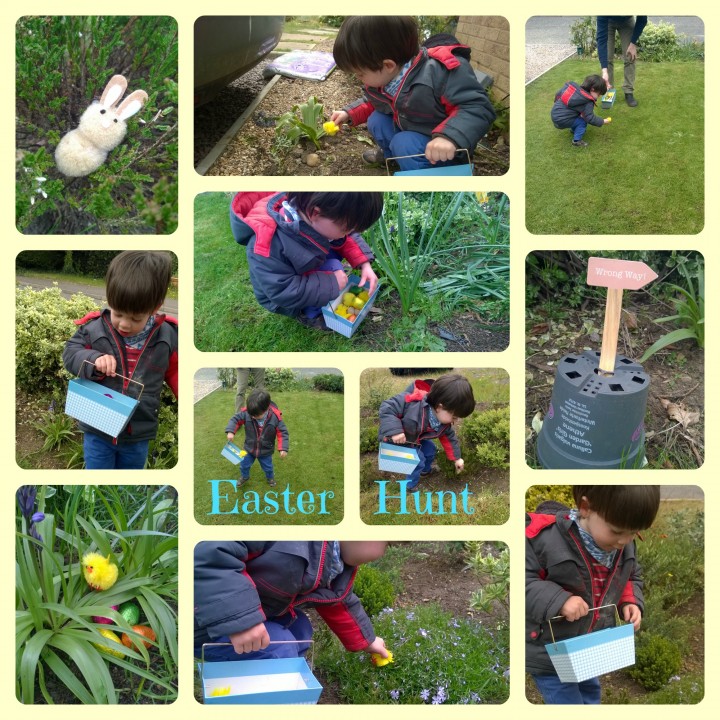 I used to love Easter as a kid, Easter egg hunts, chocolate, but as an adult I didn't really celebrate it much. Now we have a little man it is bringing the fun back again and I am loving all the Easter fun this year!
Have you had much fun over Easter?