Who can believe that it is Easter but it has been snowing?! Miserable and so so fed up of the cold but hey ho, what can you do? Have lots of fun indoors, that's what! We've also taken the opportunity to do lots of the niggly little DIY jobs around the house that we haven't got round to so far, but I won't bore you with those! This post is about making some lovely Easter chocolate nests with a bit of help from the Monkey, and my attempts at making some cute crochet chicks.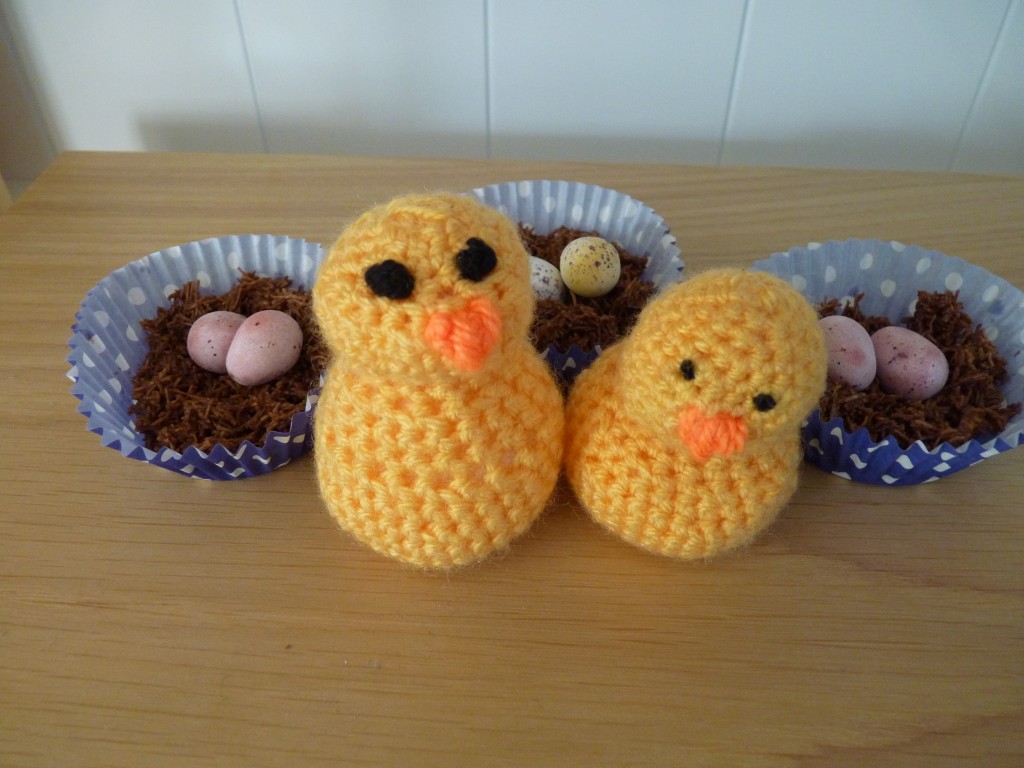 After making the lovely blue bunny I decided that it couldn't be that hard to crochet a little chick for Easter. I looked at lots of patterns online but couldn't find any that matched up to the image I had in my head so I decided to just go for it, using the bunny pattern as a starting point and then going from there. I couldn't make up my mind whether to make the head and body separate and then sew them together, or whether to try and make it so that it went in, and then out again, kind of like a skittle pin. I tried this first and the body looked ok, very much like a skittle pin, or maybe a yellow penguin! It was ok but where I really went wrong was with the eyes!! I am not very good at this bit and the end result is here – now known in our house as Evil Chick! hehe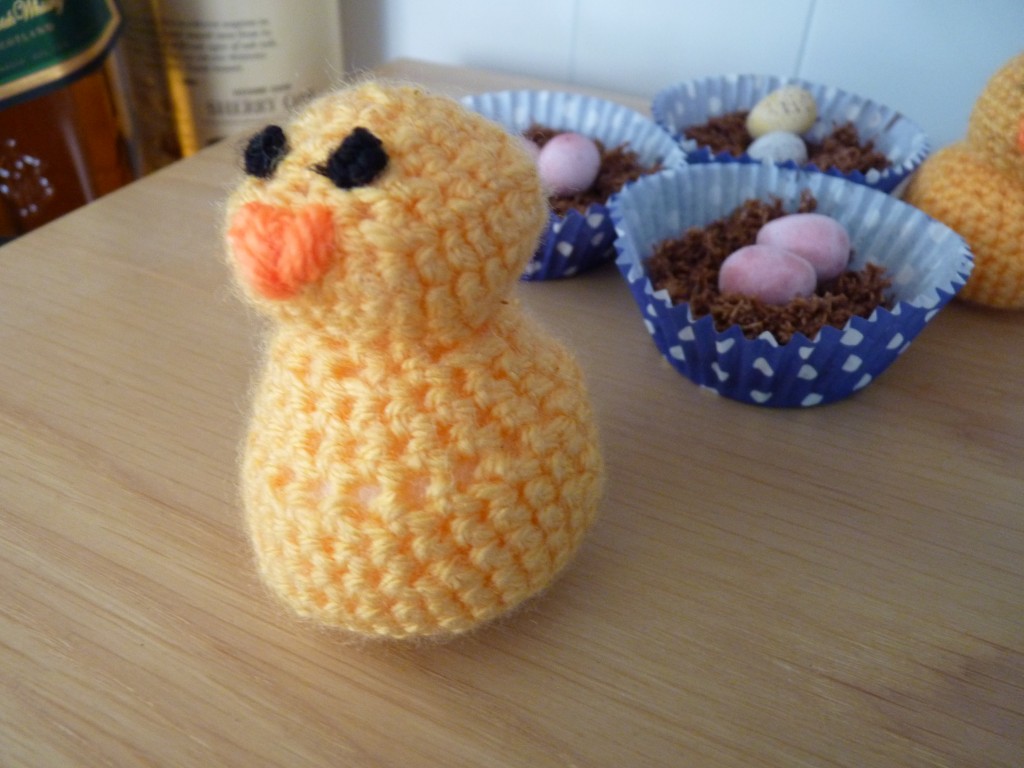 You see the problem is the knots in the yarn, clearly the eyes need to be a lot smaller if they are to look cute but as I am sewing them on after stuffing them, I don't know how to hide the knots at each end without them ending up huge, and, well, evil looking! hehe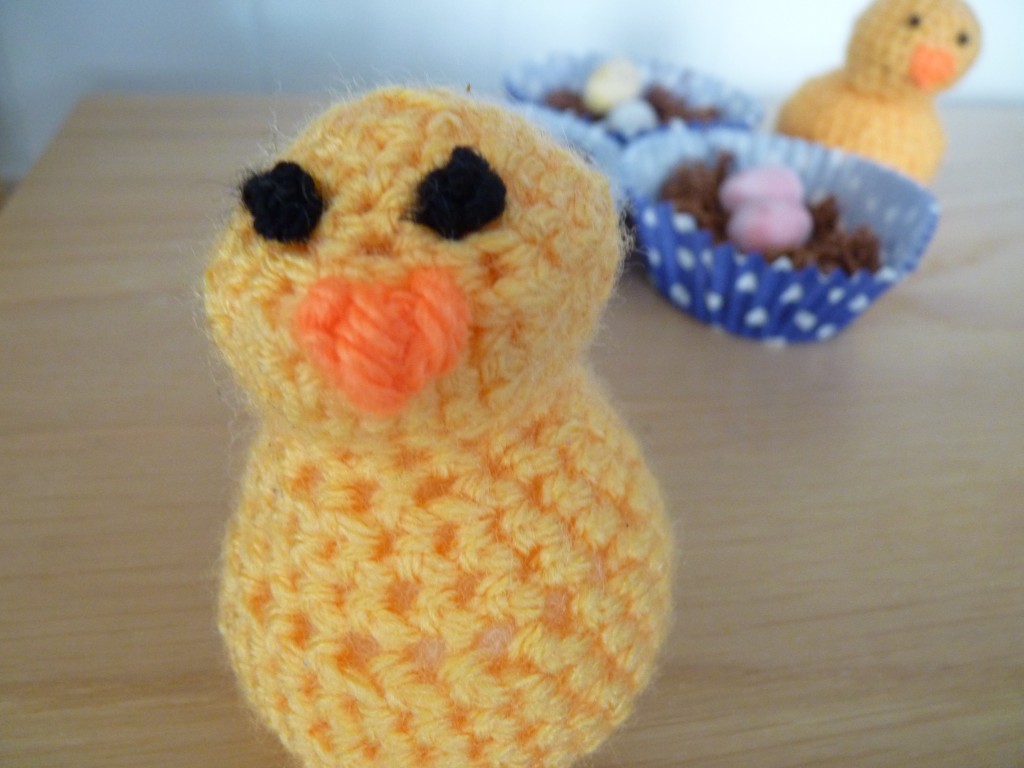 So I decided to try again and as I wasn't 100% happy with the shape of Evil Chick I thought I would have a bash at making a separate head and body. I also decided this time that I would sew the eyes into the head before I stuffed it, so that the knots could be inside and therefore the eyes much smaller. This ended up looking much better! Much cuter and just a nicer shape all round I think too so yay me 🙂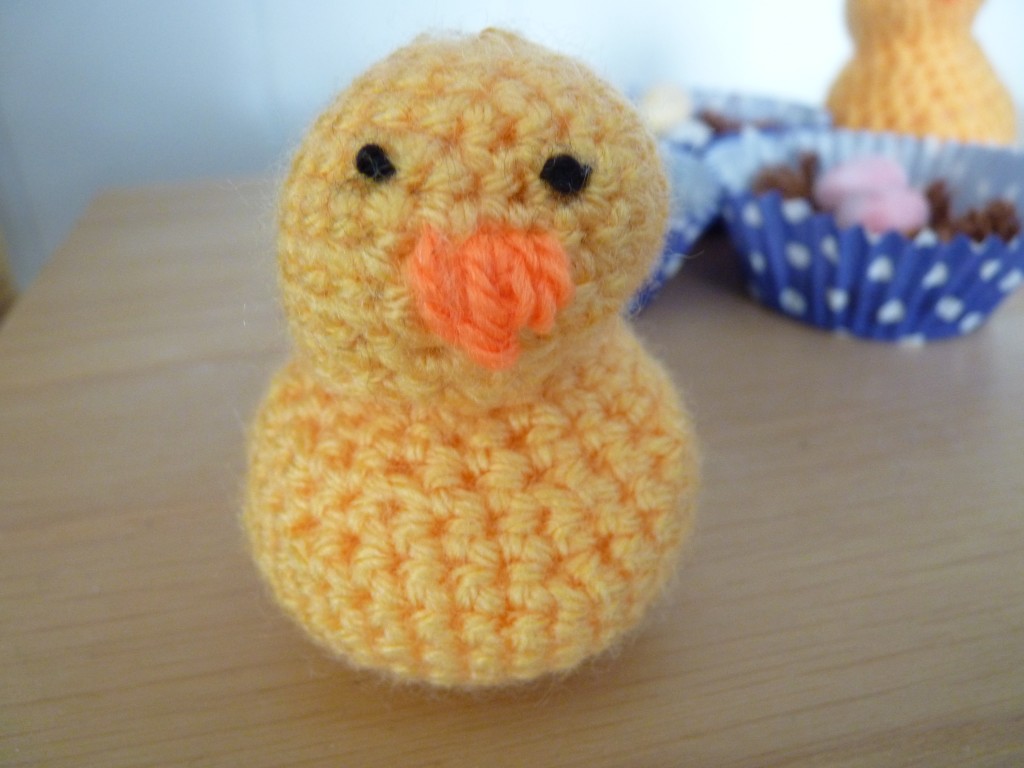 Loving the long weekend with hubby off and wanted to do a few cooking things, including making some chocolate Easter nests, because they are delicious and it's really the only time of year you can make them! Monkey has dropped his morning nap this week (it's been fun) and so is awake much more and I am having to find ways of entertaining him more, whilst also getting my jobs done, more on that in another blog, but it also means I have less time to do baking and chores when he sleeps.
I thought making the nests would be a nice thing for our little family to do together, and have this week bought a little sand and water table for him for crafty time and in readiness for the summer, so decided to involve monkey in the crushing of the shredded wheat. He was much more interested in eating it, but as it's 100% wheat I don't think there's too much wrong with that! It was a bit chaotic and it went all over the floor but it was lots of fun too!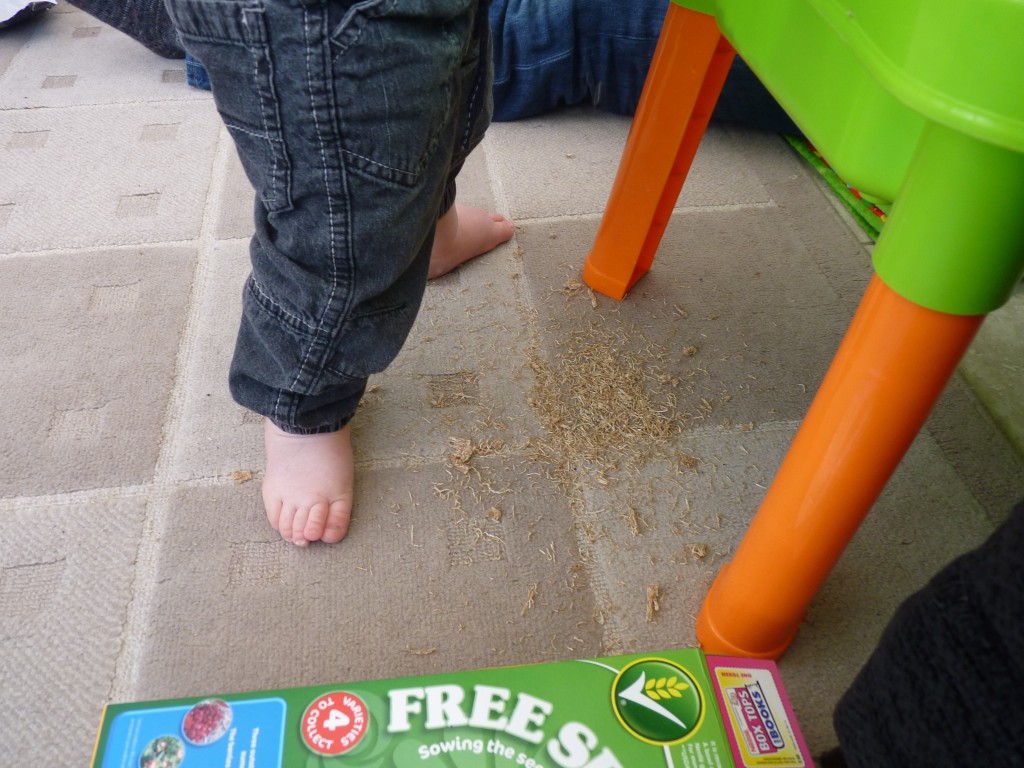 Daddy then melted the chocolate over a pan of boiling water while Monkey and I played. He also did the serious business of mixing up the shredded wheat and chocolate.
Monkey has never really eaten chocolate before now but we thought we can't keep it from him forever, and as it's Easter it's a bit mean not to share. So we gave him a little bit of the much cooled but still soft chocolate and wheat mixture, and he loved it. He loved eating it, smushing it around his tray and generally waving it around and spreading it throughout the living room hehe. All good fun.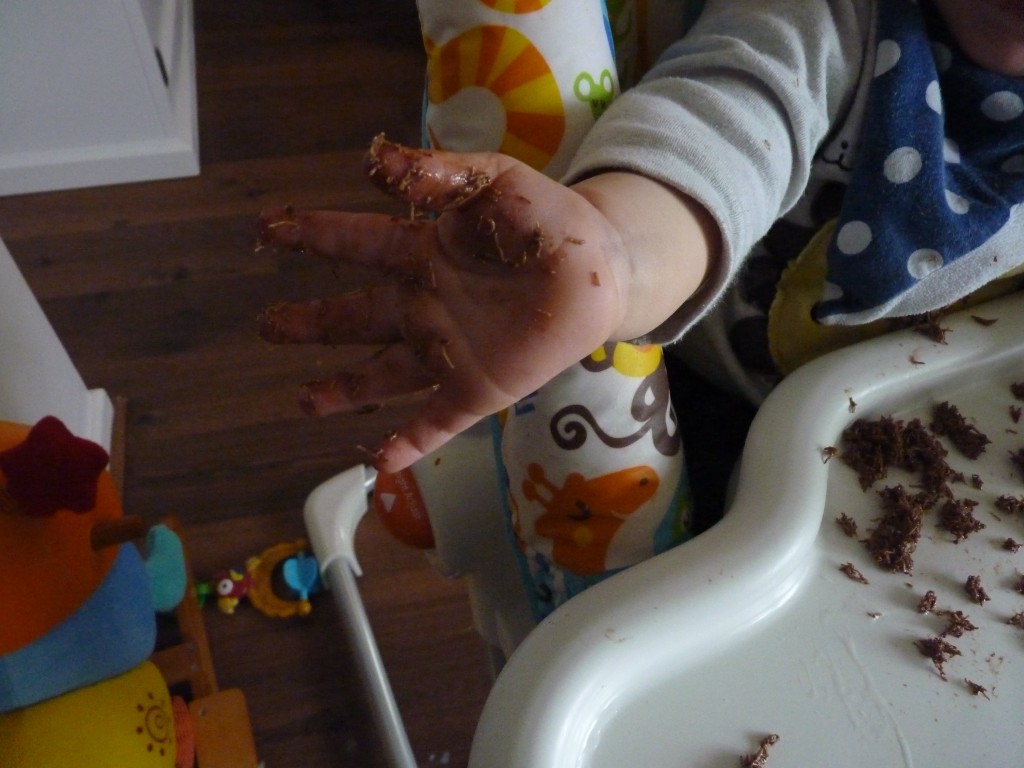 Meanwhile Daddy finished making the nests and filling them with yummy mini eggs.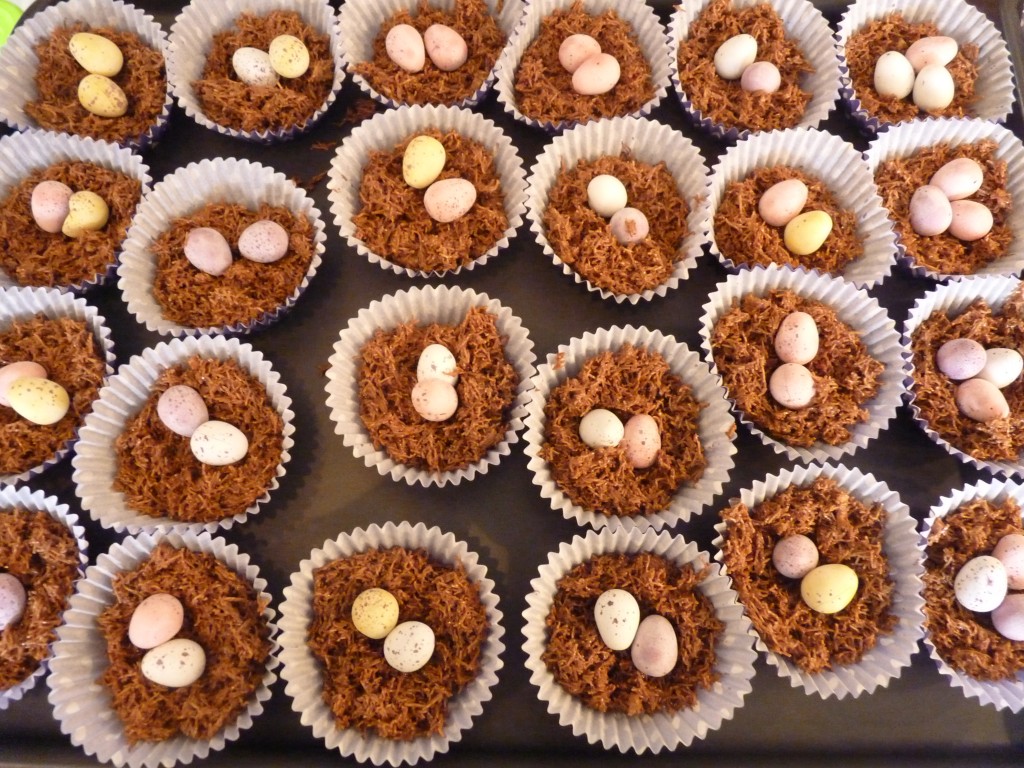 Then we ran out of mini eggs and made some more with minstrels hehe. Slightly less elegant but still good.
Yum, yum, yummers 🙂 we have eaten far too many but I have also been handing them out to all the family we have seen to make sure that we don't eat them all! haha Had a lovely quiche for dinner, another of my mum's recipes, but this one is a slight adaptation from a Mary Berry recipe, and much easier to follow and tastes delicious. Monkey loves it too which is great so some has gone in the freezer for him later in the week 🙂