We are really lucky to have all of our immediate family really close by, which means we see them really regularly. We are also really lucky to have a fab little zoo, called Hamerton ZooPark, within about a half hour drive of us. We've been once already this year and because they offer a great value season ticket, no doubt this won't be my last post about it either!
It is such a great place, but it opened *I think* in 1990 and would have been a lot smaller then, so wasn't somewhere either hubby or I went to as kids. But both of us had been as adults and it is a fave place for us. My parents though, had never been, so this Easter Monday, when talking about what to do as a nice day out together, we decided they really needed to see how great it is! My little bro and his lovely girlfriend love it there too and really wanted to come for a fun day with Monkey.
The other option for the day was a local farm, but last year Monkey was terrified of the noisy sheep and while I do want to take him back, I thought avoiding sheep may be safest for a stress free family day out!
We really lucked out with the weather as it was such a glorious day! Monkey was dead excited at just being able to run around with some of his favourite people there to play with him!
He was also really brave and stroked a donkey, and a goat! Clever Monkey!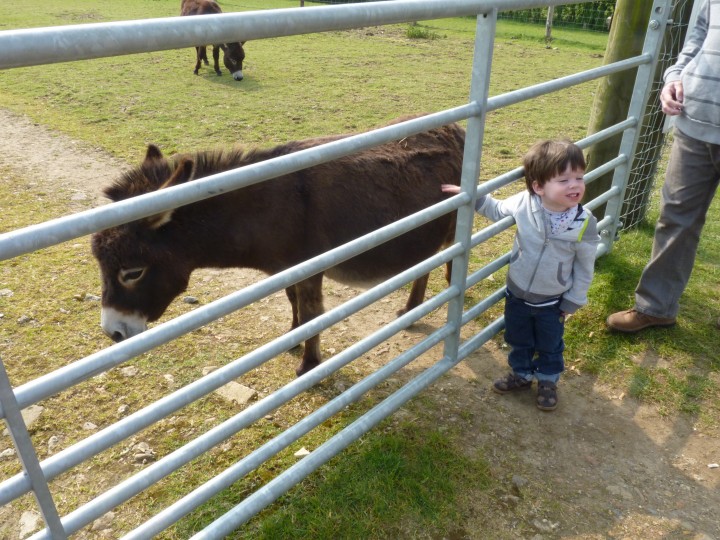 I also took my big camera this time, and managed to get some nice snaps of some of the lovely animals!
It was a lovely time of year to go too as there was some gorgeous baby animals! I loved the baby meerkats!
And we saw this gorgeous baby wallaby emerging from his mumma's pouch, and then jump right back in again!
Monkey loved seeing all the animals..
But I think he loved spending time with his family more than anything!
Overall it was just such a lovely day in the sun!