I am 22 weeks pregnant and the bump is a-growing! I think it is definitely more bump than plump now, finally, thank goodness! I am also feeling lots and lots of lovely kicks, so our little girl is very much making her presence her known. The downside is that as my bump grows, my SPD seems to be getting a bit worse :(.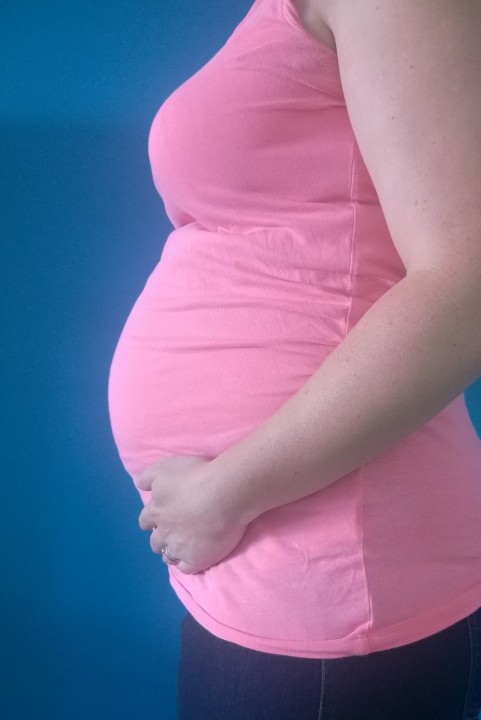 Regular readers will know that I suffer with SPD/PGP. They used to call it SPD (Symphysis Pubis Dysfunction) but now it comes under the bracket of PGP (Pelvic Girdle Pain). Confusing, but it amounts to the same thing, a right pain in the pelvis, bum, legs, back, all of that area basically. In my first pregnancy it arrived quite late on and then rapidly got worse, largely because I didn't know what what it was and ignored it before eventually getting help, and I ended up on crutches. This time, the pain started at around 6 weeks pregnant, and I was gutted, but also desperate to get help before it got too bad.
I have been seeing a fantastic Physiotherapist at the hospital for quite some time now and with her help and with the exercises she has given, along with basically being careful with what I do physically, for the most part it has been under control. But, now that the bump is properly growing, it is getting a bit harder, and, if I'm honest, I've been pushing myself a bit. With all the added energy of this trimester I have doing things that I probably shouldn't be doing anymore.
Anyway, right at the beginning my physio recommended me to try Aqua-natal yoga at a local centre, where she knew the instructors are trained to deal with SPD/PGP. I'll be honest that I didn't get on to the best start as there was no mention on the website of a waiting list for the classes, and they only take ladies from 14 weeks+ pregnant. So I waited until I was 14 weeks and then when I called and spoke to someone there, they unfortunately gave me the wrong information. They advised me to go online and pay and then book onto the class I wanted to attend.
I tried to do this but although the system took my money, I couldn't get booked onto any classes. When I then spoke to them again (after a bit of back and forth) I was informed that there is in fact a waiting list, so they refunded my money and added me to the list. All is well that ends well but I do wish the website had been clearer as I would have added my name onto the list much earlier. Anyway, another 7 weeks later my name has come up and I was finally able to attend my first ever Aquanatal class!
I was feeling really nervous about it beforehand, I mean I really wanted to go, but I am always nervous about meeting new people and lets face it meeting people as you get changed into your swimming cozzie isn't the most relaxed of environments! But I sucked it up and off I went and it was actually really lovely talking to some other preggo mummas! Lots of my friends have been pregnant before etc but I don't really know anyone else who is preggo right now (apart from some other lovely bloggers of course) so it was nice chatting and commiserating with each other. At 21 weeks I was at the early end of pregnancy, compared to the other ladies at 25, 31, 35 and 37 weeks pregnant!
I have never done anything like this before so didn't really know what to expect but it was very relaxing and hopefully will help as my pregnancy proceeds. Most of the exercises are fine even with my SPD, and some have to be ever so slightly adjusted, depending on how I feel. Any twinges and I have to stop or at the very least adjust what I am doing.
There were a few times where I had to suppress the giggles and "swish your arms like a piece of seaweed floating in the sea" was possibly my favourite line of the evening. It probably says more about my maturity levels than anything else but I do feel a bit daft with things like that sometimes. There was a lot of caressing our babies and humming to them which is very lovely and like I say, I think I am just immature. It's not that I don't like stroking my bump and talking to our baba, but I guess I am just used to doing it in private so doing it in a room full of other people all with our eyes closed felt a bit unusual for me. I am sure I will get used to it though!
Overall it was a very lovely evening and I came out feeling very relaxed. I really hope it helps with my pelvis too as I don't want to end up unable to walk again if I can avoid it!
All else seems to be going well though, I am a bit fed up of not being able to take hayfever remedies but the spray and eye drops do help a bit so I shouldn't moan. In general I am just making the most of the extra energy I have at the moment, although I think I do need to be a bit more careful not to overdo it!
Have you ever been to Aquanatal yoga? Am I the only immature mama to be who gets a bit giggly?