This week has been one of those weeks. After a lovely time at the wedding on Sunday we both still felt really poorly and hubs spent all of Monday in bed, which just isn't like him. Then just lots of things have gone wrong, there's been spilled drinks, the light bulb in the downstairs loo went & its a funny halogen one and of course we don't have spares. Then when some lovely friends paid me a surprise visit to cheer me up, one of them hung up her coat and the shelf with all the coathooks on fell off the wall on top of her, sending coats, bags, etc. flying across the hall. Just what we needed! As she rightly said thugh, thank goodness I wasn't underneath it carrying the baby, as I had been seconds before!
LM has been poorly too meaning sleepless nights for hubs and I (though I have tried to take the lion's share so he can actually get better!) and it has just felt like one thing after another so if I'm honest I have been pretty mopey. One thing I really haven't felt, is particularly Christmassy.
But things seem to be looking up. Hubs is on the mend. We've changed the bulb in the bathroom loo (though yet to tackle repairing the shelf :() and even LM seems to be getting better so this has all improved my mood no end. With less than a week until Christmas I decided today it was time to get Christmassy. We've had the tree up for a while but didn't have any other decorations up so today I got out some tinsel and with Monkey's help (?) hung it around the house.
Monkey and I also did some simple Christmas crafting  today, he is sooo excited about Christmas bless him and after watching a Christmas episode of Mister Maker he was desperate to get his Christmas Craft on. I first got the idea for the snowman picture from the lovely Tarana at Sand in my Toes. With Monkey's own twist because of course the snowman has to have hands (?). Monkey is obsessed with Snowmen, we bought the Raymond Briggs duo fo The Snowman and Father Christmas and they have basically been on on repeat for over a week, he loves them! So if anything I have "Another Blooming Christmas" going round in my head, not particularly cheerful for someone who actually loves Christmas!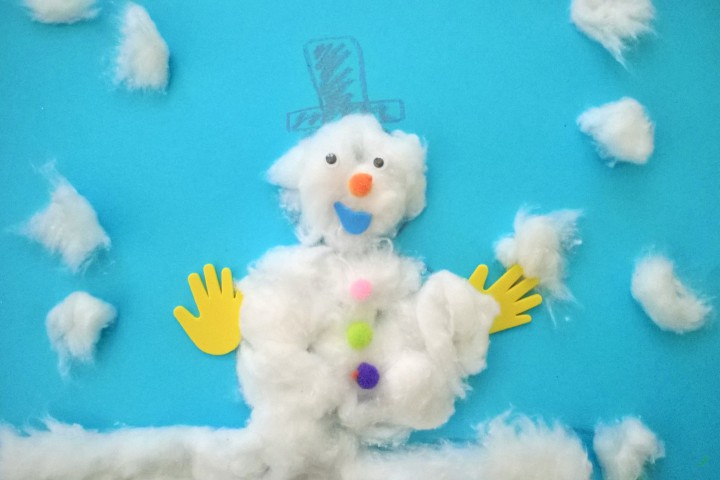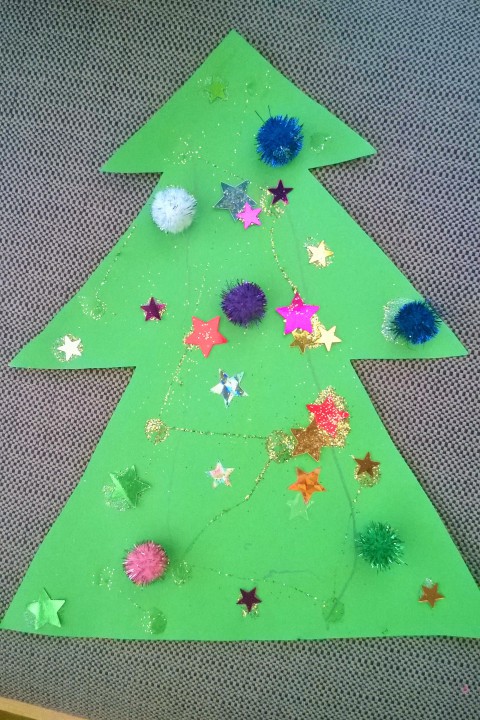 The Christmas tree is as simple as it looks, I cut out a tree shape and invited Monkey to stick a variety of sparkly shiny bits on! And of course the obligatory glitter, which of course ended up in his hair and all over the place, but he loved it :).
I've finished the meal plan and shopping order for Christmas week and even started on wrapping the humungous pile of presents that I have been avoiding. I normally love wrapping presents but have struggled to find the enthusiasm for it this year so far. Time for that to change. Though I have barely touched the surface yet have managed to go through 3 rolls of wrapping paper already… that can't be good!  Anyway, with less than a week to go now until the big day, I am determined to stop moping and embrace the Christmas Spirit!!
Are you feeling Christmassy yet? What is your word of the week?