We've had quite a lot going on this week in an effort to be more organised and to get the house shipshape! This weekend coming we have some lovely friends coming to stay from Newcastle, and we are so very excited to see them, as we last went to visit them last August, and our boys have all grown since then and we can't wait to catch up! This has also been a kick up the proverbial backside as  our house has been a tip lately.
Because my pelvis has been pretty bad the last few weeks the housework has really suffered as I have been lying down a lot more. Hubby has been doing his best bless him, but he works so hard, and we've also been hard at work decorating the baby room, and well there is only so much he can do! So this week we took a good look around us and decided it was time to do something about it. Thankfully my pelvis hasn't been quite so bad this last week (touch wood, fingers crossed, hope I am not jinxing myself by talking about it) so I have also been able to help him a bit more.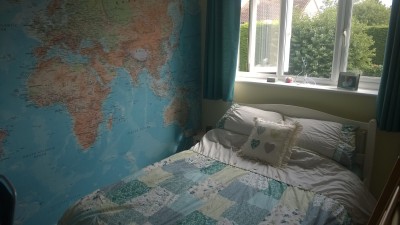 Because of decorating the baby room, our spare room has turned into the dumping ground, with all of the furniture for the baby room squeezed in there, and piles of laundry piling up on the bed. I have barely been able to get me and my bump into that room – but knowing that our friends and their little one need to sleep in there on Friday and Saturday night, sorting that out and washing the bedding etc was a big priority! Thankfully once we put our minds to it that wasn't too difficult and that room is now just about ready for our guests. So onto the rest of the house!
We decided tidying was more important than finishing the decorating at the weekend, but I was also really keen to just get the painting stage finished so we can move furniture back in, so on Monday when my mum took Monkey to his rhyme time group, I set to painting the glosswork. I thought if I can just get a few bits done I will be happy, but I surprised myself by doing everything but the panel above the door (I didn't fancy balancing on a chair). Crawling round on my hands and knees painting the skirting boards I was aware I may regret it later if my pelvis didn't like it, but actually noticed no more pain than normal, result! Hubby then painted that panel the next morning and so the painting stage of the decorating is finally done! Woohoo!!
There is still more cleaning to be done and as they are coming down Friday night (it's a good 4 hour journey bless them so don't blame them at all)  we are trying to fit all of our normal Saturday morning cleaning jobs into mornings and evenings. Hubs and I have tackled a bathroom each and tomorrow the living/dining room is going to get a big old clean. It only got done on Sunday but honestly with all the crumbs, toys and postman pat stickers littered about it looks like it hasn't been cleaned in weeks!!
I've also been busy sorting hubby's accounts out this week. I usually try and update his business accounts every month and it doesn't usually take too long, but with pregnancy, tiredness, and let's be honest, laziness, I haven't done anything for a couple of months. It's VAT return time though so I have had to pull my finger out and do the last few months worth of accounts. It's basically data entry so not too difficult but because I have left it for a couple of months (naughty Caroline) I have had quite a bit to do. I've done just over half and hopefully will get the bulk of it finished this afternoon, and maybe get hubby to help reconcile it tonight. Two eyes are better than one for catching mistakes!
So all in all it has been a busy old week, but a really good, productive week too and it is lovely to know that we will be going into this weekend feeling a bit more shipshape than we were at the outset!
(All of this has also contributed towards my #getgoodsummer goals, particularly goal 2 – decorating and goal 5 – getting organised! I think it helps towards goal 4 too as this weekend we are catching up with some very lovely friends! Yay!)