Well, what a busy week! You'll be pleased to know that we are all much better, no more tummy bugs, so a much happier household going in to the beginning of the week 🙂 First of all, the baby booties that I made for my friend's little boy fit his teeny feet perfectly! It's funny how quickly you forget how small they are in those first few months, although monkey has always been a big boy with big feet!
I  mentioned in my last post that hubby and I had bought a big jug for the windowsill but didn't have anything to put in it – well long term is not sorted but in the short term hubby brought home some gorgeous bright coloured flowers for it – so at least it feels a little like spring inside the house – if not remotely like it outside!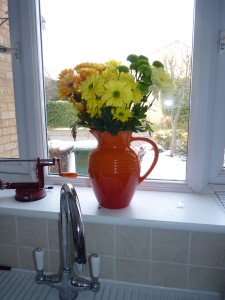 Very lovely and thoughtful of him (although I have to admit my initial gut reaction was one of suspicion and that he was trying to soften some bad news, like having to work away overnight or something silly, but no just a sweet gesture after all :)) and they do look lovely in the kitchen.
My little project for the last week or so has been to make this really cute bunny that I saw in my simply crochet magazine.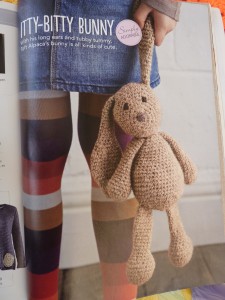 I thought he was just so cute and a perfect little toy for the monkey to chew on. It said in the pattern to use alpaca wool, but well that is pretty expensive. I also know that anything that is for monkey needs to be very easily washable, which I don't believe alpaca is, and I could easily see the gorgeous bunny becoming quite stained very quickly! So I decided to go for it with some of the acrylic wool I already had. I also didn't have any brown and was far too impatient to wait until I could get some so decided to go for a multi-coloured blue bunny!
It was quite simple really, mainly double crochets (UK terms) and after learning what a htr2tog was last week I managed to figure out what a dc2tog was quickly enough. My big flaw though seems to be counting, I lose count of stitches so blimming easily and really struggle to get it right after that, so tend to have a bit of interpretation of the pattern. This is fine until you are making a pair of something, such as the ears, which have come out as completely different shapes! hehe ah well, I think it adds to his character, what do you think?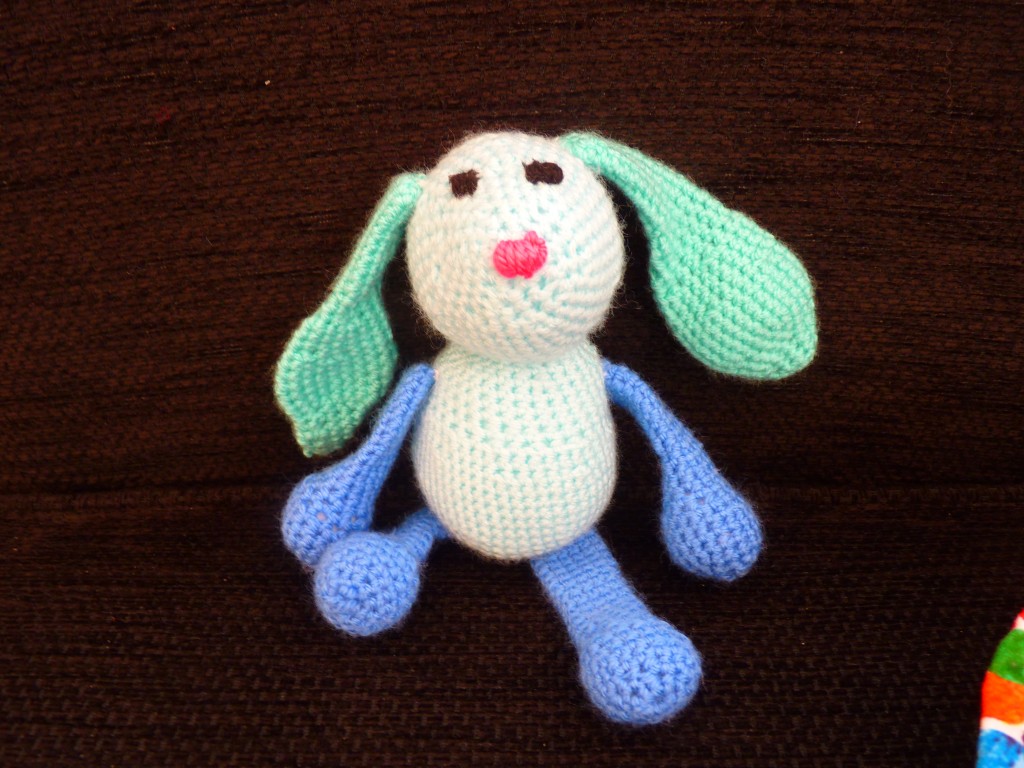 I also was a bit ummm unorganised with where I was sowing the legs on, so he's a bit scew-wiff but again I think he looks cute so decided to go with it. Monkey has chewed on him a few times and shaken him around but so far he doesn't seem anywhere near as pleased with him as I am! hehe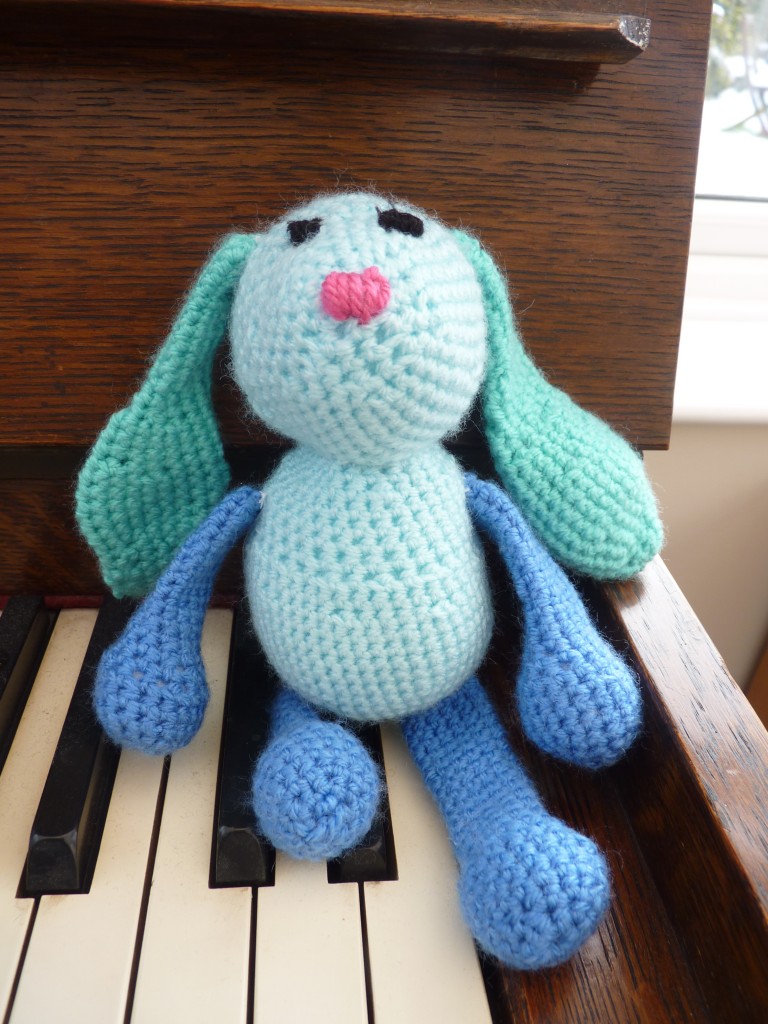 It's my birthday coming up in a month or so and it's one with a zero on the end! A few people have asked what I would like, so have duly created a lovely amazon wishlist, though I really couldn't think of much I wanted, a few dvds and a portable dustbuster type thing being the highlights. I know that is not very exciting as a birthday present but honestly I spend half my life on my hands and knees wiping up crumbs that if been thrown from the highchair tray or fallen off of the monkey himself, and the other half hovering up where any I have missed have been walked on and spread throughout the house! (Ok slight exaggeration as obviously I manage to squeeze in crochet and blogging too :)) Our hoover is he too and monkey is terrified of the noise so I can only hoover certain parts of the house when he's asleep, and other parts only at the weekend or sometime daddy is available to otherwise entertain him!
At our weekly visit to the lovely mother in laws I was very touched and surprised when they received a delivery of said dustbuster and said that I couldn't possibly have it as a birthday present as it is much too boring, but that they wanted me to have it, so they bought it as a present! Like I say, very touched, and almost bought a tear to my eye. Feels a bit sad to get so excited over a dustbuster, but honestly, since becoming a stay at home mummy, anything that makes my life easier really makes such a big difference! And I have to say both hubby and I love it, makes post mealtime clean-ups so much quicker, its quiet and monkey doesn't mind the noise so yay! Fantastic all-round 🙂