Meet Herby the Hedgehog.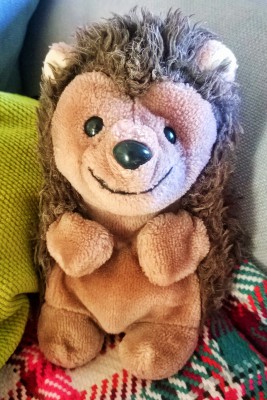 Herby is a real family friend of ours. He was hubs' toy when he was little (he can't remember not having him) and he is now firm friends with both Monkey and LM.
When Monkey was little I invented the following little ditty:
My name is Herby and I like to dance,
I like to dance and tickle my friend Monkey,
Dance, dance, dance
and tickle my friend Monkey
I make Herby dance for the dancing bits then of course he goes in for a tickle at the tickle bits. Monkey always loved this and we had so much fun with Herby when he was a baby. Sadly I don't have many photos of Monkey with Herby, I wasn't a blogger back then and clearly didn't document every second of our lives the way I do now 😉 but here is a little snap.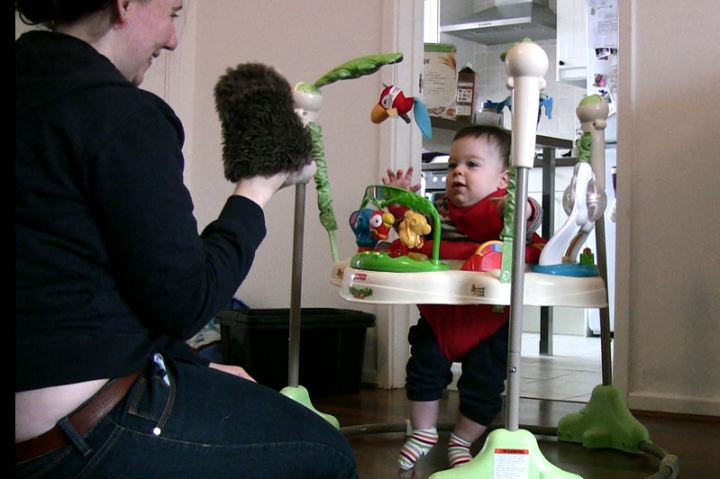 Now it is LM's turn and the ditty has returned, and has all the fun. I love this little video of some of the fun I have been having with Herby and LM recently. She adores him! (Oh and yes that is Monkey singing the bob the Builder theme tune in the background bless him!)
Obviously any hand puppet would work in the same way but in our house it is all about Herby. I love watching the anticipation,the confusion when he goes away and the glee when he comes back.
I have mentioned (more than once, I know) that I find baby days so hard and that I prefer it when they are older. Sometimes it is hard to put my finger on why but here it is. Watching them learn is so much fun, as everything is a learning experience. You get to see the world through their eyes and enjoy it with them.
We really are entering the fun times with LM now and these little moments amongst the hard work really make me smile, and make it all worthwhile.