So I tried making homemade finger paints about 5 months ago (wow) when monkey was 9 months old and I wasn't hugely successful. I'm not sure where I went wrong but the paint was a bit too solid and in all honesty, Monkey wasn't really ready for it anyway. I decided to wait until he was a bit older and give it another go. After the way he was looking at his hands and putting his hands on the sheet during Ice Cube Painting I decided that perhaps the time was now!
I found another recipe on a different blog, here. According to her page, it could have been too gloopy last time because there was too much cornflour in it. Anyway here is the recipe I tried this time, converted into English. (By the way found a great conversion page for translating from cups to metric, here :))
3 tbsp. Sugar
1/2 tsp. Salt
1/2 cup Cornflour (65g)
2 cups water (480ml)
Put all the ingredients into a saucepan, warm until it thickens. Cool and pour into containers (I used empty baby food jars that I have been saving for ages till I was ready to try this again). Add food colouring. I used mainly gel food colouring this time to get stronger colours so we'll see how much it stains hands and clothing etc!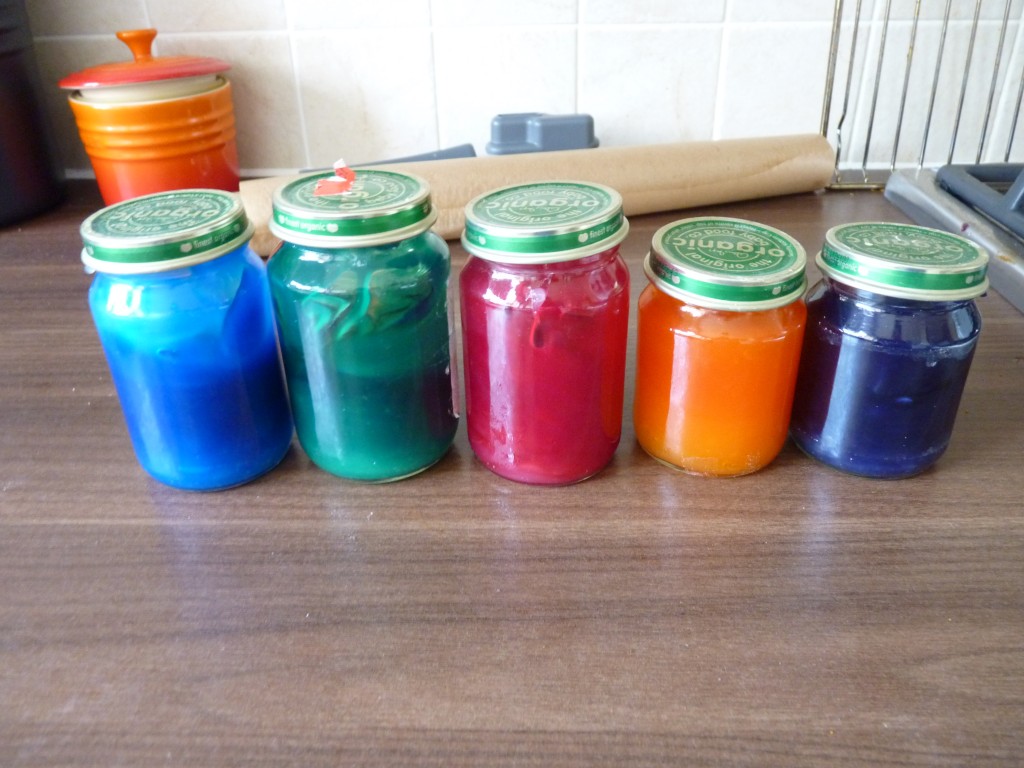 The mixture seemed a bit better this time although when I opened the jars a day or two later it had solidified and I had to give it a good star to mush it into more paint like consistency. I used an old wooden chopstick for this rather than a spoon in the tiny jars.
I tried him with just three colours at first, and just on his highchair tray, rather than with paper, to see how he got on. He really enjoyed it! Smooshing the colours all around, making patterns by hitting the tray and he was really interested in the paint on his hands. It did stain his hands purple for a few hours but after some playtime in sand water outside it was gone. It also came off the highchair, and even our nice wooden table when a little bit got on to there, so I was very pleased about that!
The next time I gave him some paper too so he could do handprints but honestly I don't think he was bothered whether there was paper there or not! He still had fun though so great activity at this age, even if it does make a fair bit of mess! 🙂