I wrote this post for our anniversary last July, so nearly a year ago, but I thought it was perfect for The Theme Game this week with the theme of 'Love.'
It's our anniversary weekend this weekend and I am feeling a bit soppy and sentimental so I thought that I would share the story of how hubby and I got together. I think there are some people who thought we were crazy, and definitely some who didn't think we'd make it this far, but we are so happy. We have been together 3 years and a LOT has happened in those 3 years!!
Hubby and I grew up in the same area, just a few streets way from each other. He was in my older brother's class at primary school (a couple of years above me), and though they were never close friends they knew each other. Our mums knew each other from the playground too and got on well, but again weren't close. We all grew up and went to different secondary schools and there the connection stopped, although our mums had crossed paths a few times over the years.
Fast forward to 2010, and my mum is working in a craft shop, where she meets a lady (J) who comes in to the shop regularly. One day J brings in her mother in law, who my mum immediately recognised from the playground. Turns out J is married to hubby's older brother. Anyway the mums start chatting and I think hubby's mum asked my mum if she had any grandchildren. Mum laughed and said no, talked about my brothers and then repeated a recent quote from me where I had declared myself terminally single! (Embarrassing, thanks Mum! :p) Hubby's mum said hmmm I know someone a bit like that. So between the 3 of them a plan was hatched to set us up on a blind date.
My mum was a bit wary, she'd tried to set me up on a blind date before and I'd said no. This time however, after a recent short and disastrous relationship, I was game. I think my words were, "Well he can't be any worse than the ones I choose for myself, and if he's awful I never have to see him again!" Hubby had slightly less choice in the matter, he got a text saying he was going on a date, and was given my number. We text a few times and arranged to meet for a drink.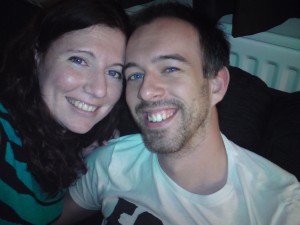 As I'm sure you've guessed, the date went pretty well, so we went out again 2 days later, and then again shortly after that. Pretty soon we were very much in each others pockets and fell in love really fast, scarily fast some might say! I won't go into too many details but we realised pretty quickly that we very much wanted the same things out of life in terms of marriage and children. After 4 weeks together we realised that I hadn't been home to my flat for about a week and actually neither of us wanted me to go home, so I basically moved in with him at that point.
Now after a previous failed engagement many moons ago I had lots of rules about our future and was adamant that I would never get engaged to someone until I had lived with them. As it worked out, we lived together for a week before we got engaged. Yep, 5 weeks after we met we were engaged. I think people thought we were nuts, and he hadn't  even met one of my brothers, and vice versa. If it was someone else, I would have thought they were nuts! But I guess it's true that when you know, you really know!
This all happened in September 2010, we met on 8.9.10 in fact!
On the 16th July 2011, we got married and it was the most amazing day ever. It wasn't the most traditional of weddings, we had no wedding breakfast or speeches, just a BBQ, but it was the most beautiful day and so perfect for us. It was the best day of our lives (so far!).
Not too long after we were married we thought we were about ready to think about the next stage, a baby! But, you never know how things are going to work out or how long it might take so we kept an open mind. I came off the pill and pretty much got pregnant that month. We thought it would take at least a few months and from friends' experiences that it could be up to a year easily, so we were definitely taken by surprise! We were very lucky that it happened so easily and it was obviously meant to be.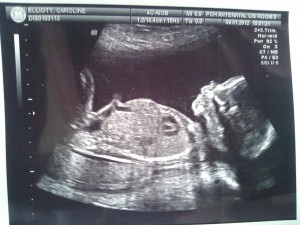 I didn't have the easiest pregnancy as I had morning sickness which basically lasted all day every day until I eventually had to stop work early, because I couldn't cope with the exhaustion. As I started to feel better, we also discovered that the pains I had in my pelvis were SPD (symphysis pubis dysfunction) and by the end of my pregnancy I could barely walk and had crutches (could've been worse I know some women end up in a wheelchair). Monkey was breech and couldn't be turned (we found out later that I have a bicornuate uterus, so it is basically heart shaped and he was stuck in one side) so I had a caesarean on 21st May 2012.
Hubby was amazing throughout my pregnancy and is the loveliest hubby and daddy to Monkey that I could ask for.
I never would have imagined, going into that blind date, just how much my life could change, and how fast! Our mums are understandably proud of themselves and now share their first grandchild.
So there we have it, a suitably soppy post for our anniversary, back to normal next time 🙂