Monkey loves numbers. Loves them. He's been fascinated by them since he was tiny really. He has some 'Hungry Caterpillar' themed wall stickers in his bedroom, which include the numbers 1-5 which are positioned above his bed, and he has found those numbers fascinating since he was very small. He also loves clocks and watches and many times has nearly pulled a relative's arm off (well maybe not quite off but given it a good tug) to see the numbers on their watch.
He has always been really interested in counting rhymes, and counting on his fingers, especially in the last few months. All of this has culminated in a very gorgeous recent development, he can count to 11! (odd number I know but he just doesn't want to stop at 10!). His speech has been coming on leaps and bounds lately and to say we are hugely proud that some of his first words are the numbers 1-11 is possibly an understatement. 2 was the first number he ever said and it has just grown since then. I have absolutely no idea if this is advanced or normal, and I don't really care, I just think it is so sweet! (though with his 2 year check, or rather "27 month assessment" this Friday I do quite like the timing! :))
But let's go back a bit. Like I said, he has always been a fan of numbers and I guess whenever you child or toddler expresses an interest in something, it is easy to do things that make them happy. So for ages when we did drawing or chalking and he wanted one of us to draw something, along with shapes and smiley faces we often drew (and still draw) letters and numbers for him to see. We have some number shape cutters that we use in play-doh. We count as he bumshuffles down the stairs some days. He has a placemat with numbers on it. Lots of things with numbers, though it has all been relaxed, we have not been crazy over enthusiastic parents, just gone with what we know he likes.
I guess the combination of all of these things have gradually sunk in as the week before last, when his uncle and daddy were doing some chalking with him in the garden, he surprised them with his knowledge of numbers. I had seen hints of it before but not really grasped the full extent. When they drew the numbers 1-10 he was able to point out every number they asked (so "where is no.8?" etc.) even when they were all asked in a random order. So he clearly recognised each number.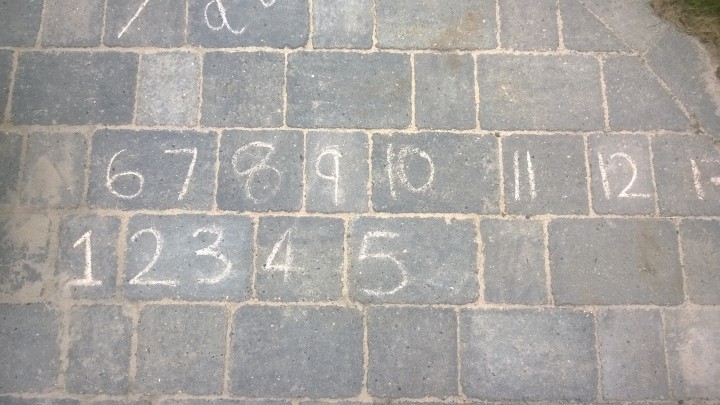 So the next day when we were playing with play-doh (and I do get a bit bored of play-doh at times) I decided to get out the number cutters and see how he got on. Again he was able to point out each of the number shapes, then cut out a number, and I realised just how many of the numbers he could actually say (not all of them by this point) and I was dead impressed.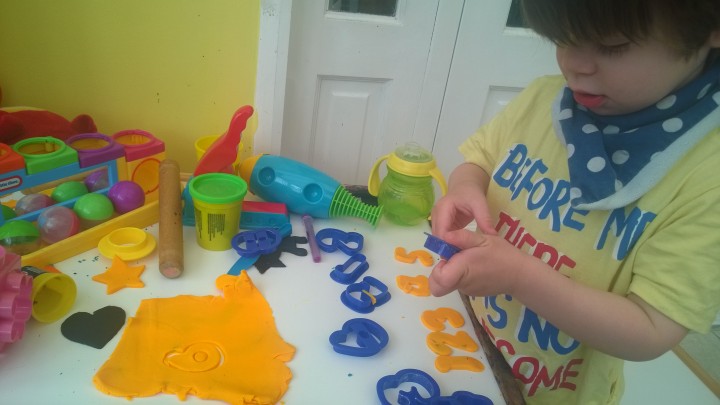 Since then his obsession with numbers has grown and he is very often counting to himself in bed before sleeps, and throughout the day at random points. For a while he counted 1-6, skipped 7 & 8 and carried on from 9-11. We have now helped fill in those missing numbers (some of the time) and he just loves counting all of the time! Whenever he sees a clock he has to point out all of the numbers and he got most upset when a friend's watch only had some of the numbers on the dial, shouting "Oh No! 5 away!" with his hands out to the side showing his confusion. So cute!
So here is a little video of Monkey counting when I drew the numbers. This game had to be repeated for ages but he loved it so I don't mind. 🙂