As I write this in many ways I can't believe that it has nearly been a year and that our little lady is not far off being 1… but in other ways, I just look at her and is she really not 1 yet? She's almost a fully fledged toddler now and it is hard to equate her with the teeny baby we brought home 11 months ago.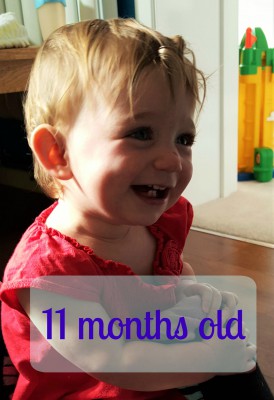 So anyway, what has she been up to?
Well, since her first steps a couple of weeks ago she has been walking. A lot! She can now get herself up to standing without having to pull up on anything (or anyone) which means she can just randomly start toddling about. She wants to walk constantly but she is not confident to walk unaided for more than about 10 steps as I write this… but that is increasing daily so it may well be more by the time I publish. The rest of the time we are walking loosely holding on to one hand – so it gives her the confidence but helps save her from too many nasty falls.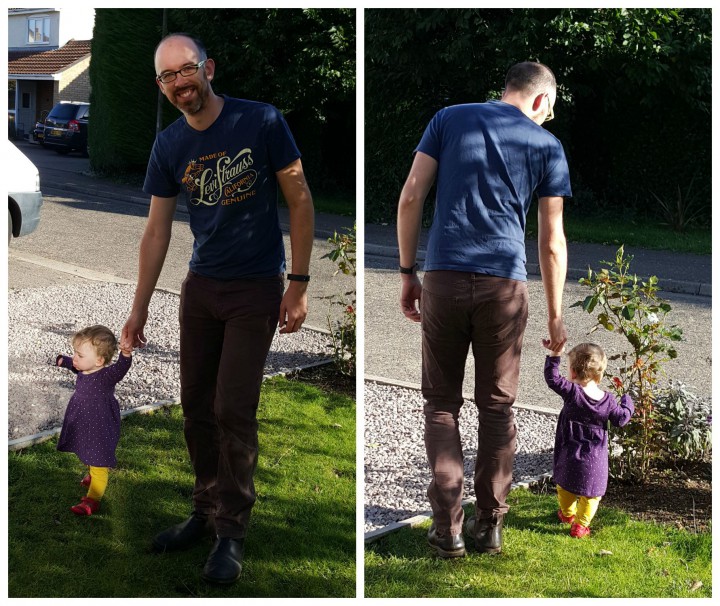 Because of course the downside of all this walking is the number of face plants she has done and the quantity of bumps and bruises. She can be absolutely fine and sturdy then suddenly she goes and while I like to think I have the reflexes of a cat, sometimes I just can't quite catch her in time. Cue Mummy guilt as she has a mouthful of dirt and a grazed nose when I only looked up for a second to make sure her big brother was stopping at the road. Of course that was the second she got distracted by something and went face forwards. Silly Mummy.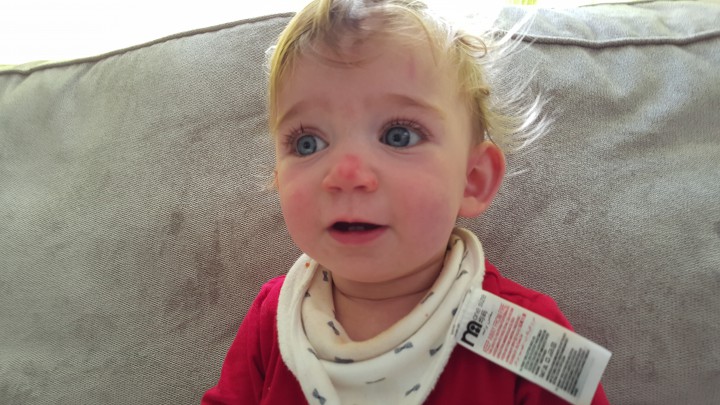 Her little personality is coming through more and more now. I call her a diva a lot as she certainly likes to make sure we know when she isn't happy about something, and I swear she is the loudest baby on the planet! But for the most part she is a happy little thing really. She is a bit of a Mummy's girl at the moment though and can definitely be a little shy of strangers or people she doesn't see quite so often but that's just the age really isn't it? Don't believe this little lady can be a diva, what do these faces tell you??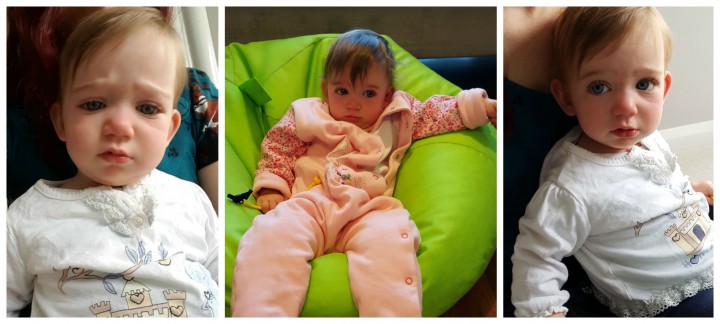 Speaking of age, so far so good on the food front. By this age her big brother had suddenly turned fussy but so far she is still pretty good and eats practically everything we put in front of her – especially fruit, she adores all fruit so far, except watermelon bizarrely. It's funny as in comparing her to her big brother, he will happily eat whenever you offer him food, and would probably eat all day… certain types of food at the very least. Whereas she will eat just about anything but only if she is hungry enough, turning her nose up to everything if she isn't hungry enough. She also has to feed herself 99% of the time!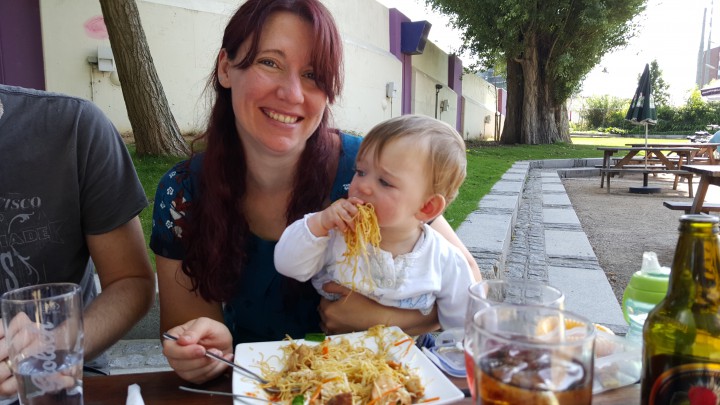 She had a bit of a funny stage where she was terrifed of the bath, and I literally mean terrified screaming her head off as soon as it was time to go in. It came from nowhere but honestly she was so unhappy. I tried getting in with her, tried different temps but nothing worked. So I decided to try and remind her water is fun with a play session in the garden which, as you can see, she absolutely adored. She crawled herself in and had a whale of a time.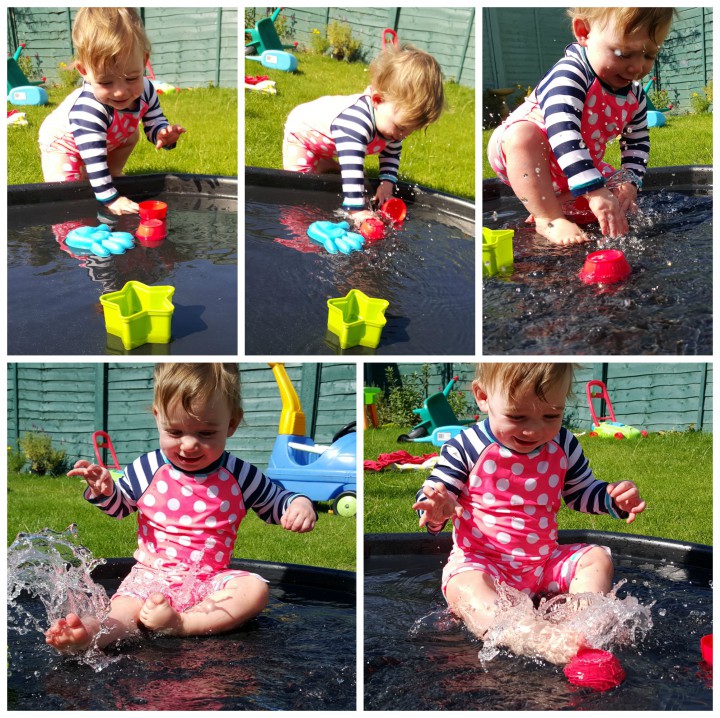 She was still scared though until one day I was in the bathy with Monkey and she was so desperate to come in with us after standing outside watching us. It still took a few goes but eventually she sat on my lap while we had a bathy the 3 of us (I will spare you any photos of that) and since then she has been enjoying bathy time again, having so much fun splashing and playing. So who knows where it came from but at least she is happy in there again now.
Some of her favourite things (Other than walking). She loves books and being read to – her favourites at the moment include "Rainbow Rob" (a firm family fave) and "Whose nose?" She particularly loves it when I roar to her during this one, really gives her the giggles.

She loves dancing. For some time it has been Daddys go-to method for cheering her up when she is whining or being a diva and they have had so many happy times dancing around the living room to the tune of "I know you, I've walked with you once upon a dream…" from sleeping beauty. No idea why Daddy chooses that one everytime but maybe they will have a daddy-daughter dance to it at her wedding or something one day :). She also adores dancing by herself now she is on her feet more and I love her little bottom bouncing up and down. here's a little clip, which isn't amazing but you get the idea. It's even better for us as we have a very similar clip of her big brother doing the exact same dance to that music table!!
She also loves being thrown in the air, and, random child that she is, loves being tipped upside down and sometimes it is a job getting her to stay right side up and she tips her head so far back! Funny but gorgeous child  that she is 🙂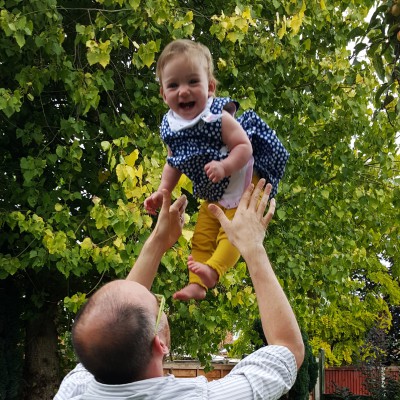 Sleepwise she is so good through the night and varies in the day sometimes she will have one nap, sometimes two. I keep thinking she is dropping the second nap then she will have a day when she sleeps for ages in the morning and afternoon. So again I need to take deep breaths and just go with it. Who needs a routine anyway? (me me me!) She sleeps in the oddest positions too. for example, I have no idea how she is comfy enough to sleep like this?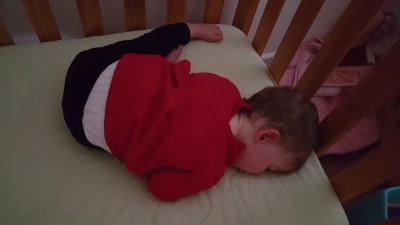 I could probably keep banging on and remembering more little details but will leave it there for now!