I'm a little late with Little Miss's 6 month update as we were away on holiday when she turned 6 months, but here she is on the day she turned 6mths old. Our little beauty! I can't believe we made her, I just can't!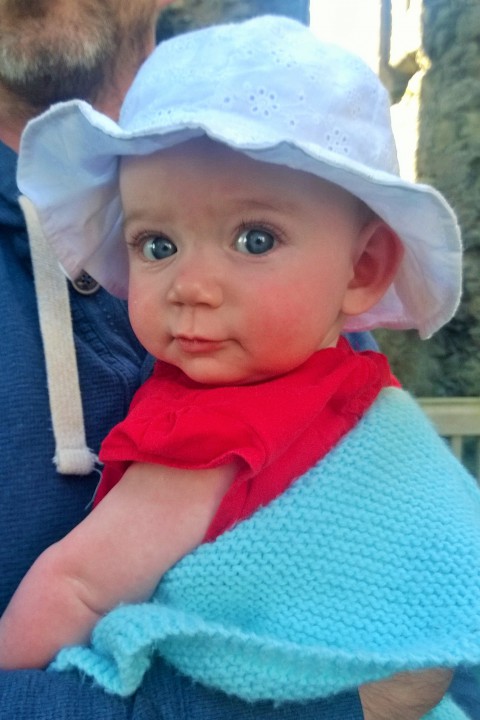 I got her weighed this week at 6mths 1 wk and she is doing really well. Despite losing a little weight when she had Bronchiolitis and didn't want to eat, her love of solids and her milk has meant she has put the weight back on and more, which is obviously is wonderful news and she is now 15lb8oz
So yes the weaning is going really well, for the most part. We have gone for the traditional puree style weaning as we started at a little younger than 6 mths, and because we found it worked well with Monkey. (I will go into more of this in a future post). Initially I made purees for her and just had jars on days out but while we were on holiday, jars were the easiest thing as I didn't fancy making purees on my holidays! The problem being that now she mainly wants to just eat the jars and won;t touch any of the lovely healthy purees I am making at home. Which is really frustrating! So, for the sake of less stress, while we will keep trying her on homemade purees, we are using a lot of jars… so bring on the orange food I guess!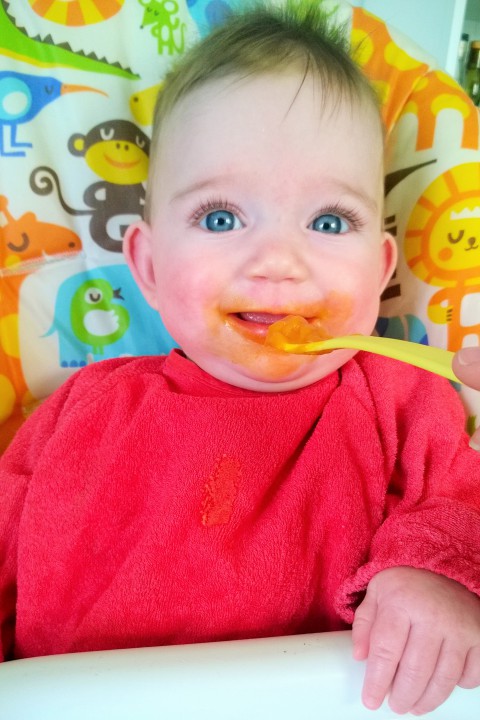 Meanwhile she is the oddest child when it comes to drinking her milk. She hates being held to feed and is much happier lying down while drinking (?) where she can wriggle around to her hearts content and have a good nosey at what is going on around her. Seriously, we get into the oddest positions while feeding her!
She also has a serious aversion to socks and they get pulled off all the time. We tried sock-ons but she pulls those off too and shoves them (and the sock) in her mouth and well the sock-ons felt like more of a choking hazard than anything so they have gone by the wayside now 😕
So what else is she doing? Chatting. Lots and lots of chatting which is adorable. It stopped for a bit but has come back with a vengeance again and is adorable. Here is a little clip of her chatting away in the bathy 🙂
She's laughing a lot more now too and we have a gorgeous video of that but it has been vetoed as we make her laugh by saying her name over and over!
She's not sitting unsupported yet, which is totally normal, but we had hoped she would be by now. Monkey was very stable sitting by 6 months and it is difficult not to compare… although he was a tummy sleeper from a few mths old so I guess he built up his muscles sooner than she has. We are eager for her to be able to sit properly though!
She still loves grabbing and Daddy's ear is very much a target for her little hands at any opportunity. She also likes grabbing anything and everything that is in reach too, so we are having to be careful about where her little arms are heading! SHe is so inquisitive though and just loves grabbing and eating anything she is able to get her hands on!
Still no real routine in sight and actually it was ok while we were away as she was flexible and fit in to our plans easily. Now we are home it would be lovely if she settled down, but so far she is more up and down than ever and one day she barely slept at all! She is so good at night though (apart from the 530am starts some days) so we can't really complain
Another exciting little development is that we have discovered today that our little lady has her first tooth! Very exciting. Not sure why I feel so proud of her about it… but I do 🙂
She also loves her walker now and is starting to scoot about in it, especially when trying to reach a toy she can gum (now semi-chew) to death!
So there we have it, our little lady at just over 6 mths old – how the time flies eh?