Wowee! Here we are at the end of our Little Miss' first year of life! In the early days the weeks seemed to last forever but in reality the past year has absolutely flown by. We have all come such a long way in the past year and no-one more so than the little lady herself. From a teeny wee thing who struggled so badly with colic, temporary lactose intolerance and reflux… to our beaming, happy, gorgeous little toddler.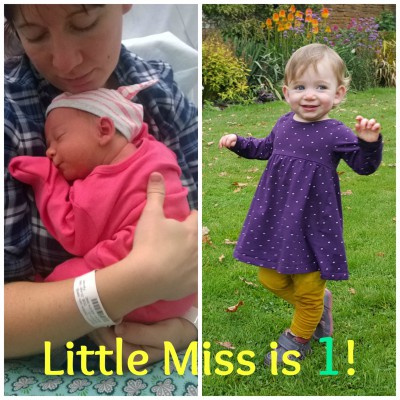 I honestly just adore her 100% and she is such a Mummy's girl which is lovely but obviously a tad infuriating at times when she does not want me to move from her side. I do feel for Daddy too when she is writhing out of his arms to try and get to me. Thankfully though this isn't all the time and she is a generally a smily happy girl, she is so sociable, she loves people and is just a quite contented little thing really.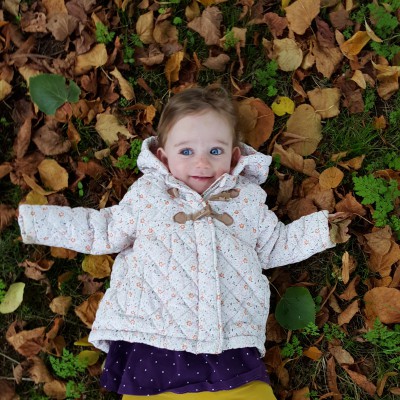 The last month has seen her take the huge leap from baby to fully fledged toddler as she now walks everywhere and I have to admit I love it. At home she is constantly pottering about finding things to inspect and she loves running and throwing herself onto the beanbag, which is hilarious.
Unfortunately it also means a lot of falling over so she constantly has bruises and scratches on her face from face-planting the floor or a piece of furniture poor thing. I also have to keep a close eye on her as she likes picking things up and putting them in her mouth. At home it isn't too bad (though she has a penchant for crayons at the moment, joy) but out and about is a nightmare and I am constantly saying no and running when I see a fistful of mud or stones heading to her mouth. Sadly I don't spot it in time every time, so try to convince myself that a little mud never killed anyone! She also likes to find manky puddles of water, splash her hands in them then put her fingers in her mouth… noooo!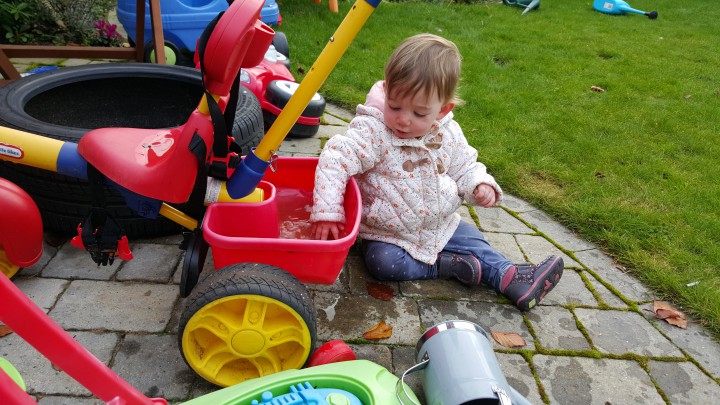 She does understand "no" but rarely obeys and generally gives a huge cheeky grin and shakes her head before carrying on what she was.doing… grrr! There are other times when she does listen but they are few and far between… so I sound like a bit of a stuck record but I know repetition is all I can do at the moment, that and picking her up and moving her away from dangerous things such as radiators or the oven!
In terms of food she is still really good for the most part but there are signs of fussiness showing…. sadly BLW hasn't completely staved this off… she definitely doesn't like broccoli anymore and I don't think she is too keen on potato. But even though her Daddy adores potato I have never been a huge fan of potato so maybe it is hereditary? Who knows, we shall see how this progresses though and we don't have any of the problems we had with her brother as she scoffs curry and anything with pasta and she adores fruit which is great. She also eats a ridiculous amount – easily an adult portion at mealtimes and WAY more than her big brother eats. I have no idea where she puts it all!
She is also a very different baby to her brother in terms of routine. Whereas he was in a fab routine from 4 months and then was always so much happier in a routine, she is so different. We struggled massively to ever get her to settle in a routine for more than a few days at a time, BUT, and here's the thing, now she is much more flexible which is actually handy. She now is best when she has one nap in the afternoon. She has a long sleep, is happier and sleeps in later the next morning (till nearly 7am, wahoo!). But on days when we are in the car a lot she sometimes dozes off in the morning then either doesn't nap in the afternoon or has a shorter sleep. And do you know what? She is still fine. She wakes up earlier the next morning (between 530-6) but is still pretty contended on it so I really can't complain. Monkey was always a nightmare if you shifted his routine even slightly so it is a nice change and a relief after the struggles of trying to get her to settle in a routine all year!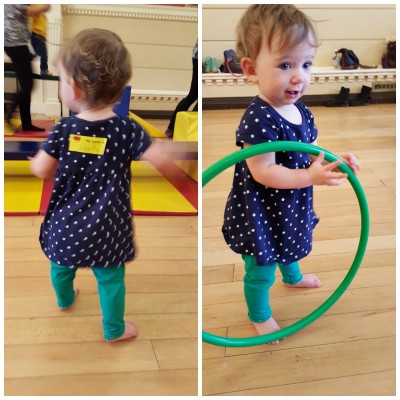 Now that she is awake more though we are getting out and about a bit more too. I take her to tumbletots on a Monday morning when Monkey is at playgroup, which she loves. She loves the other people most of all I think but also has a lot of fun exploring all of the equipment. Then on a Tuesday my parents take her to rhyme time at the local library while Monkey and I have a Mummy and Monkey morning. Apparently she loves going and is getting more and more confident as the weeks go by, which is lovely. I hope it will also do her good to be away from me for a little while every week too. She adores her Nanny & Pops and is very comfortable being with them and they love having her which is great.
She has always been an incredibly loud baby and she knows how to make her feelings well and truly known. We are very much getting a lot of whining and she makes the Marge Simpson noise when she wants something (you know, closed mouth, mmmmmgrh hehe). We do also have the start of words too which is really lovely. She occasionally makes an almost "tickle tickle" sound – much more joined together and unclear, but she has also been known to accompany this with grabbing Monkey in a tickly way… and obviously we say it a lot to both of them so we think she is trying to copy us. She also definitely says "uh oh" and copies us whenever we say it (and hubs now says it a LOT to make her say it) and whenever she drops something, which is massively adorable!! I feel like I am constantly comparing her to her big brother but I can't help it as this is another way she is very different to him as he didn't say his first word until he was 2!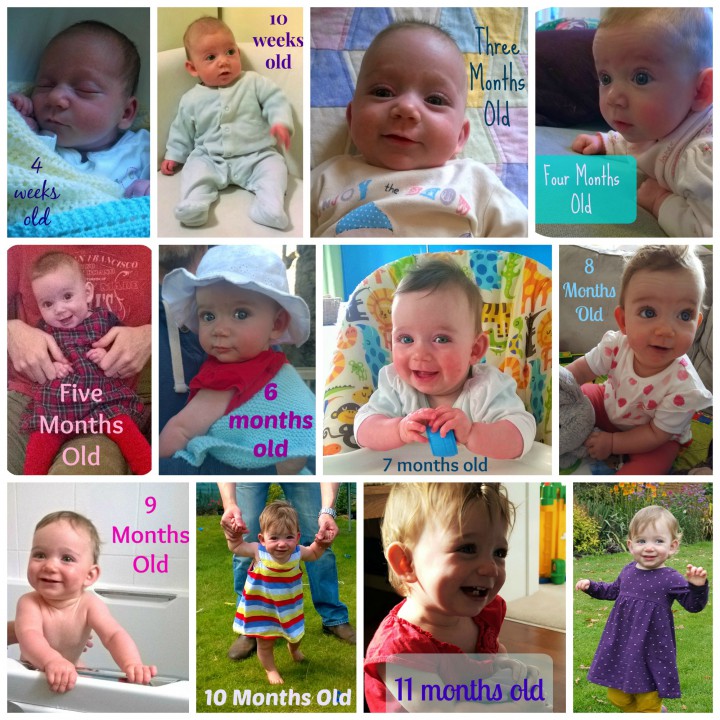 So there we have it, our gorgeous little lady as she approaches her first birthday! I love the determined happy little person she is growing into and am looking forward to what the next year will bring.