Last week we headed up the A1 towards Yorkshire for a lovely little family holiday. We wanted to head off first thing in the morning during LM's first sleep but couldn't get into the cottage until 3pm. We decided we would stop off along the way, but actually made really good time that morning and decided to carry on a bit further than the halfway point where we thought we would stop. The question was, where to stop?
SatNavs are great but I love a good map, and this is the perfect example of why. I got the map out and had a look for some landmarks and places where we could visit. I found Lotherton Hall, just off the A1 not far from Leeds and after a quick look online (thank goodness for mobile internet) decided it was the perfect place for a little visit!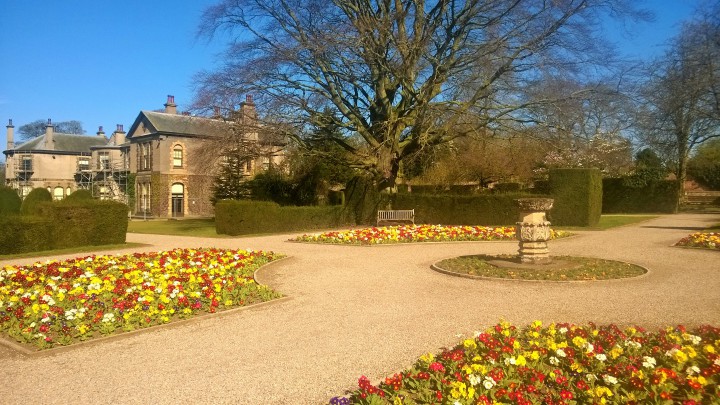 Entry was £5 per adult, 2.50 for children but under 5s go free which was great for us and compared to a lot of places we have visited I didn't think the price was bad at all! (There is membership available too if you are local and there seemed to be a lot of mums with kids there who go there regularly.
So what is there? Loads! It's a lovely big house which you can go round, though we found plenty to keep us amused outside. There are manicured gardens where you can play games on the lawns, a rock garden to explore, a lovely woodland walk with some adventure play areas amongst the trees (more on that later) 2 big play areas, a cafe and outdoor seating area, plenty of picnics spots, and to top it off a big bird sanctuary in the centre of the grounds!
LM woke up when we arrived so we headed straight to the cafe for some refreshment. the cafe was lovely and not too expensive, with a lovely sunny seating area. I was also really impressed to see a section of the stables set aside for indoor picnics on days when the weather is less than warm. So many places don't provide indoor eating areas unless you buy their food, so I thought this was a nice touch.
We then headed to the main playarea, which is huge! There is so much to do for all different abilities and Monkey had a fab time climbing, though Mummy did have to clamber up and help him on one of the difficult bits, after that we kept him on the younger side of the playarea hehe. He also got his first ride on the zipwire swing and he absolutely adored it! Trying to get him to hold tightly enough was a challenge though!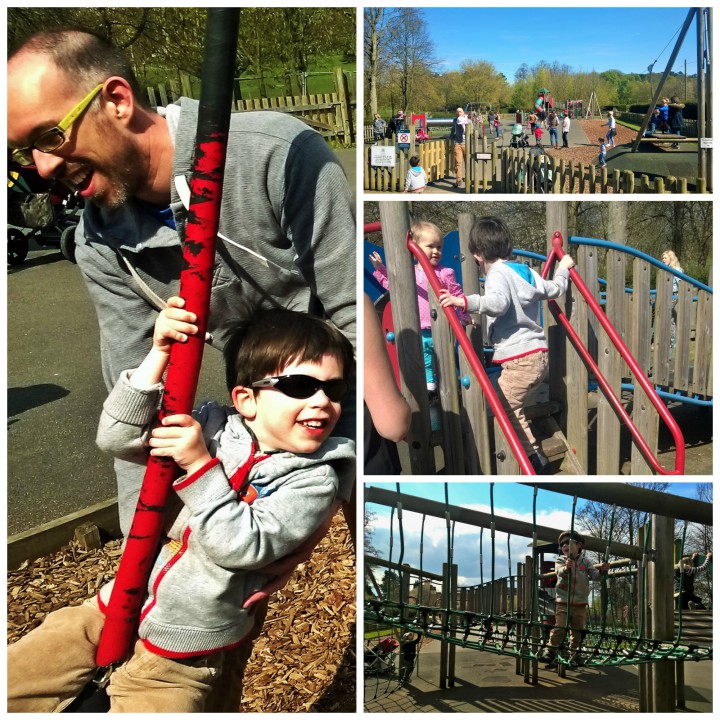 After a bit of a play we went for a wander and discovered the bird sanctuary! We had no idea it was there and it was massive with lots of lovely fascinating birds with many of them in really nice roomy enclosures. they even had a couple of condors and one of them was suitably impressing us by showing off his awesome wingspan.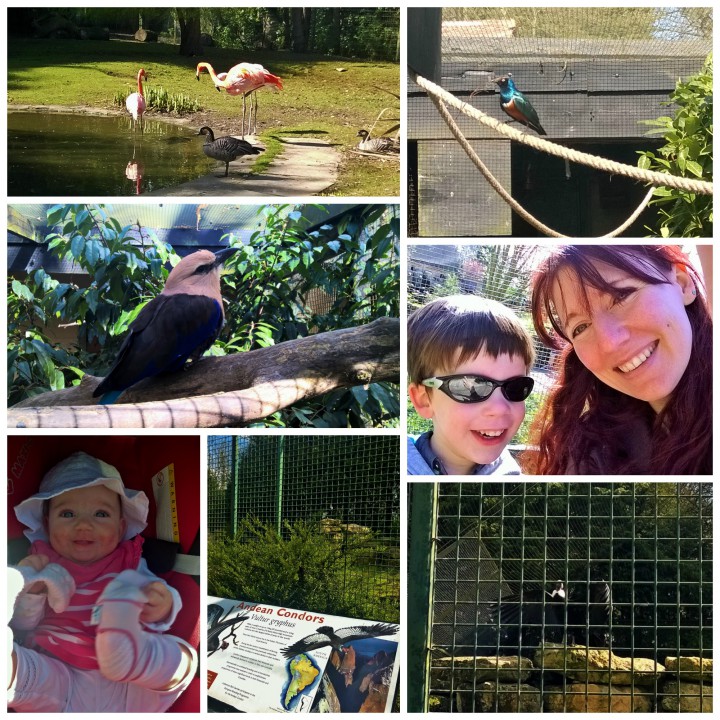 Then it was picnic time and we headed to a big field, which is where we discovered another play area! Spread across the field was all manner of climbing frames, swings, monkey bars, spinny things, two more zipwire swings and all sorts – and there was a lot of children out there enjoying the sunshine and having a lovely play on all of the equipment.
After lunch we took a stroll to get LM to sleep and had a little look at the deer park,  then wandered through the woods. Which is where we discovered lots of lovely wooden play equipment spread amongst the trees. Some of the wooden beams took hubs and I back to our childhood and we had a great time running across the spinning beam – miraculously I surprised us all and managed it on my first run across… but couldn't do it at all when hubs tried to catch it on camera lol. Monkey thought it was great fun seeing Mummy and Daddy playing!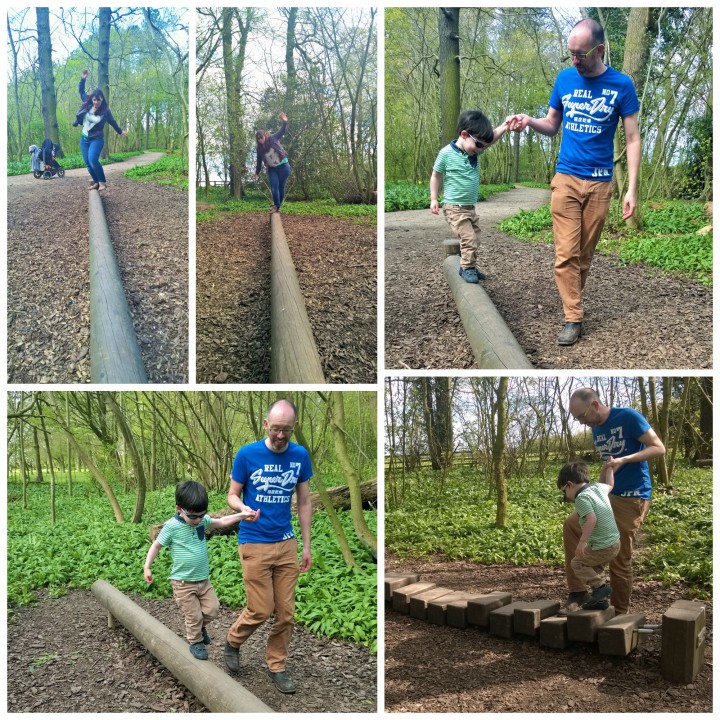 We headed back to the field after that and had a bit more of a play there before deciding to head on to our holiday cottage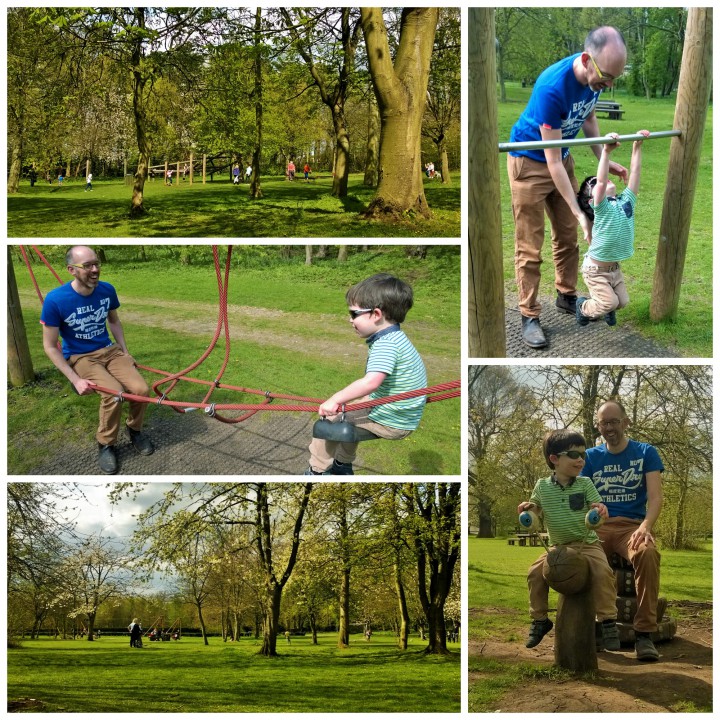 We had a lovely time at Lotherton Hall, there is so much to see and do which to me makes the entry fee totally worthwhile. If we lived nearer I imagine we would go quite a lot as Monkey loved it too!