It's 2 weeks since I started my renewed efforts to take a bit better care of myself and to lose some of the excess baggage I am carrying around, and for the most part it is going quite well.
Making time for me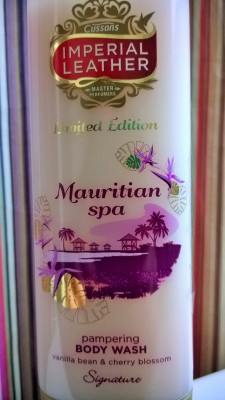 Not the easiest with a 5mth old but I have made more of an effort to have a bit of time for me. Hubs is always happy to help but I just don't normally take advantage of it, so it was time I did and I have popped to town a couple of times on my own to have a wander round the shops. Much less stressful than going with the kiddies in tow and it has been nice to just go where I want and not worry about where the lifts are for the buggy or whether I can squeeze through a gap, or whether  Monkey is running off/grabbing something!
I am also trying to make a bit more effort with myself and my appearance. Not just scraping my hair back every day or having the quickest shower in the world! I bought a lovely new shower gel which smells gorgeous and makes me feel like a shower is more of a treat than just another job that needs doing!
Weight Loss
I got off to a great start with the weight loss and over the first week lost 1/2 stone! Which I am obviously hugely proud of. Most of the second week went well too and I have really been more focussed on the diet this time around. This weekend has been more challenging, a) because it is easter and there is chocolate everywhere as Monkey has had lots of lovely presents and b) because LM has been so poorly. It is difficult to diet or count points when you are in a hospital and have no idea how long you are going to be there. The food choices in the shops there are a little limited and hubs and I were starving so just ate toasties and crisps in the absence of anything else! Not great on the diet :/
Hubs is also poorly this week and he has not been dieting at all – and it's fine for the most part as I am determined to succeed this time, but he has also tempted me to eat naughty things a lot, especially while we have been stressed about LM. He calls it crisis mode and says we can't worry about it in this condition, but my mantra this time was "no excuses" and I have to stick to that. Even on difficult days other wise I will never get anywhere.
As a result of all of this I haven't lost any more, but I haven't put any back on either and I am determined to be good again this week so that I don't undo the work so far.
Clothes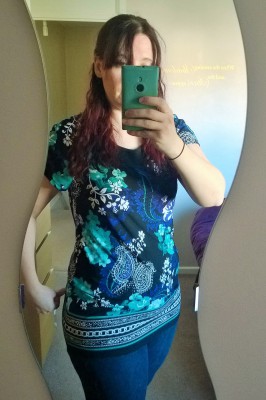 I still can't fit into my lower size clothes so I have a way to go before I will be happy. I have bought a few new tops which look ok now but will look better when I have less wobbles. One of these purchases was a bit of a shocker, as I got it in bonmarche! I have to admit that I think of bonmarche as an old lady shop so I was surprised when I really liked a top I saw in the window. So much of what I had seen in most of the was a bit dull and grey, whereas I do love a bright splash of colour and I love the colours of this top, so big surprise to find it in bonmarche! I have slimming underwear on in this pic to control some of the wobbles (and don't ask me what I am doing with my arm, as I really don't know!) but it will look even better when I have lost a few more pounds 🙂