At 2 1/2 this is the first year Monkey has really understood that Christmas is coming, and therefore been really excited about it. Because of that we are very much enjoying sharing Christmas traditions with him as his enthusiasm is really contagious! He has been asking basically every day this month whether Father Christmas is coming, so we thought he would love going to visit him. As an aside, he is very much Father Christmas in our house rather than Santa Claus, it seems everyone is adopting Santa these days but that feels so American to me, am I alone in this?
Anyway there are lots of places to visit Father Christmas and some of them are so expensive and you need to book appointments etc. which I guess takes the need away for queuing bit needs a bit more advance planning than I had thought it would! We needed to go to our local shopping centre anyway so decided to take him to the FC there which was a bit cheaper and with no appointments required!
We didn't know how he would be with him, he loves the idea of FC but can be quite shy so we weren't sure if he would like him. We knew that if he cried it wouldn't be unusual, but, actually, he did really well.
Father Christmas picked him up and popped him on his sleigh and he didn't squirm at all. He did spend most of his time looking at the wall rather than at Father Christmas but he did answer his questions and talk to him a little about Thomas the Tank Engine and there wasn't even a lip wobble so we were dead proud of him! He really has grown out of his shyness a bit lately and this was yet more proof of that! My once clingy child will now talk to anyone about anything!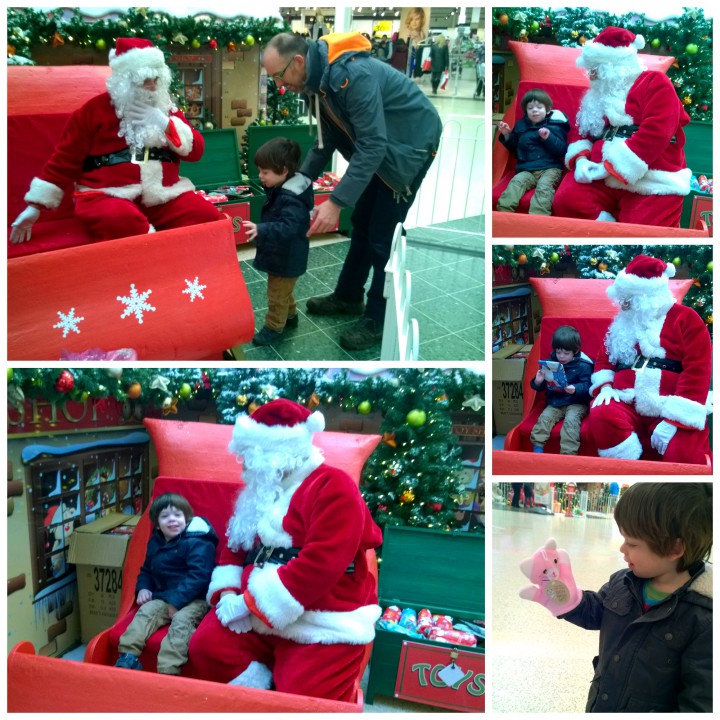 So that was a very lovely first experience. Then at the weekend while hubs and I were at a wedding, my parents took Monkey for the day and he went to see some of FC's Reindeer! There is a garden centre a little while away that has a great reputation at Christmas for seeing FC and for their winter wonderland. Unfortunately when they got there on Sunday, there was a 3 hour wait for this and decided not to bother (which was very wise I think, not sure I would try and persuade a 2 yr old to queue for 3 hours!!). They did however still manage to meet the Reindeer!
One of them came right up to Monkey and Nanny & Pops were very impressed that he didn't back away ( bear in mind that this little Monkey is scared of Sheep and Cows) and just said Hello to the reindeer. What a cutie!
A couple of lovely Christmassy encounters foe our Monkey and we are just dead proud of him and his growing confidence! He seems to have grown up so much in the last few weeks since LM was born
Do your kids meet Father Christmas every year? Is he known as Father Christmas or Santa Claus in your house?
Also linking with #Tinsel Tuesdays