I love a bit of messy play with Monkey, it is usually great fun and also a great way for him to learn. It is one of my favourite things, as a SAHM to be able to do these things with him. Sometimes though…. it really doesn't go as well as I would hope. Last week is a good example of this.
I read a great post a couple of weeks ago about playing with coloured foam. It wasn't something I had seen before so we definitely hadn't tried it. It looked great, the blogger's little one loved it and all went well. So, one afternoon last week I decided we should give it a go. It did not go quite so well for us.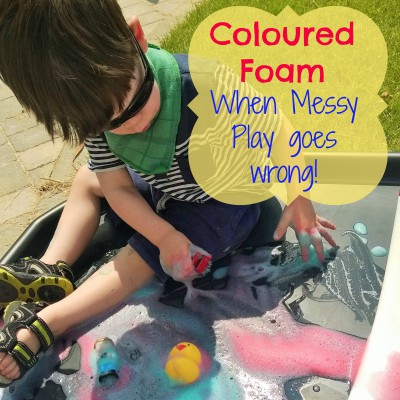 The idea is nice and simple, you combine some washing up liquid with a splash of water and food colouring, and then whisk, using an electric whisk, to get some really good foam.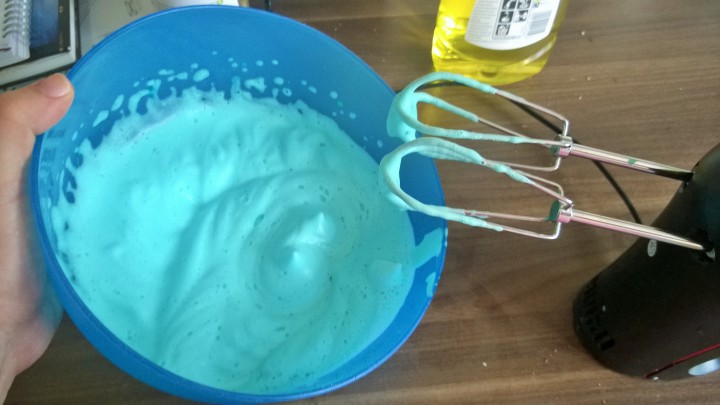 You continue whisking until you get soft peaks forming (similar to making a meringue out of egg whites).
I did 3 colours of foam and poured them into the baby bath as we sometimes use that for messy play. Immediately I noticed that the foam was losing some of it's great consistency but we went outside for a play in the tuffspot.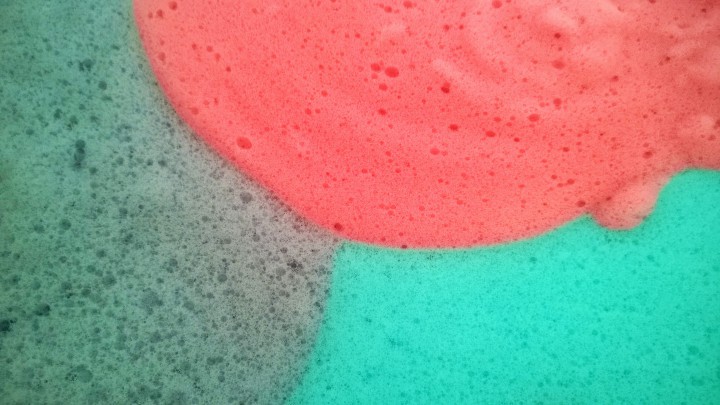 It started well and Monkey was intrigued by the texture. He was playing with his cars and people I had put in there….
Then he tipped it all out in the tuff spot, which was fine…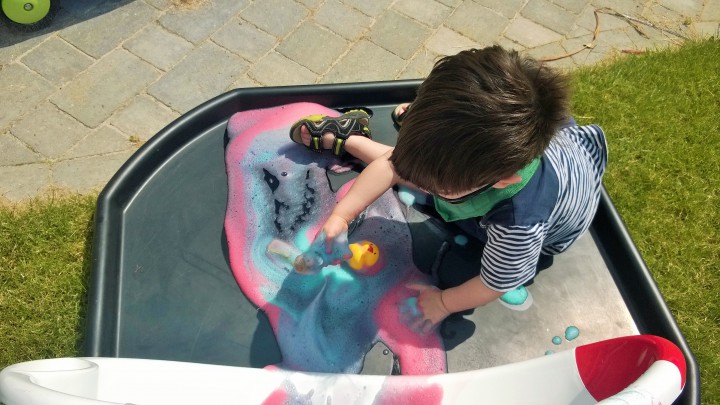 Then he got bored…. about 5 minutes in.
And this is where it all went a bit to pot really, as what I had failed to think about was how slimy the washing up bubbles would be at that consistency. You know kind of almost greasy slimy. I was a bit gutted that he got fed up so quickly but he just had enough and kept saying 'inside, inside' so I had to scrabble about a bit to clean him before he wandered back into the house.
I immediately realised wipes weren't going to cut it as it just lathered up his soapy skin more. Argh! I went to quickly turn the hose on but it wasn't attached to the tap (joy) and I struggled to get it on, and well, my toddler understands many things, but one of the things he chooses not to understand is 'stay there' so he was following me and getting covered in all sorts of dirt that was now sticking to the foam and irritating him. Thankfully he stayed outside at this point, though he was getting pretty moody!
I eventually got the hose going properly and started to wash his hands and feet, but by now his clothes were also covered in the foam and spraying them with water just made them go massively soapy and basically Monkey, me and the patio were all just becoming one big soapy mess, and he had had enough. I managed to get his clothes off him and again requested that he 'stay there' while I made a dash for a towel. Of course he chose to ignore me and came trotting into the house with big wet soapy puddles being left in his wake.
I will admit I completely lost my cool at this point and got very cross, I mean how hard is it to understand the concept of 'stay there?' Apparently very hard, when you are 2 years old. Cue me on my hands and knees cleaning the floor with a towel, chuntering away to myself while Monkey happily ran around the lounge in his nappy (thankfully dry by this point).
It wasn't the worst playtime in the world, but it certainly wasn't what I envisaged, him playing nicely while I was able to sit and relax with minimal input. And I certainly did not think through the clean up operation, at all!!!
Have you had an messy play experiences that have not gone the way you expected? Am I the only Mama who goes into these things inadequately prepared sometimes?