To counter balance yesterday's post about our awful week, I wanted to share a few of the happy moments we've had too. Because even amongst the screaming, hacking coughs, tantrums and general tearing of hair out, there has been the odd moment that has made me happy.
Wednesday, on the whole, was a good day. LM was pretty good, and Monkey spent a big chunk of the day at Nanny's having cuddles on the sofa, giving him some much needed attention and me some much needed breathing space. While LM slept in the afternoon Monkey and I had a lovely play. We put up his little tent and tunnel in the conservatory and had a great time hiding from each other and generally giggling :).
That night LM had some lovely awake time. I would say it was the first time that she has been awake and alert for a significant amount of time and wasn't screaming. We really got to enjoy just being with her and engaging with her and every minute was just lovely :).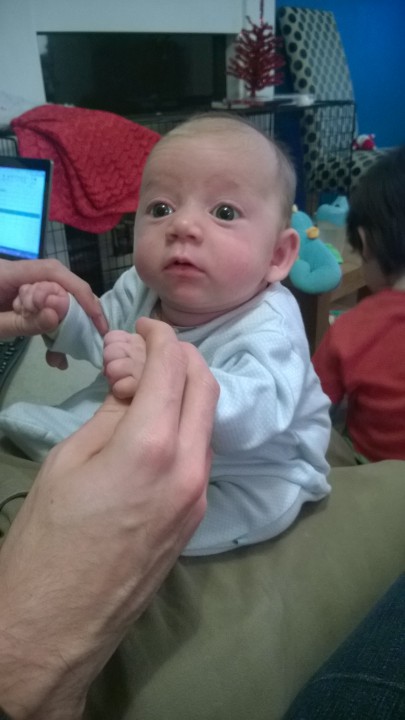 Thursday morning I got myself and the kids out of the house as we needed to buy some bits. The shopping centre has a little playpark outside, and even though it was bitterly cold so we didn't stay long, Monkey adored running around and letting off some steam and chasing his shadow! LM was snuggly wrapped up warm and like I say, it was only brief, but it was happy!
No matter how hard this week has been (and it has been soooo hard), there has still been moments, like rays of sunlight that have pearced the gloom and made us smile.