Yep, today my cutie pie little boy turns 2! Happy Birthday Monkey!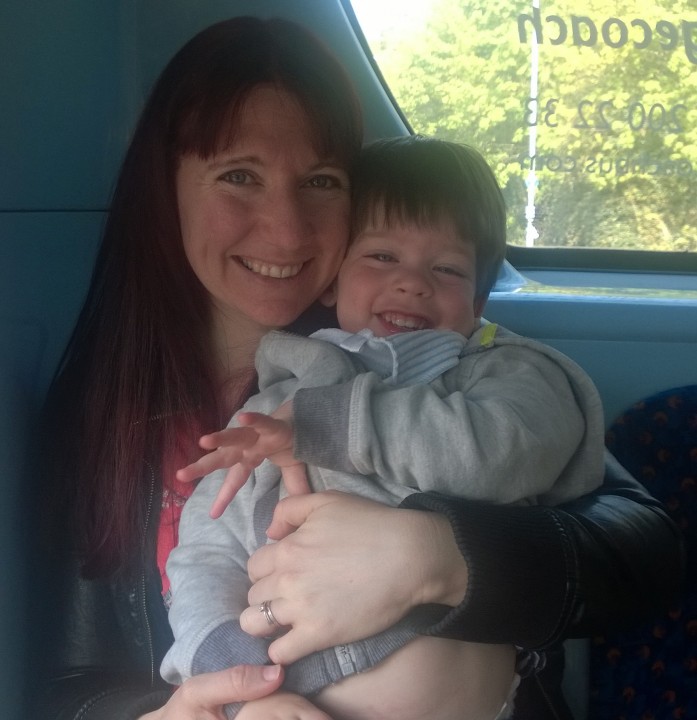 This is a little bit of a celebration of him at this point in his development – a bit of a special edition of his Mini Milestones, and mainly a way for us to look back in years to come I think!
Physical Development
Monkey is standing tall at 3'2″ which according to the percentile chart thingy (first time in ages I've even looked at it) he is above the 99.6th percentile line for height and means he could be a whopping 6'4″ as an adult! With a Daddy at 6'2″ we are not surprised he is tall, but he does feel crazily tall! We will see whether his growth slows down but he is nearly as tall as some of his 3 year old friends at the moment!
He may be advanced in height, but he still can't jump. I think this is still quite normal (?) at this age and he just doesn't seem to get it, bless him, it is funny seeing him try though!
He is getting more coordinated now and can walk up the stairs with one hand on the hand rail and one hand holding mummy or daddy on the other side. He will be going up a class at tumbletots after half term, which is very exciting, and a bit nerve wracking for mummy as it is a bit more structured I think!
His dance moves are coming on too, and now he does the dance moves to lots of songs (not just wind the bobbin) and actually joins in with other people doing the moves, rather than just staring at them then later doing the moves on his own to the music in his head!
He is learning to climb in and out of the bath himself (using his stepstool) and is gradually learning how to get clothes on and off. He is trying to master pulling his trousers up at the mo, though he struggles to get them over his bum! We need to encourage this more really rather than just doing it for him, which is less time consuming and easier for us, but doesn't help him learn the life skill!
It's also worth saying that Monkey loves running – particularly on the grass, and he looks like Phoebe in Friends – where her arms and legs are flying everywhere? It's so cute and he loves it so much, so we do too :).
Oh and he finally likes ride-ons and is figuring out how to make them move. He hated them, anything cars, trucks, bikes, anything for such a long time, then when he did like them, he could only work out how to go backward! He can now go forward and is getting better all the time, so yay! Definitely a sign his coordination is improving!
Speech & Cognitive Development
We are getting there with his speech, slowly but surely. "I don't know" is still his favourite phrase, along with the word 'no' of course! Oh Wow and Oh dear are other favourites. He tries to say lots of other words but doesn't really manage yet. But he can now roar like a lion and make monkey noises, which are very fitting ;). He also chatters away to himself, and sings nonsensical songs and counts with lovely noises instead of words. So we are getting there and I know he'll be a right little chatterbox eventually! He understands so much and can point out lots of things in his books (he very much enjoys doing this!)
His imaginative play is really coming along, which I have to admit, I love! For ages he has loved playing on the telephone..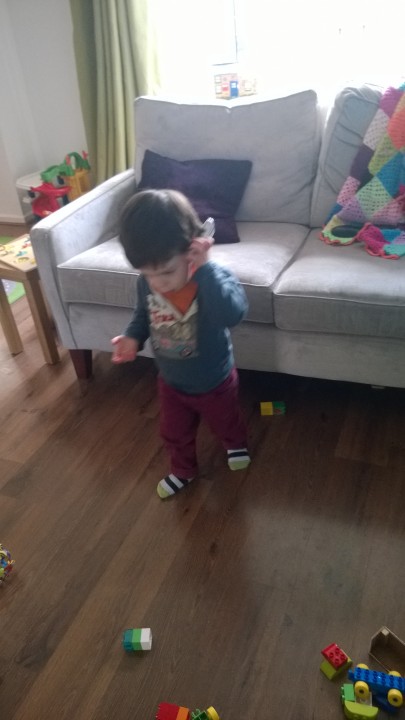 and feeding his toys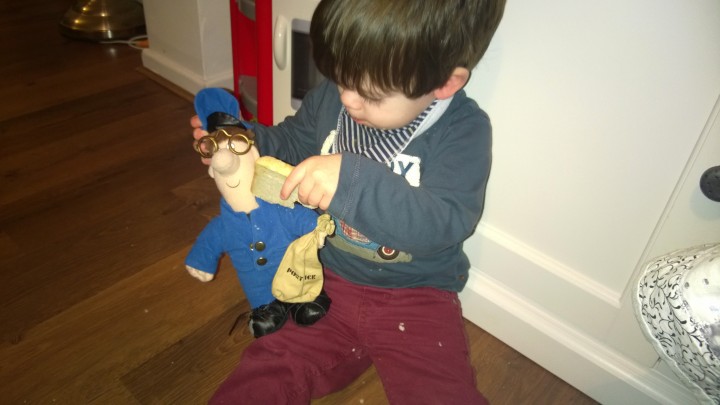 and playing with his cars. But it has taken a bit of a leap in that he now 'walks' his toys around. Postman Pat and Teddy are now often to be seen walking up and down chairs and the sofa. His favourite thing at the moment is giving mummy teddy to cuddle, then rushing in to get in on the cuddle action too 🙂 It's dead cute!
There's a lot more understanding too. Not just with language but with reasoning. he now loves wearing his sunglasses outside as he seems to finally understand that they help stop the sun getting in his eyes.
He also is suddenly ok with Daddy washing his hair! After, well, basically his whole life so far, of hating having his hair washed, he now finally understands that if he looks up and tips his head back, the water doesn't go in his eyes! That is literally a recent development this week, but a very, very, welcome one!!
Social Skills
After being knocked over by a big kid at the park weeks ago, Monkey has been quite wary of other kids, especially at play parks. It's amazing how such a little thing can have such a big effect. He is getting a bit better now but he's still wary, particularly of kids he doesn't know, but even if his friends climb up behind him on a climbing frame, he panics and pretty much throws himself off it into my arms, not good. In contrast though, aside from being scared of kids coming up behind him, he has been playing really nicely with his friends. He is a lot happier playing side by side, and he LOVES holding hands with his friends and even gives kisses and cuddles when it's time to go home.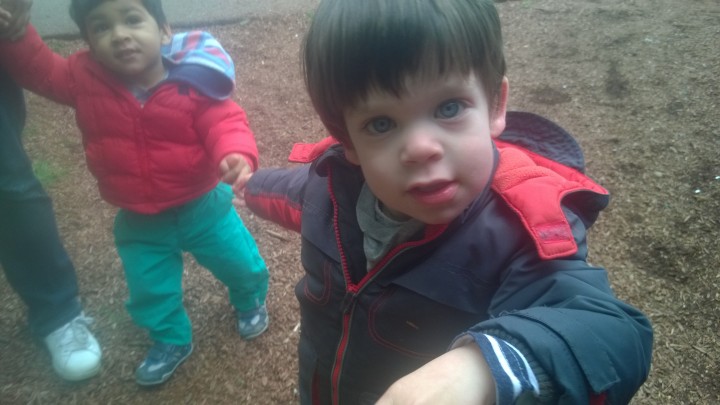 Sleep
Always a good sleeper (as long as it is in a bed) Monkey still sleeps for a good 12 hours at night and 2-3 hours for his nap during the day, even know he's in his bog boy bed! He doesn't have a duvet and doesn't like anything covering him while he sleeps. He has grown out of all his sleepy bags which he would tolerate and while he's happy with the duvet being on the bed, so far he doesn't like it covering him while he sleeps. We will see how we get on with that in colder weather! Still no pillows yet, but he likes sleeping on his blankie and to be well surrounded by his favourite things!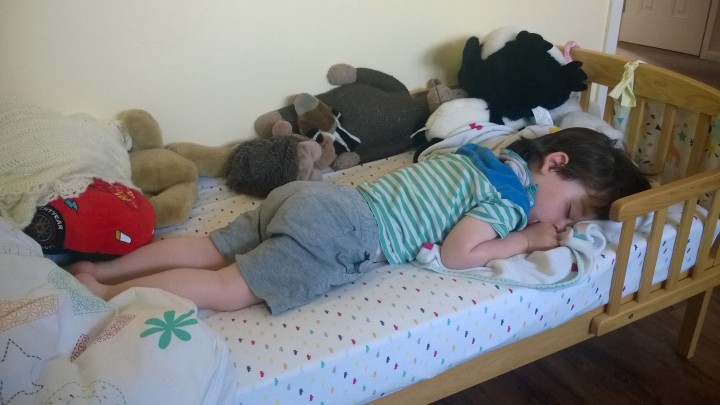 Food
We have been doing a bit better again with food lately after a bit of a fussy stage and mummy and daddy needing to reestablish the rules. He is staying at the table more and actually ate meatballs and pasta in a tomato sauce for the first time that I can remember! So that was pretty amazing! He's not perfect though, there are still some meals he won't eat and we have to be careful how much, if any, snack he has in the afternoons or there's no chance he'll eat his dinner.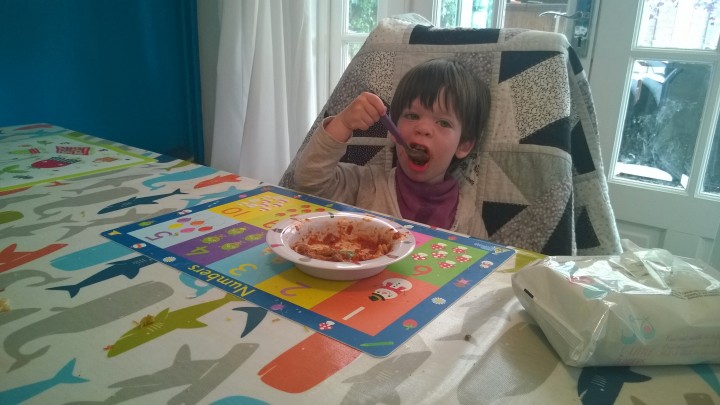 Discipline
On the whole Monkey is pretty good. He's a toddler so he has his moments but as long as we are firm with him he will usually do as we ask. The occasional temper tantrum is him running off to hit a door or something, then he starts giggling. I'm not sure if he's laughing at himself or pulling an 'aren't I cute?' act because he knows we love his giggles. Either way it defuses his temper, though not mine! Most of the temper tantrums are still food/tiredness/poorliness related and so end in tears. Anything else – over wanting something he is not allowed, is usually very short lived so far. We'll see whether the terrible twos hit us soon!!
We are trying to teach Monkey about tidying up one set of toys before getting out another. I.e. putting away all the duplo before getting all of the brio out too. Sometimes he is very good with this, other times he does not want to help at all and stubbornly refuses. If I persist though we do usually get there in the end, after a few mini tantrums about it!!
Current Loves
Monkey currently LOVES:
Playing in the sand (and anything that is a bit messy, really!!)
Playing with Play-doh
Anything Red & Yellow
Dancing
Watching Peppa Pig – she may even be replacing Postman Pat in his affections!!
His current fave books are "Each Peach pear Plum" and "The Rhyming Rabbit" but there are lots and lots of books that mummy and daddy now know off by heart!
I'm going to stop there, though I feel I could go on for ages in these posts with all the little things he does. It's amazing when you stop and think about how much they can do, that they couldn't quite do before!
I can't believe that our little Monkey is 2 already! He is growing up so quickly all of a sudden! He got a birthday card at Tumbletots yesterday and I must admit I almost cried! Soppy Mumma! I blame the pregnancy hormones! We had a mini party with his friends on friday (pics will be up in a couple of days) and the family are all round at the weekend, which will be lovely 🙂