With Monkey turning 2 a few weeks ago, it is now time for him to move up to the 2-3 age group at Tumble Tots! We have loved going to Tumble Tots ever since he started walking, at around 11 months and I have to admit I was a little nervous about making the transition.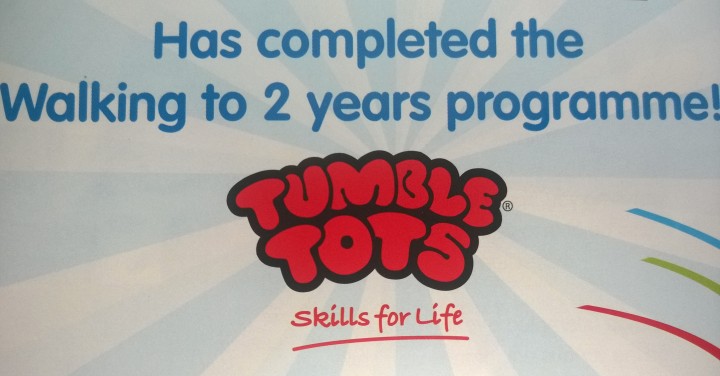 The Walking-2 age group has been lots of fun. He has come on so well with his coordination and balance since we started and he absolutely loves it. It is quite unstructured in line with their age so they have fairly free reign to go where they want to, until song time when we all sit together and dance and sing along with songs.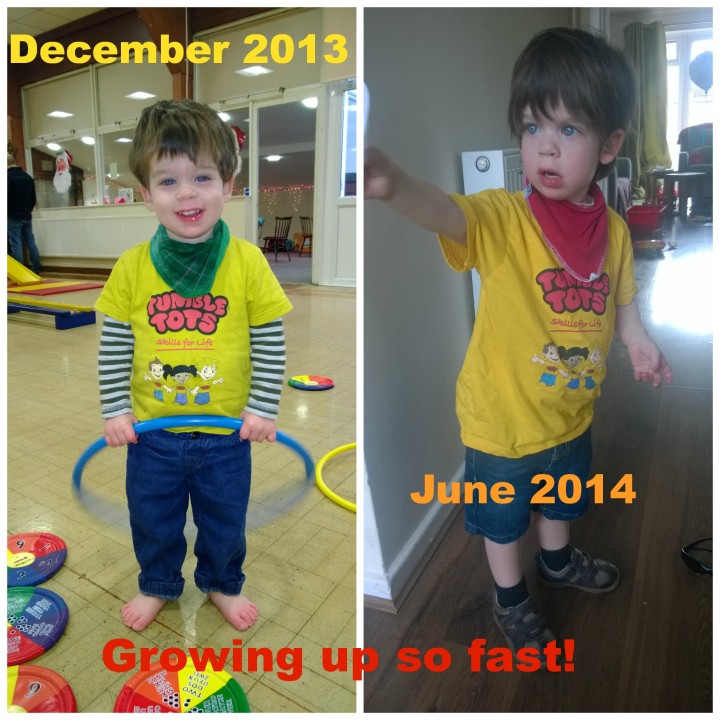 I knew that the 2-3 age group was a lot more structured than this so I was a little wary of how Monkey would take to it. I get on really well the the guys running the class and had chatted to them before about it, so I knew a little about what to expect. I was also wary because of the later time of the class. The walking – 2 class was from 10.45-11.30, which always worked perfectly with our routine as we have lunch at around 12.00 pretty much every day! The 2-3 class is from 11.45-12.30, and well anyone who knows me now I much I rely on our routine, probably more than Monkey does, so I was apprehensive about today to say the least!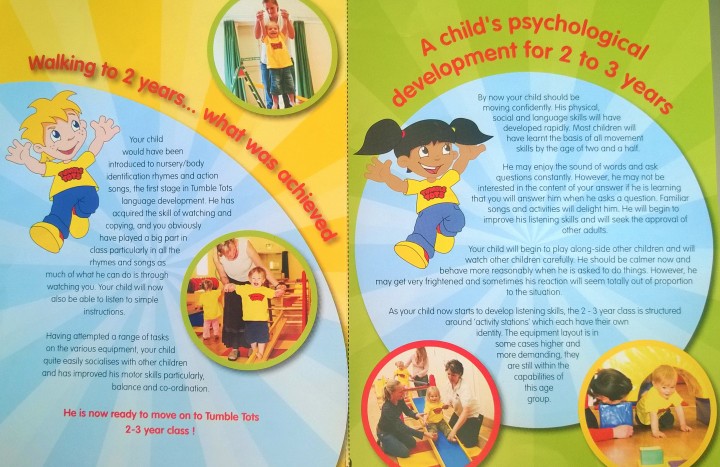 But, I never like to get these worries stop me from doing things, and I would hate for my anxieties to ever hold Monkey back so I sucked it up and prepared for today. We pottered at home longer than we normally do in the mornings, and I kept him busy making some homemade thank you cards, then he had a cheesy dunker for a snack before we left, with the idea that we would then have a later lunch when we got home.
Anyway, on to the class. Do you know what? As usual, my worries were for the most part unfounded and it went really well. I am really glad we have moved up a class and I think it is going to do Monkey so much good being in this more structured environment.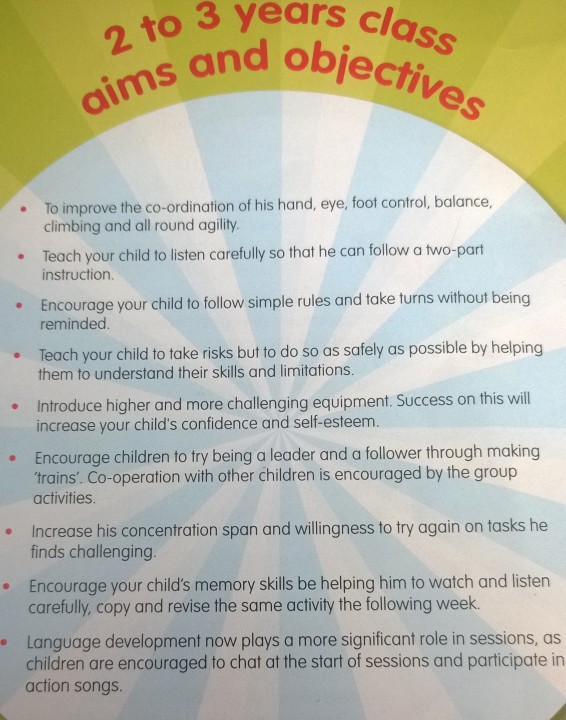 Monkey has always been on the shy side, and for a while he was doing much better, but after being knocked over by a big kid at a playpark in the easter holidays, he has been very wary, if not scared of other kids. I still can't believe the change in him from that one knock, or how long it has lasted. He hates anyone climbing up a climbing frame after him, or coming up behind him. He freaks out and basically throws himself off the equipment. Not fun, in fact it can be really frustrating when we go to a play area as he can be enjoying himself one minute, and a terrified wreck the next, without anything really happening.
Part of the structure in this new class at Tumble Tots is that the children are divided into groups and then have to take it in turns and follow each other around a circuit of equipment. Monkey hated this today because a) he had to be patient and wait his turn and b) he had to deal with kids climbing the equipment behind him. So we had a few tantrums today but he actually got over them surprisingly quickly and in general the leaders (who are great with him and who he likes and trusts) and I managed to persuade him to keep going. Which I was really impressed with and surprised at some times.
There were some quite complicated instructions for the bits of the circuit, so I had to listen quite intently but Monkey did really well at following what I told him to do "pick that up, hold on, go through the tunnel, put it down there, push that along, pick it up, wrap it in that, hold it tight, put it in there" (that was just half of a circuit!!). I was very pleasantly surprised by how well he adapted to the change in structure. Even one of the other mums (who I used to chat to when they were both in the Walking-2 group, and who we've now caught up with as her little girl is a good few months older than Monkey) commented on how well he took to it, as it can be a big change in their first couple of weeks.
I was also really pleased that Monkey wasn't the only younger one who has moved up a class this term. There is I think 5 out of the 11 in the class who have only moved up recently and are all adapting to the changes. This meant Monkey wasn't the only one throwing the occasional strop or clinging to mummy! Always nice to feel strength in numbers 🙂
If anything the class was a lot more hard work for me as at the moment he needs a lot of guidance and instruction, whereas you can see some of the older toddlers are now well used to the rhythm of the group and know what to do with a lot less parental guidance! Whereas in the walking – 2 group I was very often standing by, offering an arm here or there, I was very much involved in this class, and shattered by the end of it!
But my overwhelming feeling coming out of today, was one of pride (and perhaps relief that my worries were unfounded) at how my little tumble tot adapted so so well to the change. I've read, and said, time and again that kiddies often cope with things better than we expect them to, and it was once again proved correct! I am really looking forward to watching him grow and develop in this class over the next year!
If you've ever thought about a Tumble Tots class, or if you haven't I really recommend trying it out as it is great fun for the kids, but I also really feel that it helps their development in so many different ways.