You may have seen that we have been having a rather lovely holiday in Dorset. I wrote a post about some of the many fun things you can do with little ones while you are here, but I also wanted to share a few of our other adventures while we've been away. You see I love the countryside and I like to get away from the beaten track sometimes. I like the peace and am always on the hunt for stunning views. This can take us to some slightly crazy places, and well, because we are a little bit loony, we've come up with a song about these adventures.
(to the tune of Andy's prehistoric adventures)
"Mummy's crazy countryside adventures, come join the crew!
Come into the countryside but watch out for that poo!
Yeah mind the poo!
Mummy's crazy countryside adventures, Mummy's crazy countryside adventures! "
Cheesy but it amused us! Anyway sometimes these adventures are wonderful.. Other times a little less so.
Our first adventure on this holiday was to see the NT site of Eggardon Hill, the site of an Iron Age Hill Fort. Parking was a layby on a "roman road" opposite a footpath. We headed down the extremely overgrown, bumpy and long footpath and I know at times like these my hubs seriously doubts my sanity.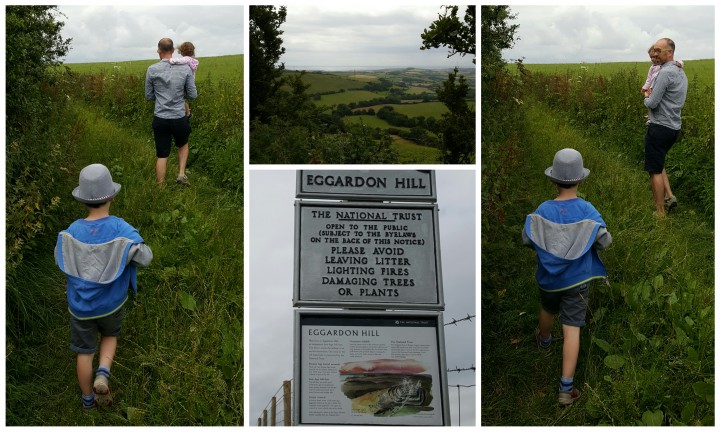 But it was worth it when we arrived. It was so windy but oh the views! We were up and down the terraces of the Fort like mountain goats (or something like that) and well the kids loved the adventure of it all.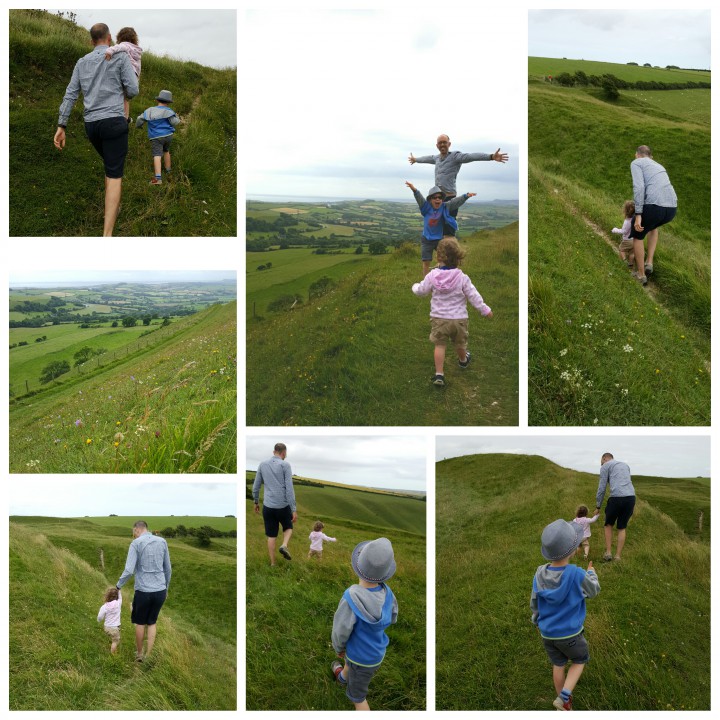 I love seeing the kids run around and have fun amongst the long grass and wild flowers. We didn't stay too long but we got some fresh air in our lungs to blast away the cobwebs and had a good run around.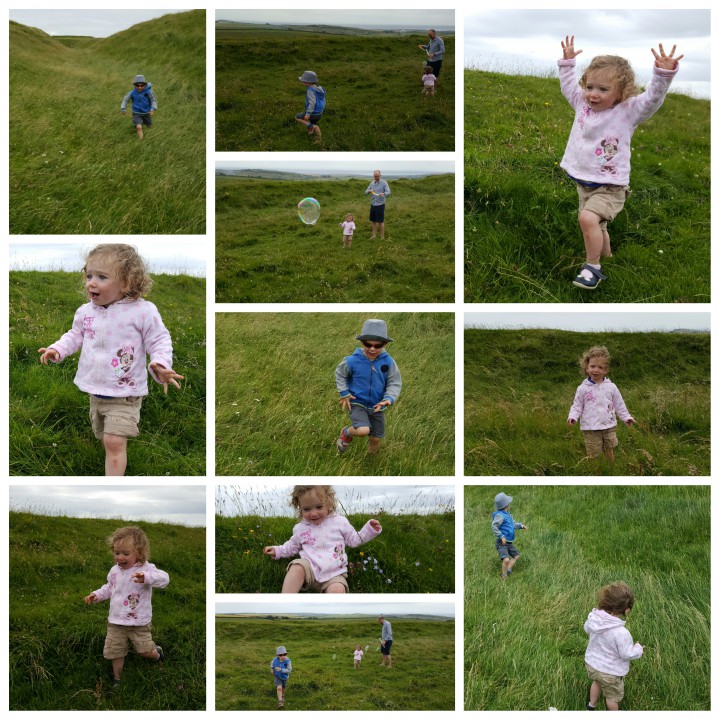 Our next adventure was another NT site, to see the chalk giant of Cerne Abbas. Monkey was hugely excited at the prospect of seeing a giant and when we got to the viewpoint he loved pointing out his legs, his willy and his nipples haha as you can imagine any 4yr old would!
I wasn't sure if you could actually get to the giant and I'm afraid we didn't manage it. We did set off but on this occasion had the buggy with us. We got part way up the hillside tracks until the path considerably narrowed and became heavily overgrown and you had to start crossing stiles. Much to Monkey disappointment we gave up, then turned into the village itself for a lovely wander past a stream and found a play park! Always a good find with little ones so all was not lost .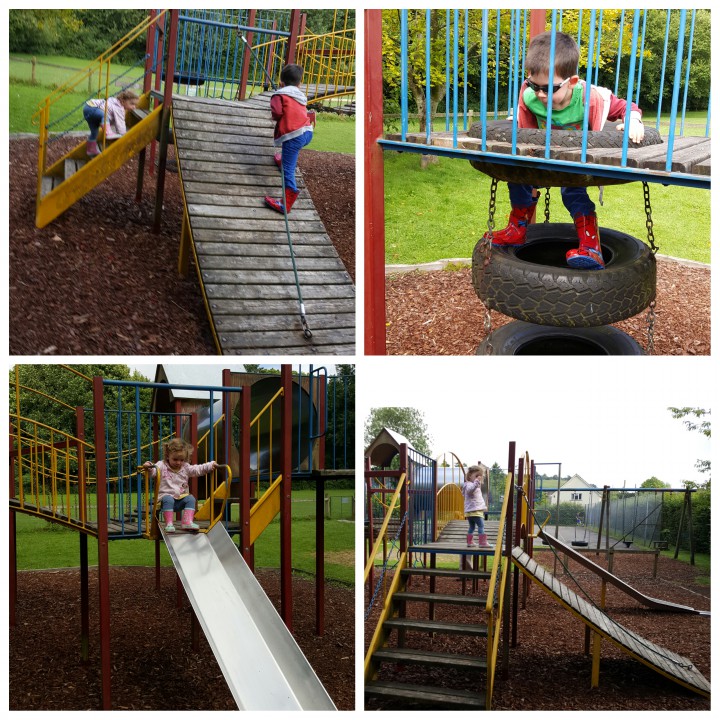 Another adventure on our holiday, and by far the least successful one, was our trip to Maiden Castle, the largest Iron Age Fort in Europe apparently and an English heritage site. (All of these places are free to visit though). It was at the end of 2 horribly wet days, and we were all a bit stir crazy from being indoors. (The cottage we were housesitting in is lovely but very small to contain an adventurous LM who won't sit still for 5 mins). The weather had dried and sun come out so we headed off. Unfortunately though as we arrived the clouds and misty rolled back in.
Unperturbed we put on our waterproofs and headed up the hill. To say it was windy was an understatement and LM hated it. She screamed her little head off and seemed terrified she was going to lose one of us as she kept going between the two of us and wasn't happy in either of our arms for more than a few seconds at a time.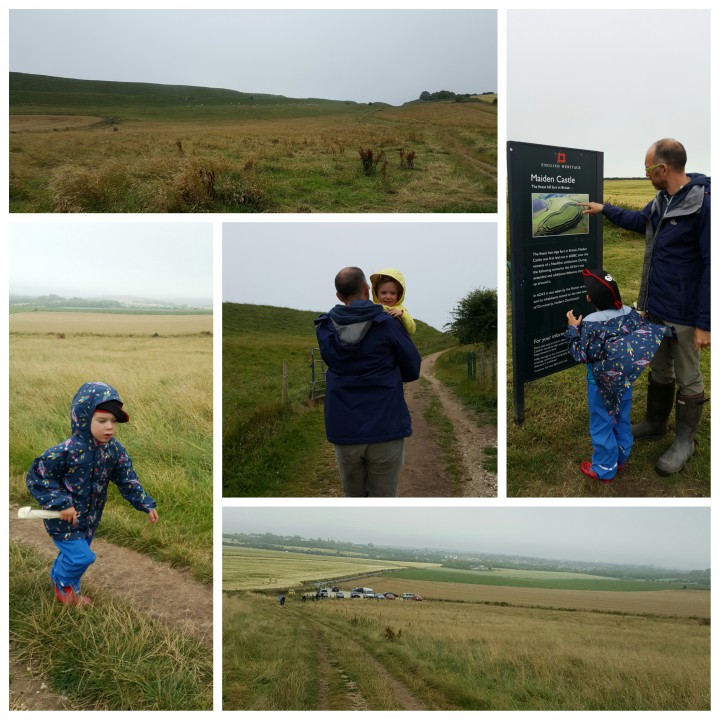 We reached the top and in a small bit of shelter had a drink and she did cheer up a little so we went for an explore.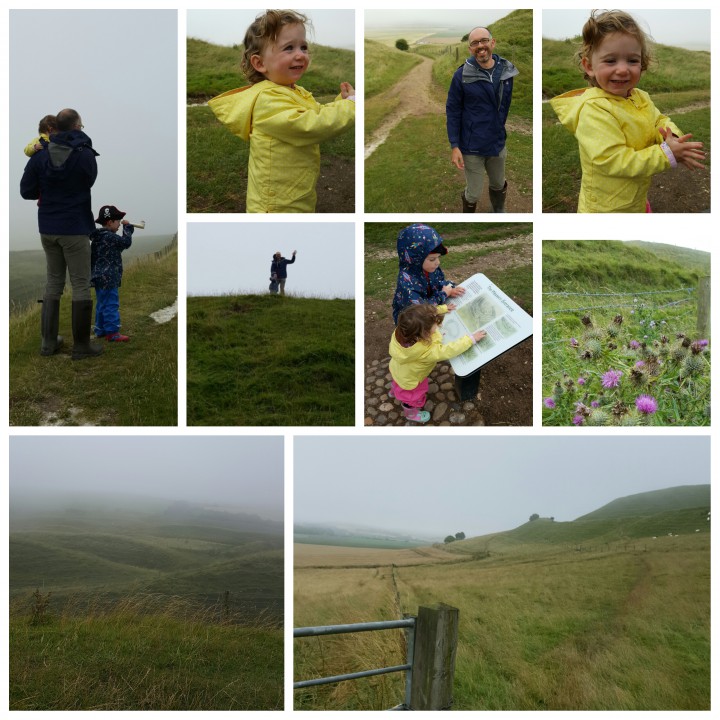 Unfortunately though she just became more and more upset so we really didn't stay long at all, which was a shame as Monkey was enjoying himself, and so were we, even though there was no chance of views. The screaming was awful though so we headed back down the hill, trying to avoid the sheep poo which was everywhere! This adventure definitely goes down as a fail as I have rarely heard LM quite so unhappy!
We got back and the kids had a great run around in the puddle by the cottage so at least the outing had a happy ending (until Monkey face planted the puddle and cut his hand, ouch!)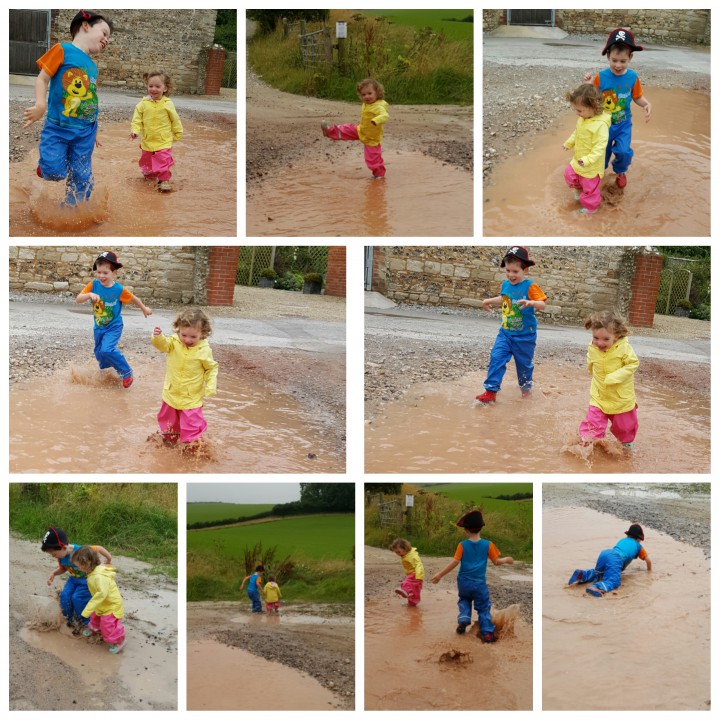 Mummy's crazy countryside adventures may have there ups and downs but on the whole I love them just as much as I love the more traditional touristy days out, and look forward to many more adventures with my little ones as they grow. (At least for as long as they put up with them haha).