This weekend was the wedding of one of my closest friends. I had been looking forward to it for so long and been pretty involved in the planning (and stress) of it as one of the bridesmaids. Suffice to say what we did not need the week before the wedding was the illness and sleepless nights we had last week! I was shattered, spotty with huge bags under my eyes (not an ideal look for wedding photos) and had to pull out of a couple of sessions where I was supposed to help make wedding favours etc 🙁 . Luckily the bride was very understanding and I think she just wanted me to try and rest when I could to eliminate the bags under my eyes!
Monkey slowly started to get better as the week progressed but then LM got a bit more grumpy than usual. Then she developed a weird spot on one hand, followed by one on the opposite hand the following day. Around this time I found out that a friend's little girl, who we had seen the previous week, had come down with chicken pox. I googled what this looked like and immediately thought this may be it. Not exactly good timing with a wedding to attend at the weekend and Monkey just starting to feel better!
But then nothing happened. She didn't get any poorlier and no more spots appeared. She had a funny spot on one ear but other than that it was just one on each knuckle. Which is an odd place to get chicken pox as they usually start on your face and torso. With the wedding looming I took her to the Dr on Friday afternoon, mainly so we could know one way or another really. But that didn't happen as the Dr wasn't sure what it was either! It could be chicken pox, or it could  be hand foot & mouth, or it could be nothing, We would have to wait a few days and see but it was probably a viral infection of some sort.
She had been so grumpy lately and with the bride being 6 mths pregnant we decided not to risk taking a potentially contagious baby with us to the wedding. Meaning I had to go solo :(. Friday night I made it to the venue with the other bridesmaid and we spent the evening decorating tables and cupcakes and generally getting things ready.
Saturday morning I had my hair done at 8am and then once Monkey had been collected by Nanny & Aunty Maggie (as had always been the plan for the day) I left a grumpy hubs with LM and headed to the venue to meet the bride and other bridesmaid, to get the last few bits ready in the reception room, then get ourselves ready for a beautiful wedding.
It was a hectic morning but was such a beautiful wedding and I love a good wedding, always so nice to see people marry the one they love and even more special when they are good friends of yours. I really missed hubs and would've been lovely to spend the day together but it was the right decision not to take the baby. If she had been there it would have been stressful constantly wondering if she was ok and what hubs was doing with her, when what I really needed to do was concentrate on the bride. Luckily I had a lot of friends there too so I never felt alone or anything. The biggest downside was with photos though, I only managed a few snaps throughout the day (mainly just of me and my friends mucking about) and they aren't exactly brilliant but here they are.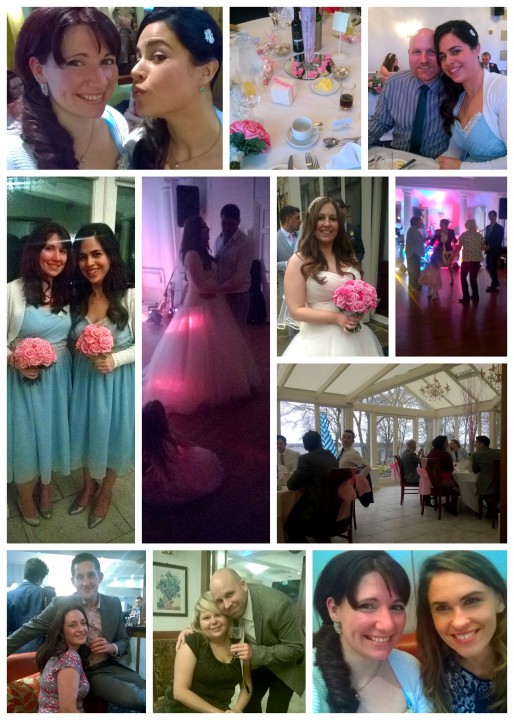 I am looking forward to seeing the professional shots of the day as I am sure they will be better than these! I had a good time with my friends though and it was lovely after such a rough week to really forget about the kiddies for a while (knowing they were being looked after) and just be me for the day. LM seemed to perk up during the day too so Hubs didn't have a terrible day with her and she has been a bit perkier since. Another couple of spots have appeared on one of her fingers but we still aren't really sure what is up with her. We may never know 100% whether it is chicken pox…. unless she gets it again I suppose!