Over the summer we did really well with transforming our junk room into the baby's room. #GetGoodSummer hosted by Claire at Clarina's Contemplations was a great motivator for us and we did really well…. Then the progress sort of tailed off a little. The only thing left for us to do was the wall stickers, but we chose quite a big mural and I'll admit I was pretty nervous about getting it on the wall, so we kind of put it off!
Last week though we decided to take the bull by the horns and just get on with it! It went really well and now, finally, thankfully, the nursery is finished (with just over a week until baby is born, just in time too!!). So here it is, our lovely nursery and a few of our favourite things in there.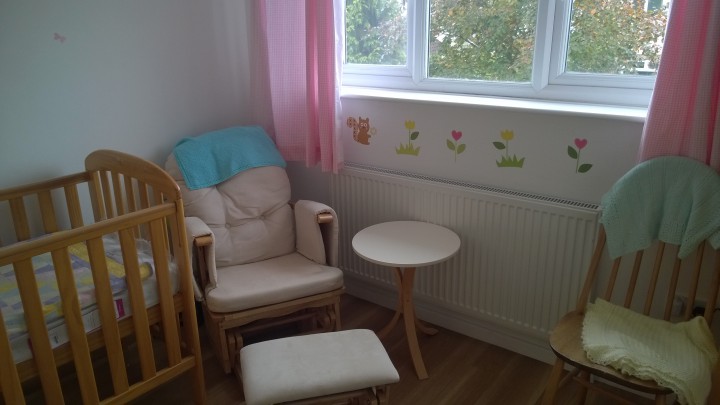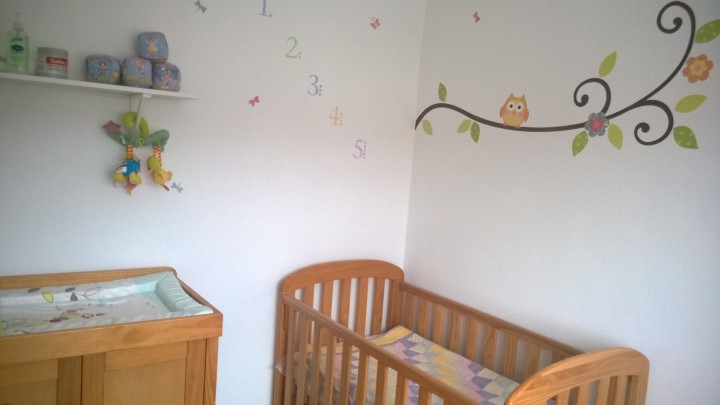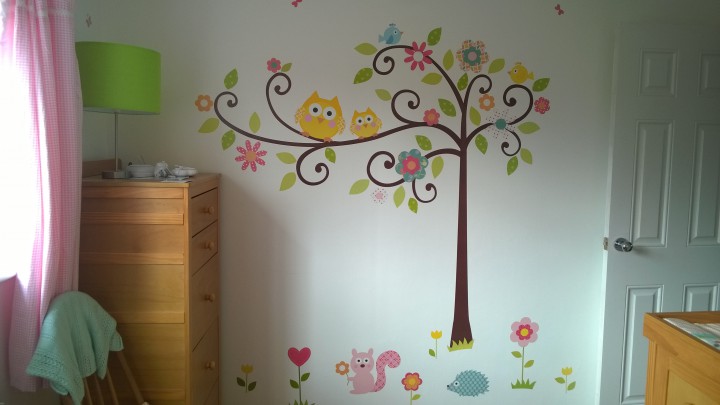 Starting with the wall stickers as they have made such a difference and turned this from quite a plain room into something lovely and cosy. We chose them a long time ago but with being so large I was a little concerned about how easy they were to put on. It did take two of us to get the tree stump and branches on, mainly so we got the positioning and angle right. We were slightly concerned about the joins too but managed pretty well in the end and the rest of the stickers were easy to do alone.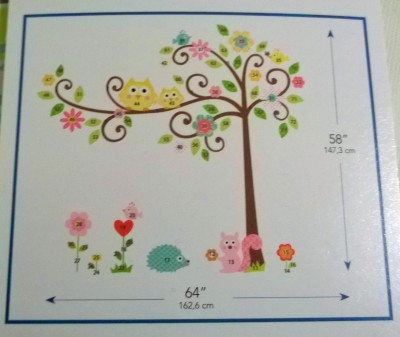 On the main pack of stickers there is a handy numbered picture on the back to help with positioning and give a guide where to put things. We followed this for the main part but did make 1 or 2 alterations in terms of positions of flowers and we had to leave one off. It was a white flower with a yellow centre, but as we have white walls, it just looked like a yellow dot, so we left it off.
With the second pack, which contained the single branch (used on the opposing wall) there wasn't the handy numbered guide, just an image on the front so a bit more interpretation was needed. Both packs also came with some flowers and other cute creatures which we have dotted around the room. They also came with lots of hearts, but, I was having a bit of a "this is all too girly and pink" day at the time (I will explain more later) so turned the hearts into more butterflies. Doesn't make much difference but made me feel better!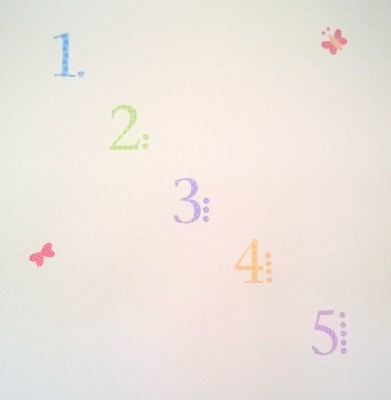 We also bought some number wall stickers in similar colours to add to the walls. I explain more why here, I am probably being daft but I think they add something nice to the room anyway 🙂
If you like  any of these wall stickers, you can purchase them through the links below.
Please note that these are affiliate links, so if you were to purchase any via these links, I would receive a small commission. Any income earned would be used to support/improve this blog.
We are using the same furniture we had when Monkey was a baby, which came from Kiddicare. It now comes complete with teeth marks from a certain teething little boy but is otherwise in good condition.
I love this lampshade we got from Next, it is so cute and I love that the silhouettes inside show through when the light is on. We had decided on the wall stickers early on and were so pleased when we found this shade with a similar theme.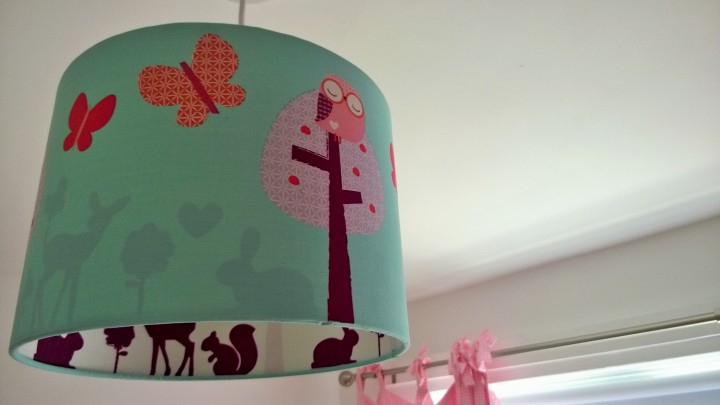 The curtains are gorgeous and have been donated from Hub's Brother and Sister In Law as they no longer need them. They really are lovely and we are very grateful for them, but if we had bought curtains we wouldn't have gone for pink. Just a personal thing as I didn't want the room to be too pink. They do look lovely in there though and saved us buying curtains 🙂 It has made me very conscious of how much pink is in the room though!
A large part of my concern with this is that actually until baba is here I am not 100% convinced she will actually be a "she." All signs point to the fact that she will be, as this pregnancy has been very different to my first and I am carrying differently… plus the fact they told us at the scan that we are having a girl… I'm not sure why I can't quite believe it but I do worry occasionally that we have a very girly room and potentially won't have a baby girl! Lol, we shall find out in a week or so!
So to balance out the pink we have a lovely blue rug and this fab green lampshade on the touch lamp.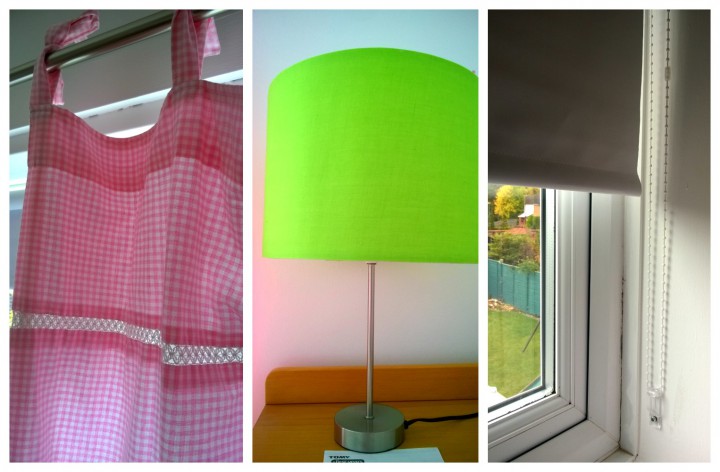 We used a touch lamp in Monkey's room as with 3 brightness levels it makes the transitions from dark to light a little easier in the middle of the night. It worked well for us in there so have done the same again. We also have a blackout blind fitted as we found having one really helped Monkey's sleep when he was small, and this great one comes with a fab safety tie to take away the choking hazard that the blind cord can pose.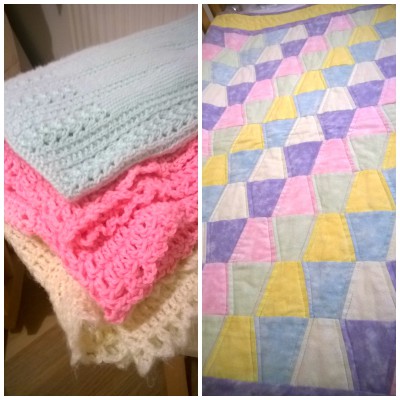 We are very lucky that we have some very creative members of the family, namely Nanny & Granny, so we have some gorgeous homemade touches. Lovely knitted and crocheted blankets from Granny and a gorgeous quilt from Nanny.
I've said the room is finished but haven't actually got any new sheets for the cot yet, the moses basket is ready with new sheets but I plan to buy some more greeny sheets to fit the cot for when the time comes for her to move into her cot in her room!
It has taken us some time but overall we are about there and there is a lovely warm cosy feel to the room. We are quite big fans of the white walls, with bright coloured accessories look and are really pleased with how it has turned out. Aren't wall stickers a genius invention? Such a cheap way to revamp a room really, so easy to use and so easy to change as they grow!
Monkey likes it in here too, looking at all the animals and counting the numbers. I wonder whether he will still like it when his baby sister (?) arrives!?