Operation Garden Renovation is now WELL under way. So far we have cut down all of the bushes, torn down the shed and arbor, and had a big fire in the back garden to get rid of all of this wood.
This is where it starts to get a bit tough though, we now need to remove all the patio. Not an easy job, and we've decided the best way to get rid of it is to get a big skip. So on Friday, a big skip came, and Monkey helped me put some of the rubbish in, bless him he does like to help!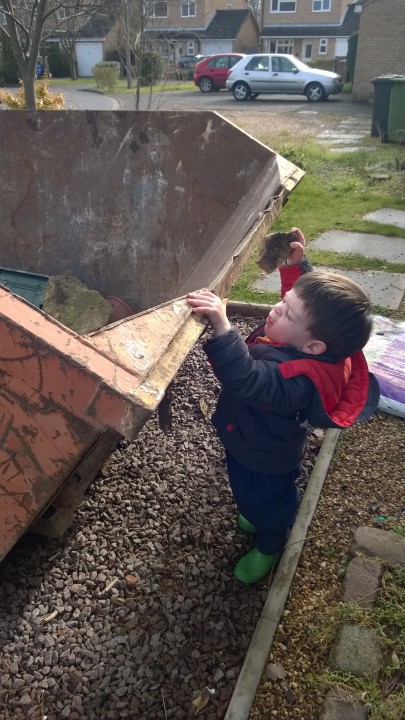 On Saturday my older brother came round and he and hubby set to the patio demolition. Unfortunately it wasn't as easy as lifting the slabs and carried them round, as some of the slabs turned out to be much thicker than others and were far too harry for them to carry between them, or even to push in the wheel barrow.
As they themselves admit they aren't the brawniest specimens of man so instead had to put their brains into action to come up with a solution. They found all that long gone scientific knowledge from school days about levers and pivots to be quite useful after all, and with what brute strength they had they found a way to smash up the slabs into more manageable pieces. Which basically involved, lifting on one end and resting it on a slab, then throwing another slab onto it in order to break it. Once they got the angles it right it was pretty effective!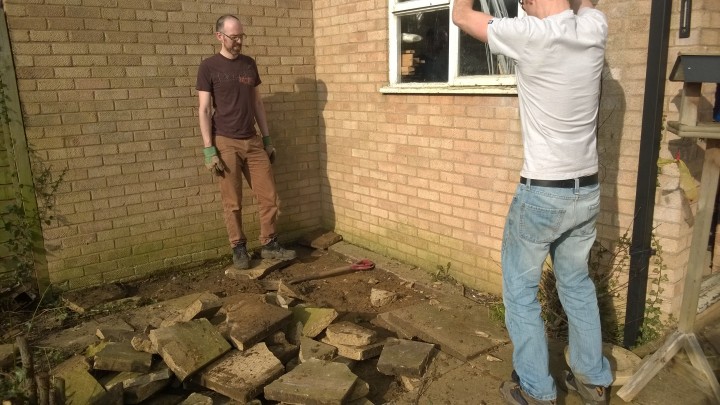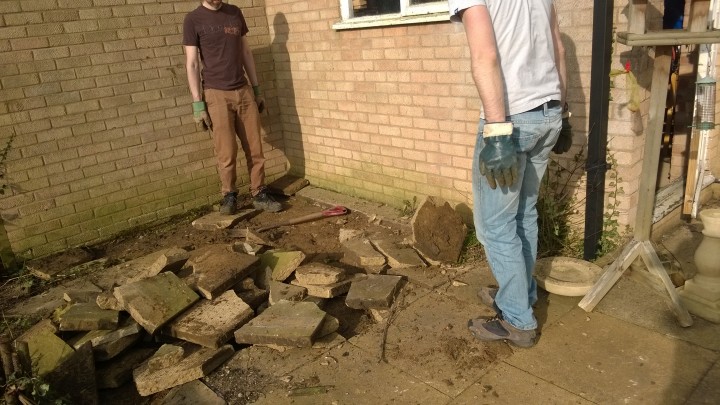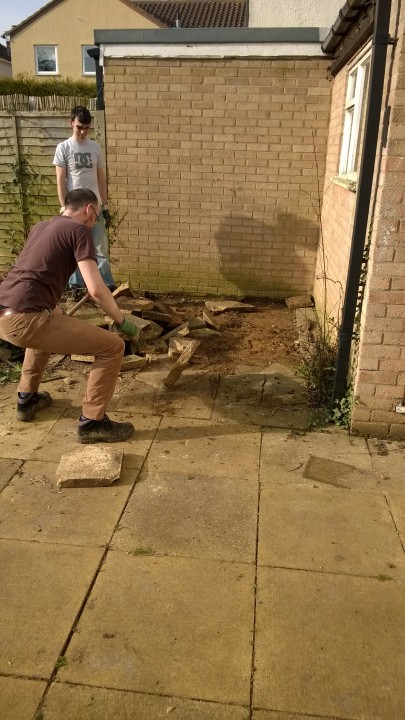 The wheel barrow was still seriously heavy when full though so they adopted a turkey walk to put the weight into their knees rather than backs! Brains over brawn! 🙂
They managed to get 2 1/2 of the patio areas done before my brother had to go home for the day, but thankfully my younger brother was headed over the following day to give us a hand. Though we didn't exactly tell him what he was in for, when he arrived we made sure he knew how much work our older brother had done and how much more we expected of him ;). His lovely girlfriend came round too and had a play with Monkey while the boys got to work.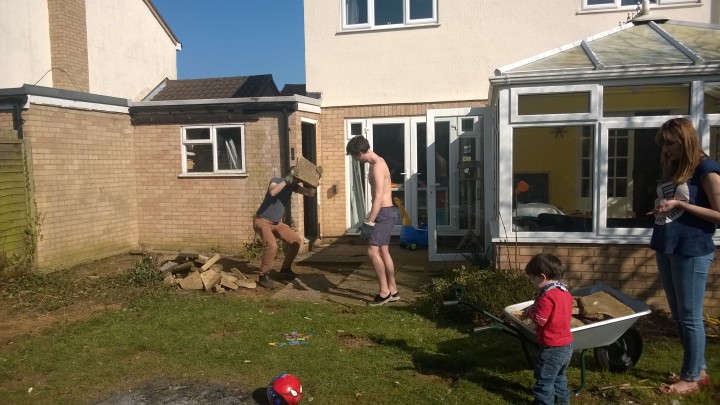 Using the technique perfected the previous day they got the rest of the patios destroyed but there was too much to go in the skip, so they had to pile up a load of it ready for another skip we assume (Not sure we could take a trip to the tip with it weighing the car down!).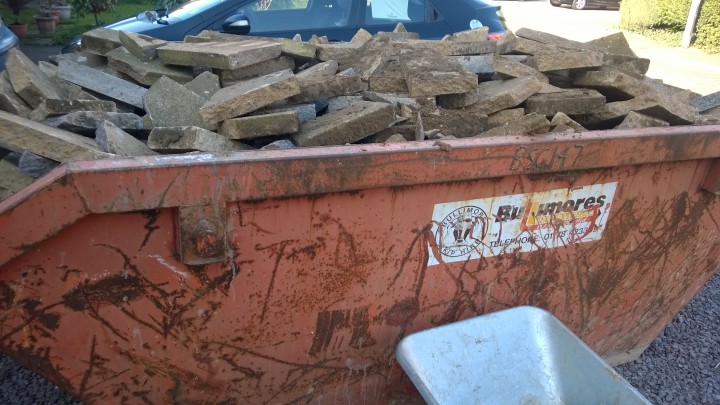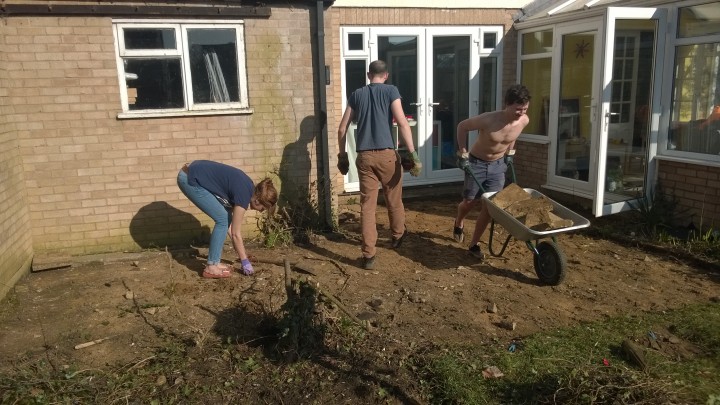 Then with the help of my brother's lovely girlfriend we cleared a lot more of the foliage and she found one of the former occupants of the shed… shall we say it was a little bit crispy?! Yuk!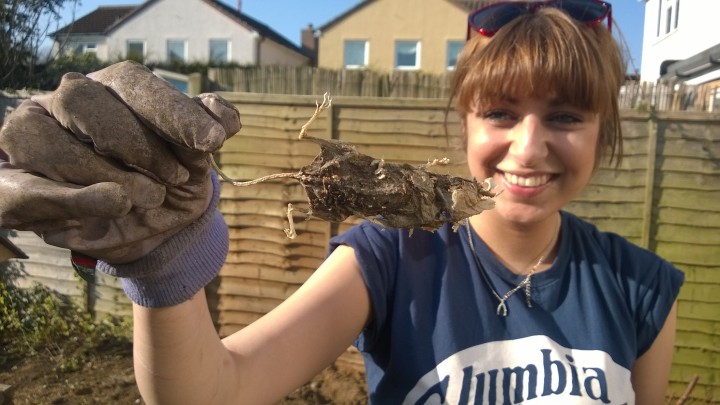 Everyone was shattered at the end of the weekend but there is still more to be done! This is how it looked at the end of the weekend and it feels like there is a long way to go yet!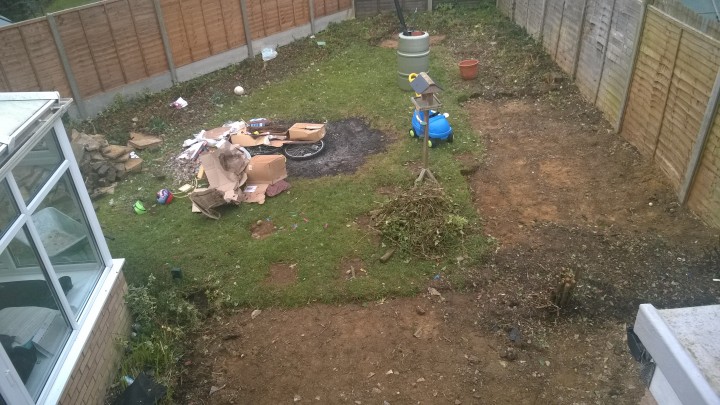 We can't wait to finish the clearance now and have some more relaxing weekends for a while!
Next week we are bringing in the big guns and hiring some machinery to remove tree stumps and all the plant roots!