Operation Garden Renovation is now well under way and with the help of hubby's brothers we made some fantastic progress last weekend, though I have to say I never realised before that my hubby's family was a family of pyromaniacs!!
They started off the day by comparing their 'man' tools and then set about demolishing the shed.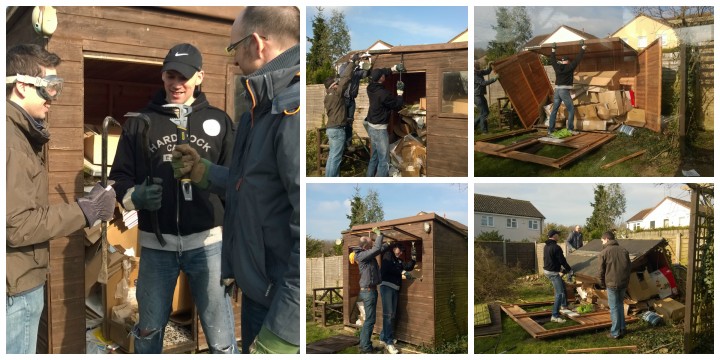 It may have been an idea to take the stuff out of the shed first, but I don't think anyone wanted to go in there – you know what sheds are like for spiders and bugs and we had an inkling there was mice in there…. and we were right! Once the shed was down the boys found a lot of evidence of mice. When we moved in we had put some bird food in there and the mice had scoffed the lot. They had also scoffed through cushions, boxes and all sorts and there was a LOT of poo etc. No actual mice to be found though!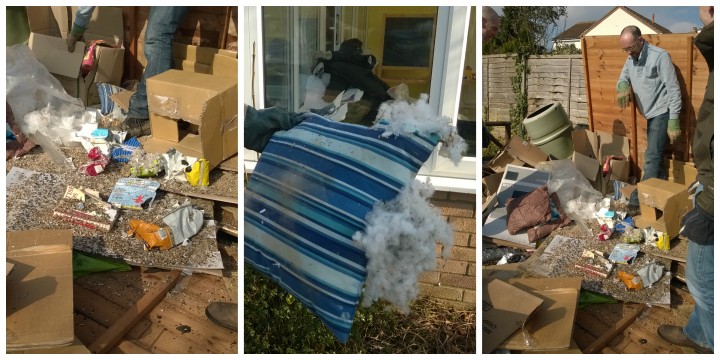 After the removal of the shed there was a lot of discussion over what to do with the mountains of rubbish we were creating. Hubby and I cut down a lot of bushes and foliage last week and there was all the wood of the arbor to be removed too. Hubby had mentioned to me the idea of a fire, but to be honest I was very nervous of that idea and wasn't sure it was very sensible to have a bonfire in the garden.
But, hubby and his brothers decided it was a good idea, and persuaded me that it would be a very small, contained fire, and it would go nowhere near the fences, and they assured me that they would not burn down any of our neighbours houses or gardens. So, I was overruled! They called in Granddad as apparently he loves fire and would have been most miffed to miss out on the action!
I have to say I was quite impressed with the fire starting skills, and it started off small, but soon we had quite a fire going!
Then came the arbor's turn to be pulled down, and though it looked like it was fairly rotten, it actually turned out to be a lot stronger than we thought!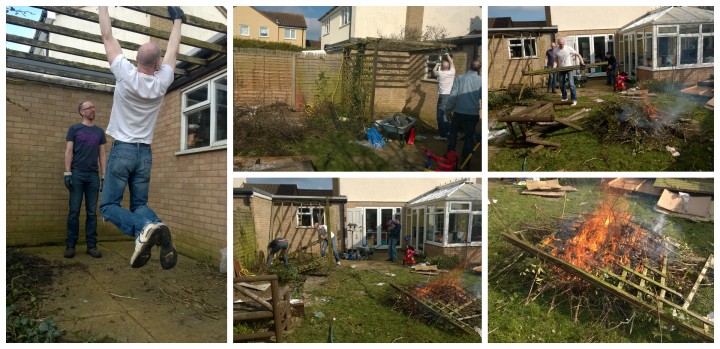 This was Monkey's first experience of fire, and of course we kept him at a very safe distance, and there was always one of us watching over him to make sure he went nowhere near the flames. He loves his uncles very much so had lots of cuddles from them. He also had a real treat as we never have cans of drink, but thought it was a good idea for all the outdoor work, and well, Monkey was obsessed with them and had one in his hands almost at all times! It's sugar free lilt so thankfully no crazy sugar rush later!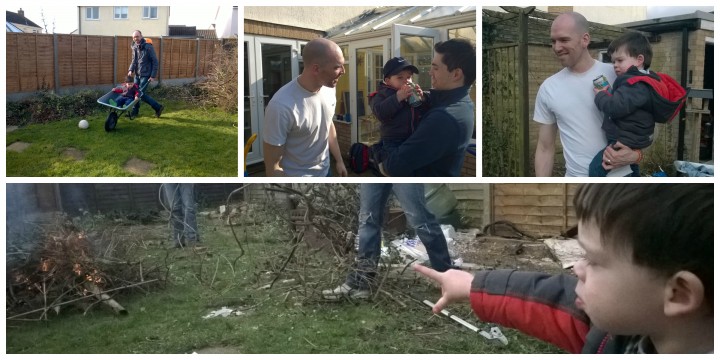 We started to burn some of the cardboard from the shed, but it was sending off the huge sheets of ash and I didn't want it to end up in all the neighbour's gardens so we stuck to wood and foliage after that, though we definitely had enough of that to be going on with. The 'small' fire I was promised turned into a raging inferno! Well not quite, as it was controlled and a safe distance from fences etc. but it definitely end up being a lot larger than we originally planned. ( I will point out Monkey had gone for his nap by this point!)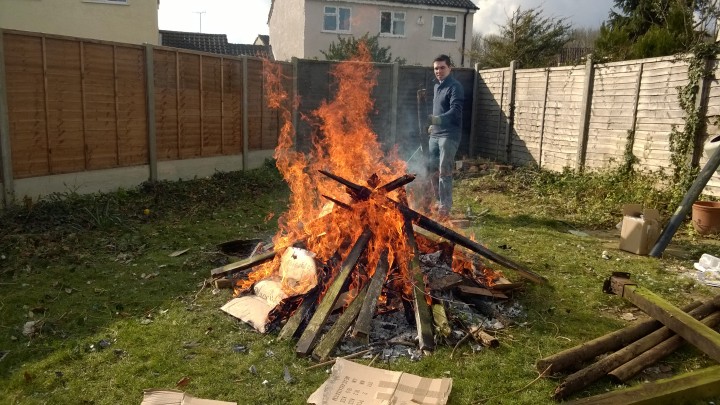 It was a very successful day and we managed to clear a lot of the rubbish without needing a trip to the dump or the hiring of a skip, though I am sure we will need to do both of those over the coming weeks! The garden looks so much bigger now too. We knew that the shed and arbor were making the garden feel smaller than it is, but we didn't realise quite how much bigger it would feel once they are gone!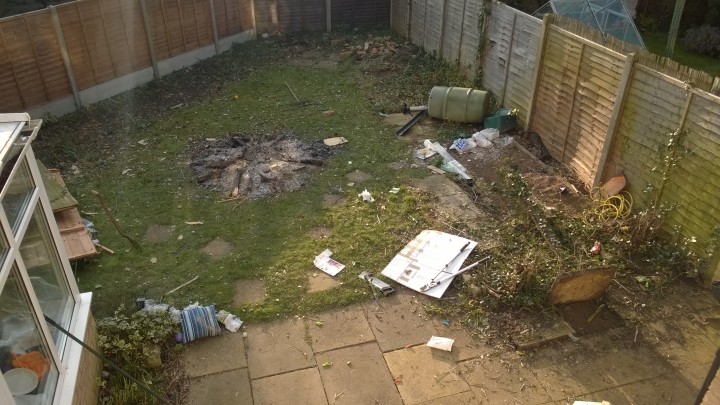 Now it looks like a wasteland or rubbish dump, but you can at least really get a feel for the width of the garden for the first time!
We went out again in the evening to burn some of the ends of logs or bits that had not fully burned, and I love this picture Daddy took of Monkey watching the flames while sitting in the trike 🙂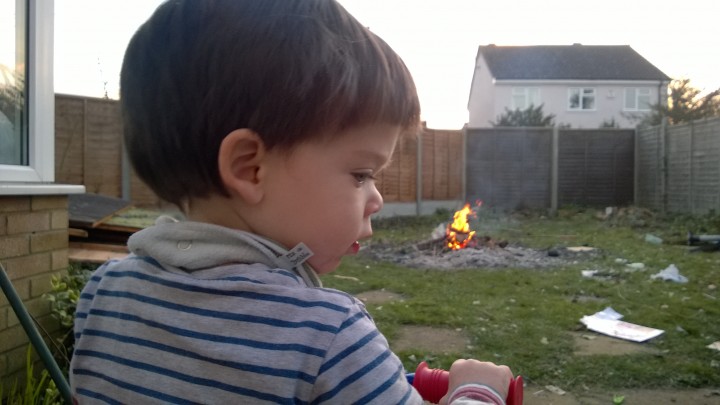 I'm linking this post with the lovely Annie at Mammasaurus Blog for How Does Your Garden Grow – though I am aware this post isn't really about anything growing! Hope that is ok!