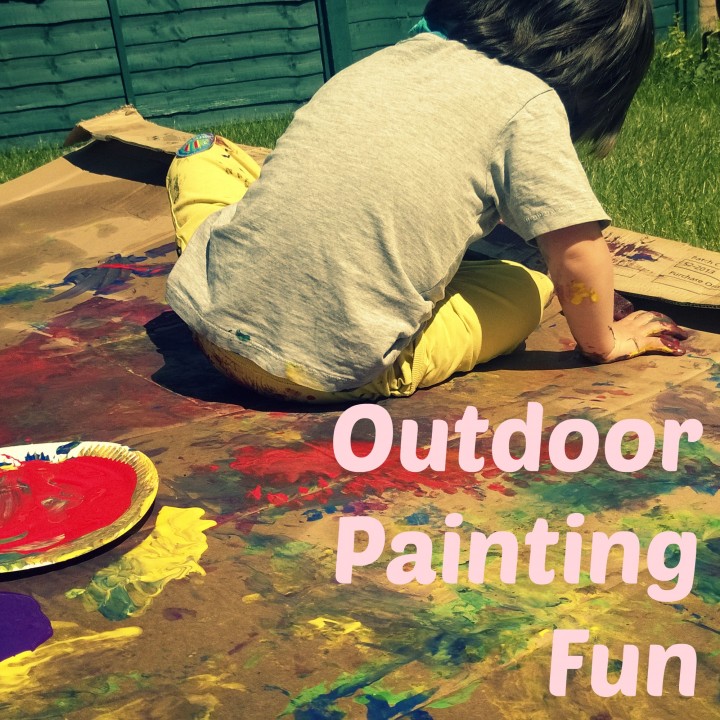 With the weather getting warmer there has been one activity I have been really keen to have a go at with Monkey – outdoor painting! Obviously with it being outdoors, the idea is that kiddies can be a bit freer to get really messy, but in all honesty I was still a bit worried about the mess! With all of the hard work that has gone into making our garden a much nicer place to be, I wasn't particularly keen on paint going all over our lovely new patio. Even though the paint is supposedly washable, I was concerned about stains – as I know some of Monkey's clothes have ended up a little stained from them!
My initial idea was just to use the Tuff Spot outside, on the grass, and to try to keep the paint in there but I still had concerns of painty feet making their way to the patio! I was determined to do it still but was ever so slightly reluctant. Then we got a whole load of cardboard with our new garden furniture and suddenly I had a solution!
Then one sunny day last week, I was supposed to go out with some friends and their kiddies to a water park, but one kiddie had a nasty cold and the other, would you believe, got hand, foot and mouth disease, which is very contagious. Not a good idea for either of them to be running around in a wet play area with loads of other kids! So with suddenly no plans, Monkey dressed in old clothes and a pile of cardboard available I decided to stop being a wuss and give some outdoor painting a go!
So I popped the cardboard onto the grass, initially just to form a bigger protected area for the mess, and my idea was still for the painting to be done on paper in the Tuff Spot. This was how it started, but not how it ended.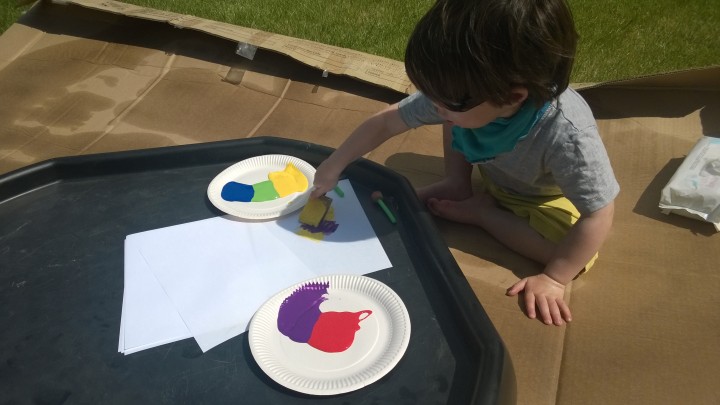 Soon enough Monkey discovered he could paint the cardboard, and obviously I had no problem with that at all, in fact I encouraged it quite a bit!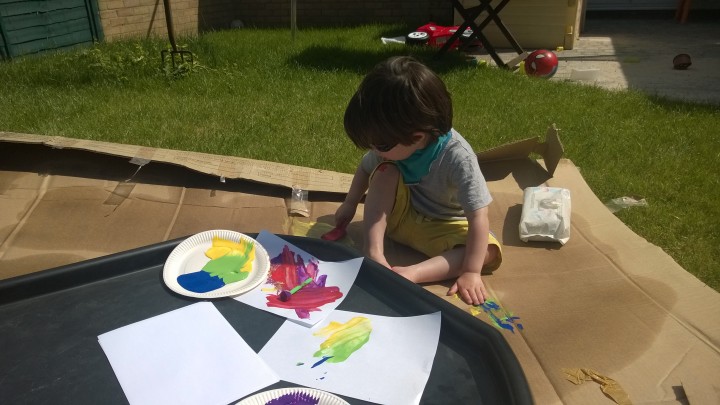 He had so much fun out there, and got completely covered in paint (thank goodness for the old clothes!). He was happy to paint his hands and legs, so I showed him how to paint his feet too so we could do some footprint painting! 🙂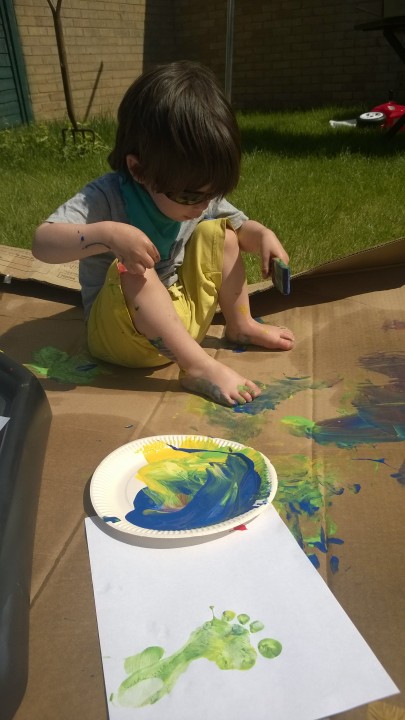 But for the most part I basically just let my little artist have a free reign on the cardboard, to see what he created!
He kept requesting more and more paint and, well, I was only happy to oblige, though it did get a bit slippy and he fell over a couple of times, though that just made him giggle so it was all good 🙂
I had taken a bowl of warm soapy water, fresh clothes and a load of wipes out with me, but looking at him I realised this wasn't going to be enough for the clean up operation that was going to be required. With a plan forming, I popped inside for less than 1 minute to grab a towel and came out to find Monkey with a paper plate full of paint up to his face. He took it down and his hair, face, nose, lips were covered in red and purple paint! Honestly I was inside less than a minute and he had to do it then! Sadly I didn't get a photo as my phone wasn't in my hand and my priority was getting the paint off his lips before he could eat it! Shame though 😉
Anyway back to the clean up plan – as the Tuff Spot had barely been used for actual painting I decided to put it to use as a bit of a bath. I could have taken him inside to the bath, but I can't really carry him anymore and I did not fancy trying to get him all the way upstairs without paint getting on anything! So I filled the tuffspot with water from the hose and Monkey was straight in there having a splash around while I gave him a bit of a scrub! 🙂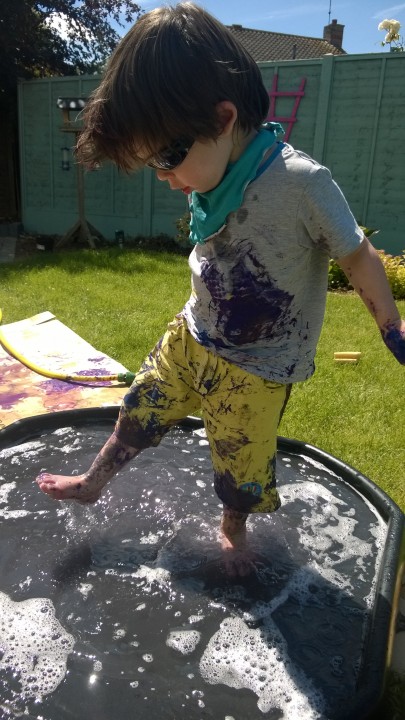 I think that was almost as fun as the painting!!
Why not give it a go?