Over the  Christmas break, whilst out having some lunch with some friends, Monkey picked up a chip and dipped it in some ketchup (not to eat of course, don't be silly ;)) and had great fun using it to 'paint' with. We haven't done finger painting for a while because he's generally not a fan of having things on his hands (nothing to do with the mess it makes hehe ;)) and I didn't think he was anywhere near ready for a paintbrush, but seeing him with the ketchup and chip gave me other ideas.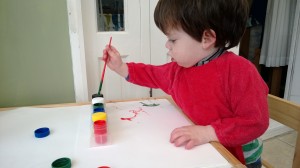 So I found some non toxic paints that are supposedly washable. I could have made the home-made paints again but to be honest I was feeling lazy and I'm not 100% keen on the consistency. It's quite jelly like and well who am I kidding, I've just been feeling lazy! So I bought some non-toxic paints.
Anyway so we got monkey to wear one of his old coverall bibs, which he was ok with once it was on. We gave up the fight over bibs at mealtimes a loooong time ago so it is a teeny bit snug on him! The paints say they are washable but I don't really trust them! He sat at his little table in the conservatory (definitely my preferred place for messy play) and he loved it.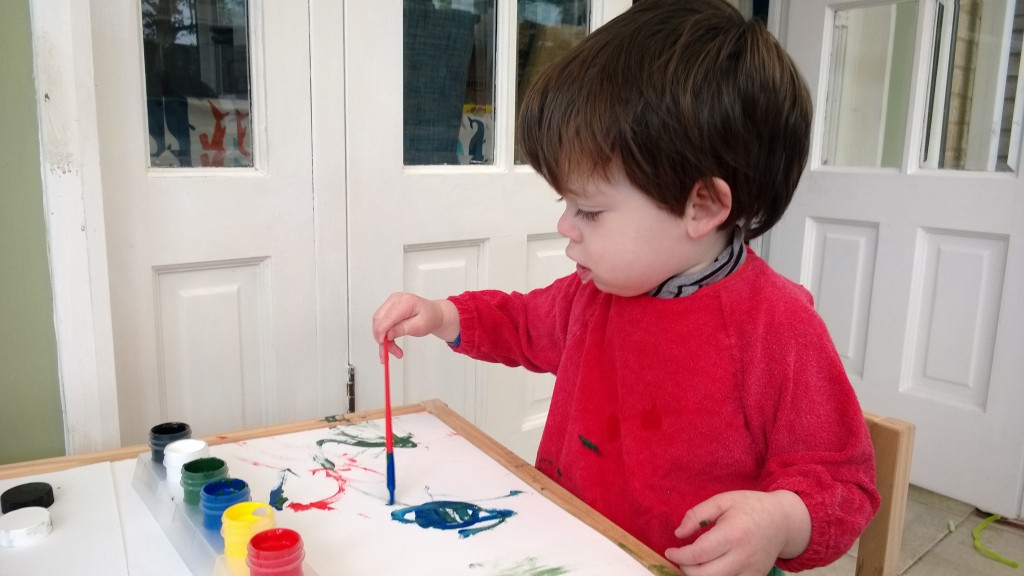 We didn't get him any water to rinse off the brush between colours, which maybe we should have done, but then I have a feeling it may just have ended up being a very very watery painting! The result of not doing it though is that all the paints are now a bit of a mix of colours, but hey ho, it's only him that's using them and so who cares.
I tried to get him to do some hand prints when he inevitably got it on his hands, but he mainly just wiped it down his front – so thank goodness for the bib!
Daddy was around too to help with the clean up, which definitely helped! Will need to see how I manage the clean up on my own haha. The only problem with messiness in the conservatory is that we are a long way from a tap or basin, so I will need to be organised with a bowl of soapy water next time, to avoid any paint escaping into the rest of the house!
MumturnedMom introduced me to the idea of a 'tuff spot' which looks genius to me and so one is on order! I am looking forward to trying out messy play in that when it arrived!
How do you contain the mess?