Wow so we are into week 3 of #GetGoodSummer already! Time is flying! I am now 24 weeks pregnant, which means if we have to have a c-section, we could have a baby in 14 weeks.. doesn't sound too long away when you put it like that! Two of our #GetGoodSummer goals are related to the baby room. The first (to clear out the room) is pretty much done, though there is still an exercise bike that needs to be moved out, but that isn't a big job. Which means, it's on to goal 2 – decorating the nursery!
Please note that this post contains affiliate links to Amazon, which means I would earn a small commission if you were to purchase the item by clicking on the link. There is of course no obligation to do so and any commission goes toward the upkeep of this blog.
We have a plasterer coming hopefully this week to get the ceiling re-plastered. The ceiling isn't terrible, but is that old stippled artex effect. We have done some major renovations to the house since we moved in 2 years ago, which has meant some of the ceilings have needed to be re-plastered so we have a mixture of rooms with modern, flat plastered ceilings and others with stippled artex. After I fell through the landing ceiling (I tripped in the loft, eye roll) last year, the whole ceiling had to be replastered  and now the only rooms upstairs with the old ceilings are Monkey's room and this room and we decided that from now on, whenever we get a room decorated we will get the ceiling plastered. It will probably be years before some of the downstairs ceilings get re-plastered but one day we hope to have the same ceilings throughout the house!
I am starting to get really excited about decorating the room and it has been all go in the decision making process lately. I am a bit of a geek and a planner and so I measured the room and the furniture and then drew a plan to try and figure out where the furniture should go. Does anyone else do this, or is it just me? I just like to be able to play around with layouts without actually having to lug the furniture about! Plus we are thinking of having some pretty big wall stickers on the wall so need to work out where they should go in relation to the furniture.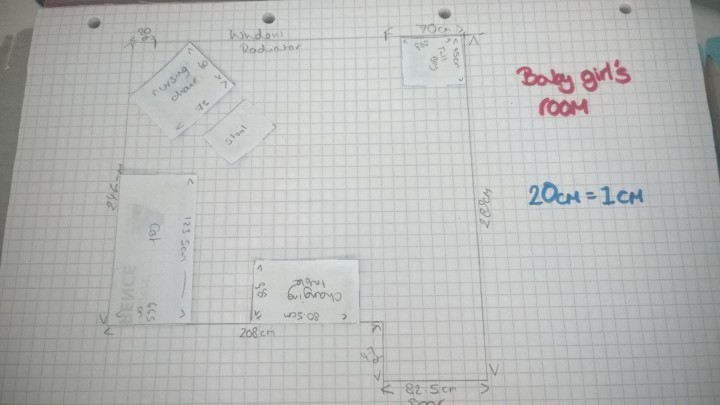 The furniture is all Monkey's old wooden furniture and we are going to paint the walls white and then have brighter accessories and stickers. I made a pinterest board of ideas but after a good chat at the weekend I think we have now decided on these lovely wall stickers.
Hopefully they won't be tooo much of a challenge to get onto the walls!!
We are not sure about the flooring yet, and it may depend what we can get. In Monkey's room we have some pretty heavy duty vinyl, it looks like laminate but is actually vinyl so you really get the best of both worlds as it is incredibly hard wearing and very easy to clean. We got this cheap as they had some spares from a previous job and we would love to try and find something similar, as we aren't too fussed about colour etc!
Then we are looking for a nice rug too…. possibly in a nice blue though we aren't 100% sure on that yet! The planning is fun though and can't wait to get cracking on it really!
You can buy the above wall stickers at Amazon, please note that these are affiliated links.
My other goals aren't going so well. I still haven't made a start on sorting out the lease on my flat (goal 3) so will have to get cracking on that at some point. Goal 4 is visiting friends and family… and unfortunately I have had to back out of plans to see some friends in London this weekend. I'm pretty devastated to not be able to go but my pelvis is really bad at the moment and the reality is that I just can't do it. rubbish, but hey ho, we have some more plans over the next month or so and hopefully they will go ahead as planned!
Goal 5 is getting organised and we have done a lot for that already. There is some more to be done under that heading but nothing to report at the moment!