Last Sunday, for Mother's Day, we were off to my brother in law's for a big family lunch. It was his birthday the Wednesday before, and my Mother in Law's birthday the week after so it was kind of a big joint celebration. We were at a bit of a loose end that morning though and Monkey was raring to go as always, so we want for a little family stroll and ended up at a local play area. It's quite funny really as both hubby and I grew up in this area and this park is attached to the primary school we both went to. And some parts of it are exactly as it was 20 odd years ago! Some things have gone, but others are exactly the same, so it brings back a lot of memories.
Anyway, totally sidetracked there, the point of this post is basically to show you how much fun Monkey had monkeying around with his daddy at the playpark! Just lovely to see the pair of them having so much fun together!
I was obviously there and having fun too but with my current pelvis issues I cannot be running, climbing and messing around quite as much as I would like to be. Which makes it all the more important for Monkey to get this time with daddy!
Monkey found a gap in the fence and took daddy for an adventure in the woods next to the park..
Than it was back for more smiles & fun in the park, crawling through tunnels…
… and walking on his daddy's feet!
Then Daddy was very impressed to see Monkey sitting on a big boy swing! He is very good at balancing himself and holding on, and he loves it!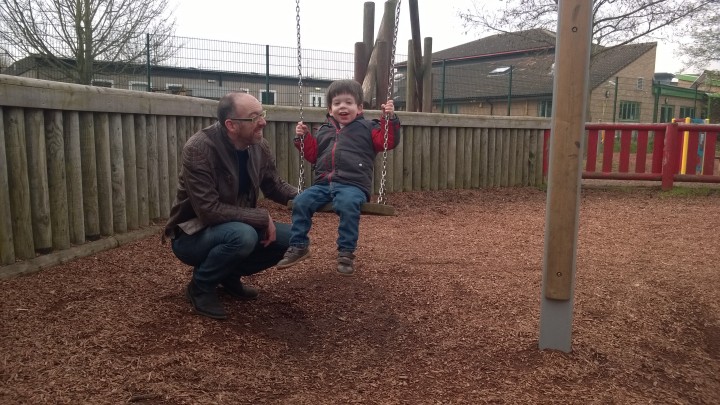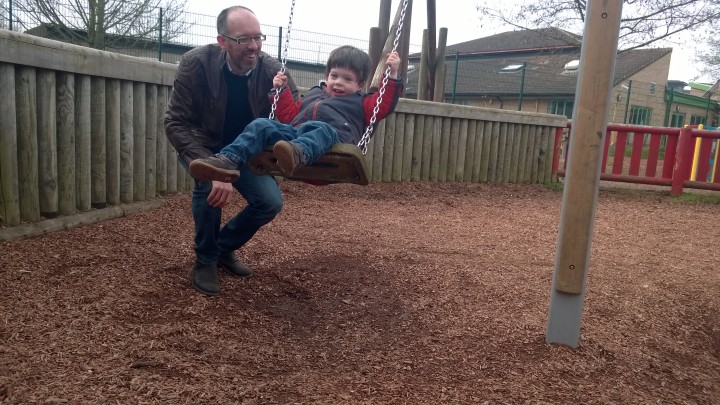 All in all it was just a lovely, impromptu morning of fun in the park 🙂