It's been a tough time lately. We have all been a bit poorly which never helps. Endless coughing and a lack of sleep does nobody any good. Then, potentially as a result of her poorliness, LM has been incredibly clingy. I know it's just a phase "separation anxiety" etc…. But boy is it hard work!
She wants to be on me at all times and with me whatever I am doing. I can't go to the loo without her standing at the gate in the lounge screaming at me. I can't sit down without her clamouring all over me, pulling my hair and necklace, standing on me and generally wriggling all over the place with her perfect little elbows and knees digging in wherever they land.
I can't look at my phone without her trying to snatch it off me so she can push buttons or play a baby game. There is screaming galore if I resist and hide my phone because I have had enough of her using it. I can't have a drink without her clawing at me to have some so I have to hide whatever I am drinking and just grab a sip when I can… Meaning I certainly don't drink enough at the moment. She wants to be carried by me at times when I can't carry her resulting in her clinging on my legs and clawing at me while I try and make lunch.
It is exhausting and I feel like I have zero personal space and zero opportunity to just have a bit of peace. In fact the only times she doesn't cling to me are when it is time for a nappy change – when she runs away and tries to cram herself behind a chair or something to hide, or when she has spotted some opportunity for mischief making. She throws her meals on the floor and deliberately spills he drink so she can splash and play in it (if anyone can direct me to a genuinely non-spill cup I would be massively grateful) and likes to push the buttons on the side of the TV no matter how much I say no, with a look of absolute glee.
This has been made harder by the fact it is half term. I adore my little boy and I wasn't dreading half term at all. I don't want to be a mummy who wishes away the time spent with my children… But I find it so hard to entertain both of them I really do.
I have tried loads of activities but one or the other gets bored. Monday we were due to go to soft play with friends but unfortunately they were poorly. I decided not to worry though and take the opportunity to do some messy play and get cracking with some finger painting in the bath. Great fun for all of 5 minutes until Monkey announced he'd had enough. LM lasted about 5 more minutes and then started crying to go and play with her brother. So it ended up with them both shut up in his bedroom while I cleaned the bathroom. (our stair gate broke so I have to shut them in to keep LM safe). It was so stressful and honestly I ended up wondering why I had bothered.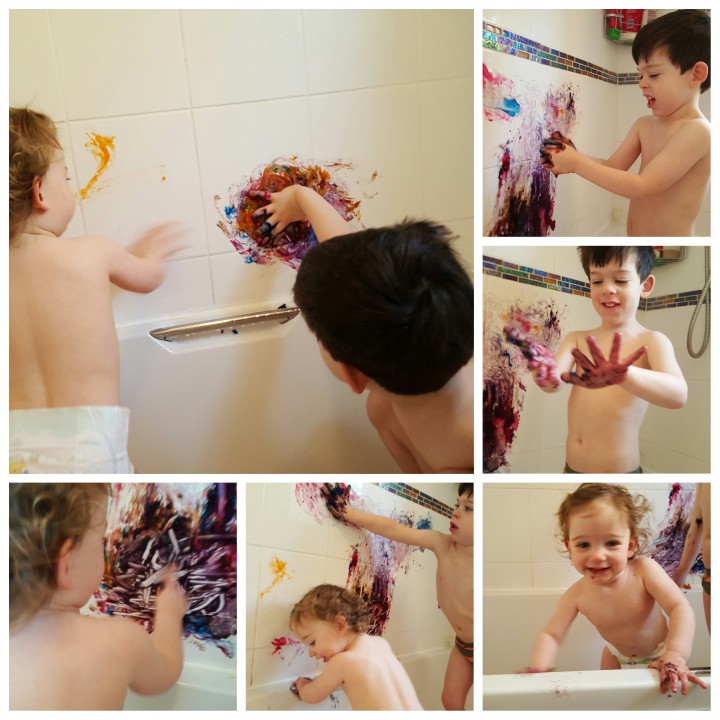 We have had some lovely times this week and I have grabbed every opportunity to get outside when the weather has been nice. We have blowed bubbles, chased balls, run down hills and visited the playpark. But every happy time is bookends by whining and moaning. Monkey doesn't want to go out while LM is chomping at the bit to get outside. LM is crying as she has had enough and is cold (will she wear mittens for more than 5mins? What do you think?) while Monkey is protesting like mad as now he doesn't want to go home.
We have been to soft play with friends and both kiddies have had outings individually with the grandparents meaning I have had some nice 1 on 1 time with both of them. But the rest of the time there has been more TV on than I would like and I have been left questioning being a stay home mum. What am I doing? Why am I doing this? It is so so so hard sometimes and weeks like this I really don't feel happy or fulfilled. So I start thinking about going back to work. But despite how hard it is at the moment I still don't like the thought of sending LM to nursery. Of someone else doing the things I feel I should be doing with her.
I have utmost respect for working mums and I have no judgement on anyone for sending their child to nursery so they can work. I just can't seem to extend that to myself for some reason and feel like having made the decision to be a SAHM that I would be failing if stopped now. I think it would be different if I had a job I loved or a career I wanted to further, or if financially I had to work. But I don't, we are so fortunate that we manage on one salary (we do have to be sensible and a bit careful with money but we do fine) so I guess it just feels wrong to think about going back to work just so I can escape my children!
Its a difficult thing to balance, the needs of me vs. the needs of them. I know that this has been a particularly tough week and I know that when Monkey is back at preschool and everyone is well again things will be different. I hope so and this may juts be a blip… But I am questioning my choice a lot at the moment and wondering whether it is still the right decision for me. In truth I have no idea. And I have no idea what the solution would be as I am so conflicted between wanting something more for me… And wanting to do everything I did for Monkey with LM.
It is such a short time when they are small and yes it is tough but do I want to throw away this opportunity? Surely I have years and years ahead of me where I can do things for me, is it
really too much to focus on their needs for another year or 2? That sounds perfectly reasonable until I have two children fighting over me and my hair being pulled….
I know it doesn't have to be an either or situation and I could work part time but then it is whether the costs and negative would outweigh the wages I would earn or the perceived benefits. The questioning continues..