We spent a lot of time enjoying the beach while we were on holiday, and I was loving how much Monkey was enjoying it, and how occupied he was with building in the sand. Now we are home and the nearest beach is over an hour away and too far to go for a day other than as a special event really! So with the sun shining last week I decided to re-create the beach feeling at home.
We got the paddling pool out and filled early in the morning in the hopes it would warm up. Last time we tried the paddling pool the water was just too chilly for Monkey and he didn't like it. I thought it was worth a try though. I then got out his sand table, which he does love but is a bit small for making castles etc in, and then decided to use our Tuff Spot for added beach style fun.
The tuff spot is great for messy play and we use it indoors a lot, and I decided it would be a great way to contain the sand while we were outside. Our patio is covered in sand, and I don't really mind, but in order for him to play in the sand at home, the way he would at the beach, there would have been a LOT more sand on the floor, so I thought the tuff spot may be better. Plus it would be easier to tip back in the sand pit at the end of the day.
Well , long story short, it went really well!
He had a great time in his makeshift 'beach' and spent ages in there. He made me laugh because he wouldn't wear his hat, but he wanted to wear my huge floppy hat that is way too big for him, for ages!!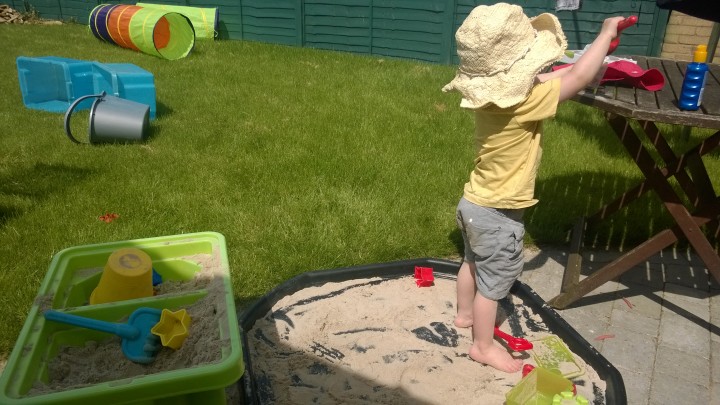 He was also making some fab little sandcastles using a plastic cup of all things!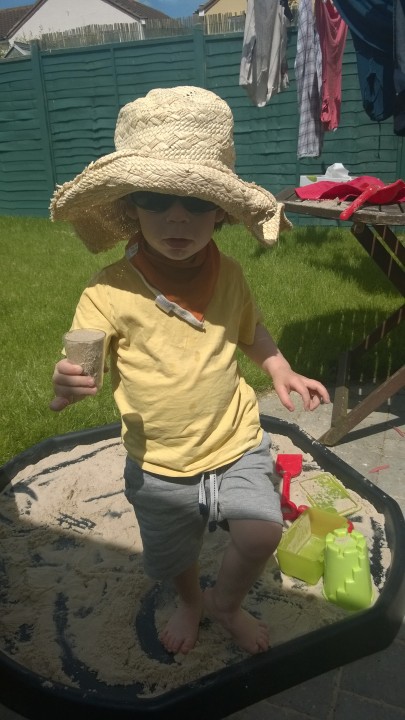 I really didn't have particularly high hopes for him getting in the paddling pool, so I tried to persuade him to come over next to it and play in the water. He came rushing over and to my huge surprise, jumped right in there!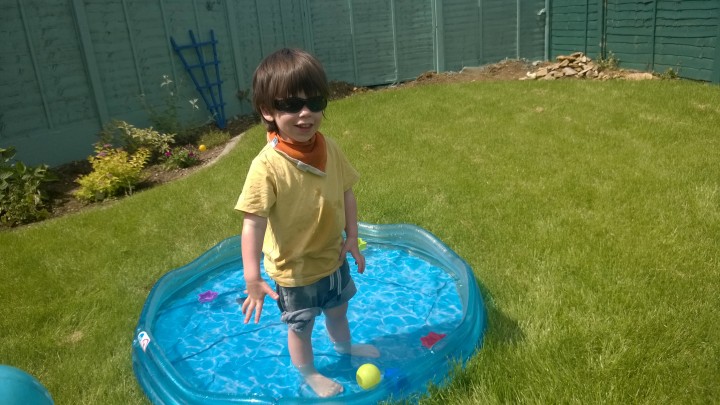 Thankfully by this point the water was nice and warm and he loved it – though he wasn't really dressed for it and soon had a soggy bottom hehe.
After a spot of lunch I thought maybe his  swimsuit would be more comfy in the paddling pool than shorts and he had some more fun in the pool, and we shared an ice lolly 🙂
Then it was back to the "beach" 🙂
Overall it was just a lovely fun day in the sun. He had so much fun playing and needed very little input from me (which I loved). Recreating the beach at home is something I will definitely do again pretty often over the summer! 🙂