Being parents is wonderful but it is also seriously hard work. I've said it before but anyone who things having a child will save a relationship is usually wrong. Having children pushes your relationship to the limits. You're tired, snappy and the needs of the little people can take over. Household chores can become battlegrounds and it is so easy to feel disconnected and like two people sharing a house and sharing children rather than the couple you are. So as much as me-time is important so is us-time for hubs and I. Getting that us-time can be easier said than done though.
When hubs' Grandpa passed away last year he got a little inheritance and we decided to use some of it to treat ourselves. To do something that we wouldn't normally do. So after a bit of research we chose a spa package at the Y Spa at Wyboston Lakes. Nanny & Pops kindly agree to babysit and we have been so looking forward to our weekend together.
With Monkey coming down with Chicken Pox last week it did hang in the balance whether we would still be able to come, but thankfully as he wasn't too bad in himself (just covered in spots bless him) Nanny & Pops are saints and were still happy to babysit.
We headed off on Saturday and arrived in time for a two course lunch overlooking the lake which was lovely. We treated ourselves to a glass of prosecco to start of the relaxation as we were still thinking and worrying about the kiddies a little, even though we knew they were in capable hands, feeling guilty especially that our little man was not feeling 100%.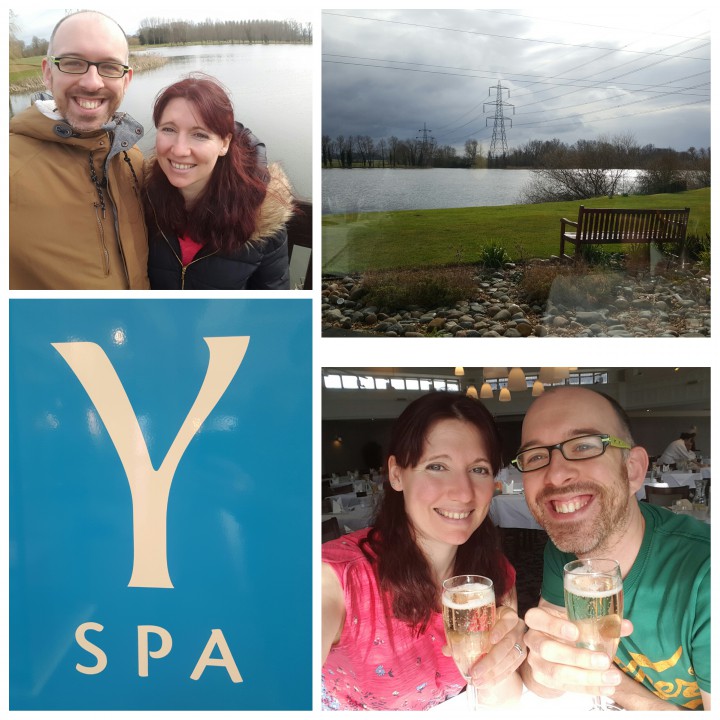 After lunch our room was ready which was perfect timing and we settled in to our room before heading to the spa. It was really luxurious and there was even a tablet in the room that you could order room service on!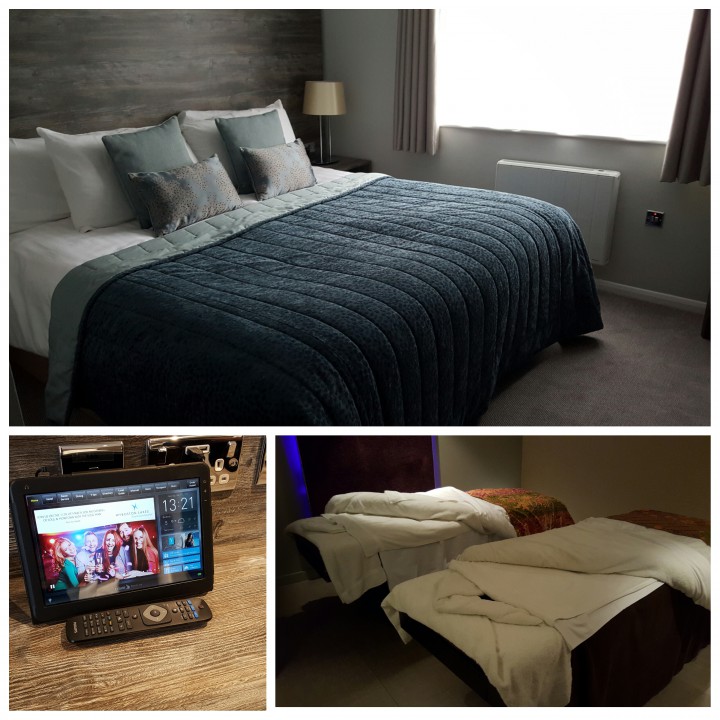 The package we bought included lunch, dinner, bed, breakfast and 4 hours in the spa from 3-7. We had also booked a treatment beforehand. So at 2 we had an amazing couples hot stone full body massage. It was funny being in the room together but kind of nice to do it together (and slightly cheaper than doing it separately) and the massage itself was amazing! Both our backs are terrible to the massage was brilliant for that and there is something soo lovely about having your hands and feet massaged as part of a full body massage!
Feeling very relaxed it was time to head into the spa itself. One of the reasons we chose the Y Spa was because the spa itself looked amazing. With a steam room, salty steam room, hot sauna, milder sauna, chill out room complete with ice and the piece de resistance, the hydrotherapy pool outside. With the cold weather this was amazing as the steam was filling the air, there was a fire blazing by sofas at one end and there was just such a wonderful ambience.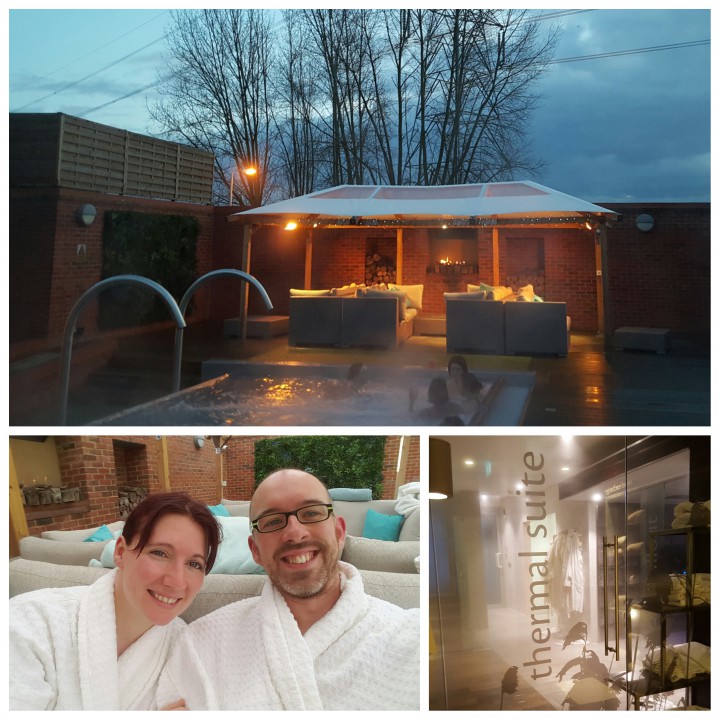 There are some wonderful chill out spaces too, including one entitled the big sleep which we took advantage of too. Lying in bed in the middle of the afternoon felt seriously decadent and wonderful. The hot sauna was seriously hot but the milder sauna was really lovely and my favourite room was the steam room. I don't often like steam rooms but this one was fabulous and hubs actually really liked the chill out room with a wall of ice as he is such a hot bod and it really cooled him down.
We spent the most time in the hydrotherapy pool though. With big underwater beds, jacuzzi bubble and some wonderful water jets it was just amazing. We copied a few other guests and treated ourselves to another glass of prosecco which we drank surrounded by bubbles as the sun went down. Feeling lovely and happy we snuggled under a blanket in front of the fire before heading back to our room to get ready for our evening meal.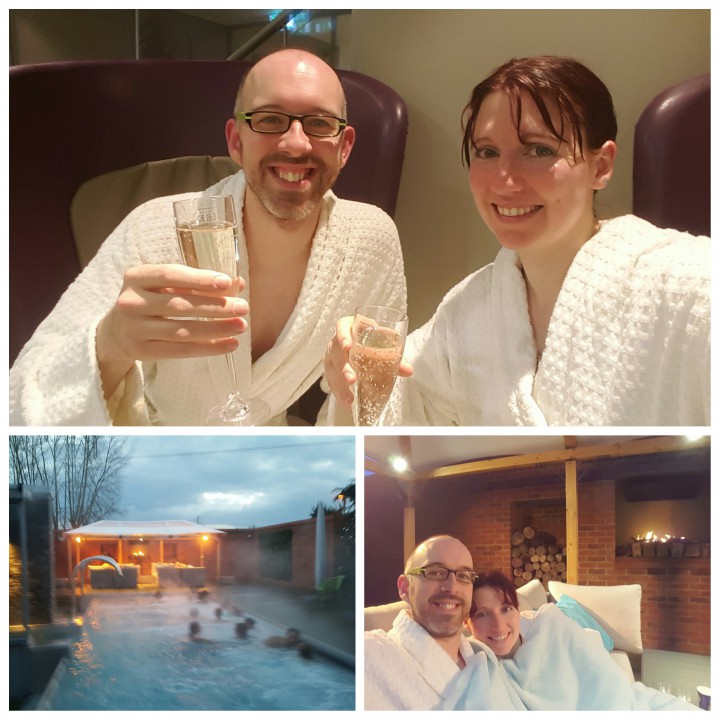 We took the opportunity to dress up a little and had a glass of wine in the waterfront bar before heading to our restaurant for a 3 course meal. The food was amazing and the ambience lovely, with low lighting and just a lovely atmosphere. We really felt spoiled and so well looked after.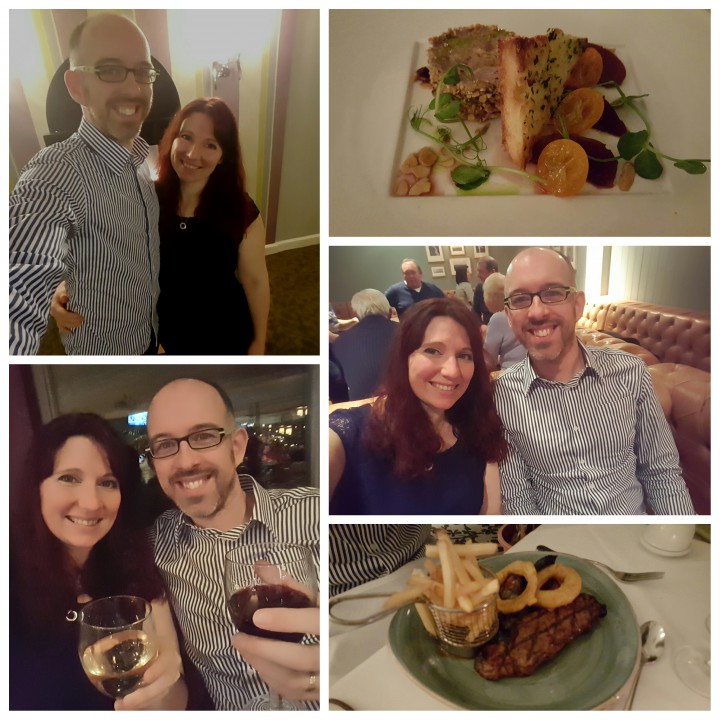 One of the best bits for us though was the next morning and having a lie in. We never ever get lie ins past 7am (and even they are rare) and though we still woke up pretty early (hard to change your body clock) the feeling of not having to get up was heavenly. We lay in bed and watched TV. We don't even have a TV in our bedroom at home so this felt very luxurious and we watched something they than cbeebies! Shocking haha. A yummy slap up breakfast in the restaurant and then it was back to our room to chill again and for hubs to get a political fix watching the Andrew Marr show while I just enjoyed blogging in bed.
Over the course of the weekend we really reconnected as a couple. We had so many conversations that we never have time to have, either because the kids are jabbering over us or because we are too tired in the evenings. Other than a bit of TV on Sunday morning we really switched off from technology and enjoyed each others company, rather than both sitting with our phones as so often happens at home.
It was an expensive weekend, at nearly £400 in total (including drinks and treatments on top of the hotel package which was £228), so definitely a one off luxury (thank goodness for that inheritance) but at the same time it was worth every penny to really relax and spend time together.
We didn't hang about too long before going home though as we wanted to see our kiddies and make sure Monkey was Ok, plus it was mothers day so we needed to see our mummies! We had a wonderful time though and hope to go back one day, even if just for the day!
How do you stay connected as a couple? Do you find it hard to make time for each other?